Olympic Logo Competition - name the couple.
Theo Spark has a dirty mind, shall we call the couple Gordon and Polly?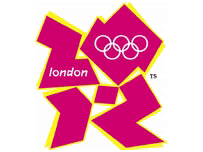 "The new emblem is dynamic, modern and flexible, reflecting a brand-savvy world where people, especially young people, no longer relate to static logos but respond to a dynamic brand that works with new technology and across traditional and new media networks," London 2012 organizers said in a statement. Others said it looked like Lisa Simpson giving head.
The £400,000 logo was designed by the international branding firm Wolff Olins... I wonder if the clothing brand Pornstar will sue for copying...
I look forward to many happy years of mocking.