Thighs Matter
PEOPLE with thick thighs have a lower risk of premature death and heart disease, researchers said yesterday.
A study found that those whose thighs measured around 23.6in (60cm) in circumference were less likely to develop heart problems or die early.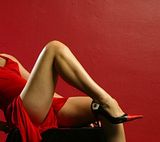 Pass the tape measure, it's for her own good.
Whilst it reassures us men please don't let on to the girls that it applies to women as well.
Prof Heitmann, director of the research unit for dietary studies at Copenhagen University Hospital, "A small thigh circumference was associated with an increased risk of cardiovascular and coronary heart diseases and total mortality in both men and women," he said.
"A threshold effect for thigh circumference was evident, with greatly increased risk of premature death below around 60cm."
He added: "The fact that more than half of the men and women aged 35-65 have thigh circumference below the threshold is worrying."
Dr Ian Scott, of Australia's Princess Alexandra Hospital in Brisbane, said if measuring a patient's thigh proved to be an effective way of identifying those at higher risk of heart disease and premature death, it would have "intriguing" public health implications.
No, don't start telling people that being too thin is bad for them, it will lead to the collapse of civilisation!