May 23, 2010
RIP RIPA Please
Councils use anti-terror powers to check for dog collars - Telegraph
In Workington, Cumbria, officials used the powers to investigate whether a dog was illegally being allowed out without a collar and tag. The animal was monitored and photographed in order to gather evidence.
A spokeswoman for the Local Government Association said: "We do recognise there are concerns over the use of surveillance powers by councils and all public authorities that use them do have a responsibility to use them in a way that is acceptable to local people. These powers should only be used for serious crimes such as fly-tipping, benefit fraud and rogue trading. They should be proportionate and reasonable."
"serious crimes such as fly-tipping, benefit fraud and rogue trading." - Serious? They aren't bloody terrorism, they don't endanger the economic wellbeing of the country, they are just squalid little crimes, done by squalid little people and only considered serious enough to invoke anti-terrorism powers by other squalid little people.
To be frank I prefer the odd mattress dumped in a lay-by to a council snoop with camera being there.
Posted by The Englishman at 6:29 AM | Comments (1) | TrackBack

October 30, 2009
Truth as a casualty of the war on drugs.
Top U.K. Drug Adviser Out : ScienceInsider
Illicit drugs, science and politics can be a volatile mix, no doubt. So it's not a total surprise that David Nutt, a respected psychopharmacologist at the Bristol outost of Imperial College London, was canned today as the U.K. top drug advisor. His downfall was a paper in which Nutt argued that ecstasy and other drugs caused less harm than alcohol.
Phil Willis, Chairman of the House of Commons science and technology committee, has already released a statement noting he asked the Home Secretary "for clarification as to why the distinguished scientist Sir David Nutt has been removed of duties as Chair of Advisory Council on Misuse of Drugs (ACMD) at a time when independent scientific advice to government is essential. It is disturbing if an independent scientist should be removed for reporting sound scientific advice."
Nutt accused ministers of misleading the public. "You are more likely to die riding a horse than you are by taking cannabis or ecstasy," he told BBC radio. "I am not prepared to mislead the public about the harms of drugs like cannabis and ecstasy just to give messages.
Everyone knows that is the truth, even the spit fleckeled knuckle dragging editorial writers in the popular press. The kids especially know it is the truth. The surest way to bring a law into disrespect is to base it on lies.
Good Evening Minister, how good of you to grace our humble entertainment with your presence. Let me introduce to Hempen Rope, I believe the next dance on your card is the Tyburn Jig...
Posted by The Englishman at 8:30 PM | Comments (2) | TrackBack

October 27, 2009
Salt Times
Is salt really the Devil's ingredient? - Times Online
The Government wants us to reduce our sodium intake, but studies show that this advice should be taken with a pinch of salt....
Just as Nanny spends lots of money telling us off the papers start to catch up with what wiser heads have been saying for years
Posted by The Englishman at 9:04 AM | Comments (2) | TrackBack

October 23, 2009
easyCouncil - if only
Household to be charged for extra services under new 'easyCouncil' plans - Telegraph
Households will be forced to pay more for extra council services they use, as local authorities start to mirror the approach of budget airlines.
If only they would mirror Ryan Air - cut the "forced" amount you have to pay to the minimum and then give people the freedom to buy extra services if they want them and can't buy them cheaper elsewhere. But that doesn't seem to be what they are saying, they seem to be wanting to keep the rates skyhigh, reduce the services and then force ratepayers to top up their council tax bill if they actually want anything from the council, and only the council will be allowed to offer the services....
Posted by The Englishman at 7:15 AM | Comments (3) | TrackBack

October 22, 2009
Vote Against Nanny
Mark Wadsworth: Beating fakecharities at their own game...
Visit Alcohol Focus Scotland and vote on the statement "Cheap alcohol is damaging health and society, I support minimum pricing".
We are currently ahead, with 72% having voted "No" out of 900 votes so far.
Bizarrely, you are allowed to vote as many times as you like. They really have thought this one through, haven't they?

74% No now - I wonder how long they will put up with the public having a say...
Posted by The Englishman at 7:17 PM | Comments (9) | TrackBack

October 20, 2009
One more for the road?
100,000 will die in next decade due to drinking - Telegraph
Alcohol related deaths have trebled in the past 25 years to reach 8,999 last year.
I love the precision in that figure, no reckless rounding up of numbers to make a political point for them!
Posted by The Englishman at 6:55 AM | Comments (2) | TrackBack

October 15, 2009
Charity begins where?

Taxpayers set to hand Lloyds another £5bn - Scotsman.com News

Lloyds' charity covenant 'safe for nine years'
Hundreds of Scottish charities face an uncertain future after Lloyds said it was to cut its foundation's funding – which is worth at least £6 million a year – in the wake of the financial crisis.
Mary Craig, chief executive of the foundation, said the bank would need to give almost a decade's notice if it wanted to change its funding arrangements.
Ms Craig said: "The last thing we want is a public fight with the bank. We tried to avoid this.
"The bank can only get out of the covenant if they give nine years' notice."

Taxpayer gives to Lloyds who give to their foundation which doles out money to their favoured charities. I think I get it and that is why I always tell charity chuggers that I have already given.
Posted by The Englishman at 6:52 AM | Comments (0) | TrackBack

October 13, 2009
Video Times
Soaring CCTV cameras 'are costly, futile and politically motivated'
CCTV fails to cut crime and the technology needs to be curbed in Scotland, where the number of cameras has almost doubled in the past six years, a leading academic has said.
Mike Press, who has spent the past decade studying how design can contribute to crime reduction, told The Times that the expensive policy is politically motivated and ineffectual. He also warned that it can have the opposite effect of that intended, by giving citizens a false sense of security and encouraging them to be careless with property and personal safety.
"We should, as a society, question why we have got it," said the professor of design policy at Duncan of Jordanstone College of Art and Design in Dundee. "Our civil liberties have been crushed and trampled upon and compressed and this is part of that. We have yet to see it have any positive impact. I think we should have a moratorium on it."
And not just in Scotland.
Posted by The Englishman at 6:38 AM | Comments (1) | TrackBack

October 12, 2009
Smart Spy in every home
Smart meters could be 'spy in the home' - Telegraph
Smart meters could become a 'spy in the home' by allowing social workers and health authorities to monitor households, adding to concern at Britain's surveillance society.
The devices pave the way for a national 'smart grid', backed by David Cameron's Conservatives, which would use the data to manage national demand more efficiently and advise households when it is cheapest to switch on appliances.
In its impact assessment, however, the Department for Energy and Climate Change (DECC) says there "is theoretically scope... for using the smart metering communications infrastructure to enable a variety of other services, such as monitoring of vulnerable householders by health authorities or social services departments."
It adds: "Information from smart meters could also make it possible for a supplier to determine when electricity or gas was being used in a property and, to a degree, the types of technology that were being used within the property. This could be used to target energy efficiency advice and offers of measures, social programmes etc to householders."
" theoretically scope" means "will definitely" - another reason to invest in your own generator...

Posted by The Englishman at 6:25 AM | Comments (4) | TrackBack

October 6, 2009
Snoopers Game
The internet is about to get a new reality game, known as Internet Eyes, that already has civil rights groups up in arms on account of the fact that you'll be cast as a 'remote snooper' who'll get paid cash for spotting real crimes via CCTV cameras installed in shops and shopping centres through out the UK.
The Internet Eyes internet 'game', which is the brainchild of David Steele, Tony Morgan and James Woodward, and which is set to be rolled out across Britain by December, with a worldwide rollout following in 2010, will pay out up to a purported £1,000 should users report crimes, via SMS, seen via live CCTV streams streamed directly via the Internet Eyes site to their computers at home with then 'game' awarding points for confirmed crimes and deducting points for mis-reports.
Civil rights groups, as you'd except, aren't in the least bit happy and claim that Internet Eyes will 'encourage people to spy and snitch on each other' which, pinch me if I'm wrong, is the whole premise of the game, isn't it? (10 points there for stating the bleeding obvious).


Posted by The Englishman at 6:46 AM | Comments (2) | TrackBack

September 30, 2009
Shopping tips form a Doctor

Raise alcohol prices so food costs can be cut, says doctor - Scotsman.com News

ORDINARY consumers are subsidising binge drinkers because supermarkets increase the cost of everyday items to make up for discount alcohol sales, a leading doctor has said.
Liver specialist Dr Chris Record said a minimum price of 50p per unit of alcohol should be introduced, a move he claimed could lead to a reduction in the cost of a weekly shop.
"A minimum price would mean an increase in profit for retailers from alcohol, allowing them to make other products more affordable for moderate drinkers."

I bet Tesco et al are grateful for that idea, no wonder they are struggling to make money as they don't have such clever retail strategists on board.
Posted by The Englishman at 7:08 AM | Comments (2) | TrackBack

September 18, 2009
Madsen Bashes The Bishop
Archbishop of Canterbury's views on City capitalism veer close to populist sloganeering - Telegraph
Archbishop of Canterbury's views on City capitalism veer close to populist sloganeering
Capitalism has lifted more people from poverty and hunger than any other force in history, including religion, says Madsen Pirie....
But then the Bish is preaches that we should share what we have without any thought as creating stuff to share. Harvest festivals used to be thankful occasions reminding us of how man's efforts brought forth the Earth's bounty for our use. Now they are just guiltfests because the act of creating wealth is naughty. As the Blessed St Margaret said; "No one would remember the Good Samaritan if he'd only had good intentions - he had money too"
Posted by The Englishman at 6:40 AM | Comments (1) | TrackBack

September 17, 2009
Miliband's Man F***ing Jews Outburst
Foreign Office chief accused of saying: Blow Israel off the face of the Earth
Gideon Falter claimed that Rowan Laxton, 48, was also heard to shout "f***ing Israelis, f***ing Jews" while watching a television news report about Israel bombing Gaza as he worked out on an exercise bicycle.
Mr Falter said he arrived at the London Business School gym shortly after 8am in January and overheard the outburst. I wanted to see who shouted. I couldn't see anyone who was particularly aggravated. Mr Laxton came downstairs to the lower part of the mezzanine and I spoke to him."
Mr Falter claimed that Mr Laxton, head of the South Asia desk in the Foreign Office, admitted that it was him who had launched the tirade before allegedly adding: "It's not racist. If I had my way, the international community would be sent in and if the Israelis got in the way, they would be blown off the face of the f***ing Earth."...
His barrister, Julian Knowles, told the court that his client could not be guilty of inciting religious hatred or causing alarm, harassment or distress because he had no reason to believe anyone could hear him.
When interviewed by police after his arrest, Mr Laxton said: "I was horrified by what I saw and I said, 'I'm sorry I said it'. I said 'f***ing Israelis'."
The court was told that Mr Laxton had settled a "difficult" divorce with his Muslim wife on the same morning as the incident.
Mr Laxton had initially been told by police that he would be cautioned for the offence before Mr Falter tipped off the media and articles appeared in the press. It was then that the Crown Prosecution Service decided to charge him.
What a nasty little story. I have never been on an exercise bike, whatever they are, but if by 8:00am you have been divorced and signed over half your goods, you are hot and sweaty and you are watching the television news then a bit of swearing at the telly as you are on your own seems to be entirely your own business.
And even if you aren't on your own and you haven't got any provocation it still should just be allowable free speech.
I haven't noticed the CPS playing the media tart and charging all those anti-Israeli banner wavers on the streets.

Posted by The Englishman at 6:41 AM | Comments (5) | TrackBack

September 8, 2009
RIPA for Heros
MoD spends £426,000 spying on injured soldiers - Telegraph
Officials used counter-terrorism powers to carry out secret filming on hundreds of wounded personnel to check whether they are exaggerating or lying in their compensation claims.
It is being carried out under the controversial Regulation of Investigatory Powers Act (RIPA), originally intended to help the police and MI5 monitor terrorists in the UK.
Injured servicemen and women are warned that they could be filmed in letters to their solicitors.
It emerged in July that the MoD had carried out covert filming on 284 people who claimed for compensation since 2000, about one per cent of all injury compensation claims.
Papers released to the Daily Mirror under the Freedom of Information Act show that the exercise has cost £426,000, about £1,500 for each serviceman subject to surveillance.
Although the MoD said that the tactic had saved "millions" of pounds, the newspaper said that only three claims had been rejected outright as a result of the surveillance.
Swinging the lead has a long tradition in the Army (it is a calumnious phrase they blacken the Senior Service with) but does the use of anti-terrorism powers against wounded servicemen feel right to you?
Posted by The Englishman at 6:14 AM | Comments (0) | TrackBack

September 7, 2009
When Nanny Turns Into Big Brother
Labour's secret plan to send overweight children to NHS fat camps
Tens of thousands of overweight children – some as young as four – will be shipped off to fat camp, under a Government scheme to tackle obesity.
Under existing regulations, children are weighed when they start primary school – aged four or five – and again as they leave, at 10 or 11...
When it was introduced three years ago, the weighing programme was met with a backlash from parents. In its first year, more than half withdrew their children from the scheme, for fear they would be bullied after the class weigh-in.
When families were advised that pupils would not be told their weights, nor singled out and told to diet, but that data would simply be used by local health planners to monitor the spread of obesity and to help them set up the right services, participation rates increased. Last year, nine out of ten children were measured.
The new guidance, slipped out to NHS Primary Care Trusts in England during the school holidays, orders an immediate change of approach.
From this month, pupils whose weight is too high – or too low – will automatically be offered a referral to "weight management services" in areas which already run such programmes or can set them up quickly.
Existing NHS schemes range from 12-week weight loss courses taking place at weekends and on school nights, to six-week residential courses costing £3,000 a patient for the most obese.
All PCTs have been "strongly encouraged" to have children's weight management services in place by next September, so that every overweight child in England can be referred for diet and exercise sessions.
Those identified as obese may be sent to paediatricians for specialist treatment, drugs or even surgery.
Leave aside for a second the groupthought indoctrination and state sponsored humiliation of kids let us remember there is no scientific proof that such interventions help kids. No proof at all.
On the other hand there is evidence that the darker the skin the harder it is to find a job compared to identically qualified lighter skined people of the same race; jobless people have worse health, commit more crime etc. So do we propose a skin tone classification scheme with the darkies being shipped off to be bleached, or do we abhor picking on people for their innate characteristics and strive to change society so such unfairness doesn't happen?

Posted by The Englishman at 6:42 AM | Comments (2) | TrackBack

September 4, 2009
Thighs Matter
PEOPLE with thick thighs have a lower risk of premature death and heart disease, researchers said yesterday.
A study found that those whose thighs measured around 23.6in (60cm) in circumference were less likely to develop heart problems or die early.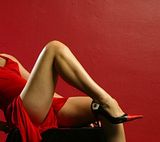 Pass the tape measure, it's for her own good.
Whilst it reassures us men please don't let on to the girls that it applies to women as well.
Prof Heitmann, director of the research unit for dietary studies at Copenhagen University Hospital, "A small thigh circumference was associated with an increased risk of cardiovascular and coronary heart diseases and total mortality in both men and women," he said.
"A threshold effect for thigh circumference was evident, with greatly increased risk of premature death below around 60cm."
He added: "The fact that more than half of the men and women aged 35-65 have thigh circumference below the threshold is worrying."
Dr Ian Scott, of Australia's Princess Alexandra Hospital in Brisbane, said if measuring a patient's thigh proved to be an effective way of identifying those at higher risk of heart disease and premature death, it would have "intriguing" public health implications.
No, don't start telling people that being too thin is bad for them, it will lead to the collapse of civilisation!
Posted by The Englishman at 6:24 AM | Comments (6) | TrackBack

September 3, 2009
NHS - Top Heavy Pruning
NHS may need to lose 137,000 staff to meet £20 billion savings target - Times Online
The study said £2.4 billion could be saved if hospitals with the lowest levels of staff productivity improved to become nearer the average levels. It added that almost 40 per cent of patients in a typical hospital did not need to be there....
Andrew Lansley, the Shadow Health Secretary, said..."Clearly, we need to get better value for money from the NHS, so we applaud any drive for greater efficiency, but it is extraordinary that Labour plan to take an axe to the hospital budget rather than to the bloated health bureaucracy.
"Only a fifth of job cuts would be within the bureaucracy, meaning the vast majority to go would be frontline NHS staff.
"After years of declining productivity, this report shows that Labour still doesn't get it...."
Management consultants tend to believe in the value of managers, strange that, where as the clients tend to put their money towards the people who get their hands dirty and who they meet. As long as the money trickles down from the top then it will be captured on the way down. If the customer directs where the money enters the system by using real choice then it is reversed. I wonder how much the Doctors and Nurses would decide to spend on the managers.
Posted by The Englishman at 7:19 AM | Comments (5) | TrackBack

Your Council Tax at work
Council workers are being given more than two days' pay a year for being in a lift.
Under the scheme, second-floor staff get two minutes a day, those on floors three to six get three minutes and staff on floors seven, nine and twelve get four minutes. Those on the tenth and eleventh floors at the town centre head offices are given a five-minute "lift allowance" each day....a pay review means that the allowance could be abolished.
An example of how rigorous the cost cutting in the public sector is becoming, though I expect they are still expecting a pay increase this year.
Posted by The Englishman at 7:01 AM | Comments (1) | TrackBack

September 2, 2009
NHS - an inmate writes
Blogging from an NHS bed
The daily reality - do read, and wish the writer well.

Posted by The Englishman at 7:01 AM | Comments (0) | TrackBack

August 31, 2009
"The council is prepared to voluntarily grant a reasonable amount of expressions of freedom" - Glasgow Council

Pay to march, Orange Lodge told - Scotsman.com News

The contribution will be voluntary because, as a non-profit organisation, the Orange Lodge is exempt from paying for any policing. However, police and council chiefs will warn that if the Lodge does not pay, they will restrict the number of parades which can take place every year.
One senior source said: "A reasonable starting point is the deal the police have done with the football clubs. We want to say to the Orange Lodge, let's talk about how you contribute to the cost of this. It would be a voluntary agreement that reflects the fact that the council is prepared to voluntarily grant a reasonable amount of expressions of freedom."
If the Lodge refuses to pay, the source said, then "the authorities will be more prepared to refuse them permission, and that includes the Irish organisations which have been deemed to be inflammatory". The source added: "We are also considering going to the Scottish Government and saying we need legislation that allows us to limit the number of parades which draws a limit of what is deemed to be an acceptable number on what freedom of expression is."
The Lodge says it is prepared to cut down on the total number, but last night warned it would vehemently oppose any payment regime.
Ian Wilson, the grand master of the Orange Lodge, said: "I don't think it would be just us who would oppose this. This is a libertarian matter.
"The police force is a public service. This is a democratic society and we should be free to demonstrate."
So Glasgow Council think that they decide what is, and can generously grant permission for, a "reasonable amount of freedom of expression" do they? Well they can fuck right off, or is that an unreasonable expression of freedom that they won't allow.
Posted by The Englishman at 10:27 PM | Comments (8) | TrackBack

NHS Equipment Shortage Solved - It's in the patient

Surgeons leave 300 instruments in the bodies of patients - Scotsman.com News

SURGEONS left behind more than 300 instruments and pieces of equipment in patients' bodies in Scottish hospitals over the past five years. The exact spread of the problem is not known because boards with fewer than five cases a year refuse to publish the data, citing patient confidentiality.
The new figures were revealed in a parliamentary answer by Nicola Sturgeon, the health secretary, only weeks after NHS figures showed patients underwent more than 5,500 botched operations in Scotland over the same period.
File under "quality control in a monopoly supplier".
Posted by The Englishman at 6:41 AM | Comments (1) | TrackBack

August 19, 2009
A Wee Small Voice of Common Sense

Pupils confined to school at lunchtime in junk food ban - Scotsman.com News

The scheme, first mooted in December 2008, is part of a wider attempt to instil healthy eating habits in pupils and tackle the issue of obesity.
But Judith Gillespie, head of the Scottish Parent Teacher Council, believes that the council is taking the wrong approach: "I really get depressed at authorities thinking that they can control what is ultimately personal behaviour. People will make mistakes, it's their right to make mistakes to a certain extent. All that happens is that if you put them (children] in a straitjacket now, when you finally take it off, they will go wild. You might get short-term gains, but that's not what you're after."
Posted by The Englishman at 6:41 AM | Comments (0) | TrackBack

August 17, 2009
Nutrition and Nitration
Do not feed your children ham sandwiches, warn cancer experts - Scotsman.com News
Processed meats are usually manufactured using sodium nitrite, a colour fixer which is carcinogenic...People should increase the amount of fresh fruit and vegetables they eat...

You can't have it both ways, vegetables are also stuffed full of nitrites. As the ever indispensable Sandy says:

70% (in UK) to over 97% (New Zealand) of human consumption of nitrates and nitrites comes from vegetables alone, regardless of organic or conventionally grown. On average, about 93% of the nitrites we get each day comes from the nitrates in vegetables.
(Do read the whole of her article)
Her conclusion is: Many studies implicating nitrite and nitrate in cancer are based on very weak epidemiological data. If nitrite and nitrate were harmful to us, then we would not be advised to eat green leafy vegetables or swallow our own saliva, which is enriched in nitrate. There's still plenty of summertime left and lots of regional hotdog specialties and BLTs left to enjoy, along with those garden vegies. With a little more science under our belts, hopefully everyone can enjoy it all with a lot less worry.
(An old Nature paper is also interesting:
Nitrates, nitrites and gastric cancer in Great Britain - David Forman, Samim Al-Dabbagh & Richard Doll
The authors are at the Epidemiology and Clinical Trials Unit of the Imperial Cancer Research Fund, Gibson Building, Radcliffe Infirmary, Oxford OX2 GHE, UK.
Nitrate and nitrite were measured in the saliva of two populations who differed in their risk of developing gastric cancer. Surprisingly, the levels of both ions were significantly higher in the low-risk group.
Posted by The Englishman at 6:23 AM | Comments (2) | TrackBack

August 13, 2009
Government Health News

Sick benefit people 'must exercise' - Andy Burnham said.
He will also announce that Arlene Phillips, who was recently dismissed as a judge on Strictly Come Dancing, has been recruited as a "dance champion" to encourage more people to join dance classes. The Government's "Dance Champions Group" will be chaired by Rod Aldridge, the former head of Capita, and feature Angela Rippon, the newsreader who danced into TV history on Morecambe and Wise; the Strictly star Darren Bennett; and the model and TV personality Lisa Snowdon.
The kohl eyed muppet is obviously copying his style and intellectual heroine St. Diana who famously gushed about her love of dance, and tight trousered cavalry officers. Is he visiting Paris any time soon?
Posted by The Englishman at 6:59 AM | Comments (2) | TrackBack

Cheering Health News
Beer could stop bones going brittle - Telegraph
It is thought that the high level of silicon in beer slows down the thinning that leads to fractures and boosts the formation of new bone, the journal Nutrition reports.
Beer is also rich in phytoestrogens, plant versions of oestrogen, which keep bones healthy.
Silicon and oestrogen, beer boobs?
I do know the difference between silicon and silicone but through my blurry eyes first thing in the morning....
Posted by The Englishman at 6:37 AM | Comments (2) | TrackBack

Real Health News
Junkfood Science: The myth of unhealthy belly fat
Not only excellent on belly fat but also a masterwork on the scientific method, do read it.

Posted by The Englishman at 6:34 AM | Comments (2) | TrackBack

August 5, 2009
Big Brother in Your Bathroom, Coming Soon
CCTV in every home? Not likely according to Sunny Balls
Of course the Express got the story wrong, Balls is happily denying it. Everyone jumping up an d down about it is looking a bit silly, except we know how this works. Fly a kite, quickly pull it down, let the storm blow over and then gently, quietly start doing it. It's old news then when anyone realises and they are all spluttered out.
Posted by The Englishman at 6:43 AM | Comments (0) | TrackBack

July 31, 2009
News to cheer you up from the Daily Nigellagraph
Nigella Lawson starts a fashion explosion
Nigella Lawson may have been one of the first to make the switch from Domestic Goddess to Brunette Bombshell. And she is right on trend in fashion terms.
The hourglass 'look' that Miss Lawson has chosen for several film premieres and has bought in bulk for her summer holidays in the Hamptons is the look that is going like a bomb on the high street.
Miss Lawson, who has been chosen as the female celebrity with the figure most men and women adore, started her plunge-front, retro-look fashion escapades.......
Time for my shower.
Posted by The Englishman at 6:47 AM | Comments (0) | TrackBack

Heaven Knows I'm Miserable Now

Happiness set to sweep Britain like a virus - Scotsman.com News

BRITAIN could be a happier place next week, thanks to a unique psychological experiment aimed at spreading smiles around the country.
For five days, starting on Monday, thousands of people will be invited to go online and try one of four proven mood-boosting techniques.
The idea is to plant seeds of happiness, which then "infect" others, sending waves of cheerfulness across recession-hit Britain.
That's Janet and Jonathan who will lead us all to happiness - don't you feel all warm and cuddly now? On Monday random strangers will come up and smile at you and want you to smile with them. Haven't we suffered enough.
Posted by The Englishman at 6:40 AM | Comments (6) | TrackBack

July 27, 2009
Blues Show Red Light To Greens
Eco-awareness festival halted by safety concerns - Times Online
The five-day festival was due to open on Wednesday but the organisers surrendered their licence yesterday after concerns, including issues involving road and fire safety, could not be resolved with police and the local council.
An inspector at Avon and Somerset Police refused to say what exactly their concerns were.
Avon and Somerset Police would only say: "It has been cancelled. The reasons are on our website."

"Avon and Somerset Police worked with the event organisers as well as our multi agent partners, and subsequently went above and beyond the call of duty to ensure this event took place. However to due a number of issues including road and fire safety that could not be resolved the event organisers surrendered their licence."
The organisers will go bust and ticketholders and stallholders uncompensated, and that waffle is the only reason given. It's not the sort of festival that appeals to me, paying £125 to sit in the mud with eco beardies, but if that is what they want to do let them take a risk of a bong conflagration and a crash on the incoming ley lines.
Posted by The Englishman at 6:43 AM | Comments (3) | TrackBack

Watersport Fans to be Punished
Unpowered craft including sailboards and bodyboards are to be reclassified as ships to bring their users within regulations for merchant shipping... Anyone out on the water would be liable to a random breath test. But the Department for Transport has infuriated many of Britain's four million water sports enthusiasts.
What a shower, they must be taking the piss if they have to twist meanings of words so far just to impose their discipline. "It is already an offence to behave in such a way as to endanger a ship or an individual." But that isn't enough, we must regulate all behaviour not just the dangerous.
Posted by The Englishman at 6:16 AM | Comments (2) | TrackBack

July 23, 2009
V'ish asher yishkav et zachar mishk'vei ishah to'evah asu shneihem mot yumatu d'meihem bam.
Gallery's invitation to deface the Bible brings obscene response
A publicly funded exhibition is encouraging people to deface the Bible in the name of art — and visitors have responded with abuse and obscenity.
The show includes a video of a woman ripping pages from the Bible and stuffing them into her bra, knickers and mouth.
The open Bible is a central part of Made in God's Image, an exhibition at the Gallery of Modern Art (Goma) in Glasgow. By the book is a container of pens and a notice saying: "If you feel you have been excluded from the Bible, please write your way back into it."
The exhibit, Untitled 2009, was proposed by the Metropolitan Community Church...The exhibition has been created by the artists Anthony Schrag and David Malone, in association with organisations representing gay Christians and Muslims. Mr Schrag, the gallery's artist in residence, said that he did not believe in God, but that his research for the £7,000 show had underlined his respect for people of faith.
Faith in that "there's a taxpayer sucker born every minute" probably. I'm pleased to note it was both Christians and Muslims behind the show though I wonder why there was only one book open to be defaced...
Posted by The Englishman at 7:51 PM | Comments (2) | TrackBack

July 22, 2009
Hard Choices for the NHS Budget
Sandy dissects the NHS budget and asks:
Which would you choose to spend taxpayers' scarce healthcare money on: medical care for critically-ill babies or free vacations and produce? The choice might be clear to us, but we're not from the government.
Posted by The Englishman at 6:25 AM | Comments (0) | TrackBack

July 20, 2009
Monday Morning Motoring Snippets
Signs could tell drivers to take the train - Telegraph
The Government's determination to promote a low carbon economy is expected to form part of the biggest overhaul of the country's road signs in 40 years
Cost of ministerial car fleet increases - Telegraph
One in seven Labour MPs now have access to an official car, according to figures released by the Government.
According to the Department for Transport there are now 93 ministers who are also provided with a driver as part of their duties.
This is six more than this time last year and the bill for the Government car service has risen from £6 million last year to £6.3 million in 2008-9.
"The Saxon is not like us Normans. His manners are not so polite.
But he never means anything serious till he talks about justice and right.
When he stands like an ox in the furrow – with his sullen set eyes on your own,
And grumbles, 'This isn't fair dealing,' my son, leave the Saxon alone.
Posted by The Englishman at 6:50 AM | Comments (6) | TrackBack

July 17, 2009
Olympic Gold Goes To......
CLM, cost controllers for London Olympics, paid £151 million last year including a £60 million bonus, it was revealed yesterday.
The size of the fee emerged as Olympic chiefs awarded themselves generous pay rises, with three years to go until the start of the Games in 2012. Staff at the Olympic Delivery Authority (ODA) shared £30 million, including £2 million of bonuses,..By 2012, the estimated total paid to consultants will have reached nearly £680 million.
However, taxpayers may baulk at the cost, after they came to the rescue of two of the biggest venues on the Olympic Park. In May, the Government approved a further injection of £324 million into the £1 billion Village, which will house 17,500 athletes and officials during the Games, bringing public investment in the project to £650 million. The £355 million media centre had already been nationalised after private financing failed to materialise.
The latest accounts revealed that the ODA wrote off £7.5 million in design and professional fees for work on the media centre. It also bore the cost of £2.5 million in legal fees incurred on behalf of Lend Lease, the property developer that pulled out of the Village financing deal.
A further £1.1 million in design fees were written off when the site of the canoeing venue was changed.
Posted by The Englishman at 6:46 AM | Comments (1) | TrackBack

July 14, 2009
'My gun could have saved my husband' - From the BBC
Gobsmacked.
Posted by The Englishman at 6:48 AM | Comments (9) | TrackBack

July 13, 2009
Swine Flu - The State vs Individuals

Everyone in the UK to be vaccinated against swine flu pandemic - Scotsman.com News

THE entire UK population is to be vaccinated against swine flu following the death of the first healthy British patient.
The NHS will receive the new vaccine in the next few weeks and is expected to fast-track the drug through regulatory approval within five days...stressed the reason public vaccination was taking place was not because the virus was perceived as a killer but that society could not cope with a high percentage of the population off work ill.
1976 swine flu outbreak - Wikipedia, the free encyclopedia
The strain itself killed one person and hospitalized 13. However, side-effects from the vaccine caused 25 deaths.
Alarmed public-health officials decided that action must be taken to head off another major pandemic, and they urged President Gerald Ford that every person in the U.S. be vaccinated for the disease. The vaccination program was plagued by delays and public relations problems, but about 24% of the population had been vaccinated by the time the program was canceled. Only one person, the Fort Dix army recruit, died from the flu.
There were reports of Guillain-Barré syndrome, a paralyzing neuromuscular disorder, affecting some people who had received swine flu immunizations. This syndrome is a rare side-effect of modern influenza vaccines, with an incidence of about one case per million vaccinations. As a result, Di Justo writes that "the public refused to trust a government-operated health program that killed old people and crippled young people." In total, less than 33 percent of the population had been immunized by the end of 1976. The National Influenza Immunization Program was effectively halted on December 16.
Overall, about 500 cases of Guillain-Barré syndrome (GBS), resulting in death from severe pulmonary complications for 25 people, were probably caused by an immunopathological reaction to the 1976 vaccine.
Far easier for the NHS to deal with the few people the vaccination will make ill and kill, than the many the flu will make snuffly...
Posted by The Englishman at 6:41 AM | Comments (1) | TrackBack

July 9, 2009
News of the World Mobile Phone Cash
The publisher of the News of the World paid £1m in court costs after its journalists were accused of involvement in mobile phone tapping, it has been claimed.
In other news if you have an old mobile lying around the News of the World will buy it off you for cash, or CASH! as they put it. Up to you but I think I will give it a pass.
Posted by The Englishman at 6:41 AM | Comments (2) | TrackBack

One over the eight
Alcohol-related deaths up by 40% in ten years
The Conservatives blamed the increase on the relaxation of drinking laws in November 2005.
The Stupid Party trying to think again. A cursory glance at how the statistics are collected and what is and was defined as "alcohol related" would show that it is bollocks. But the demonisation of alcohol is a cross-party consensus to increase control...

The Department of Health said that alcohol "is one of the most challenging public health issues we face. For every pound spent on alcohol intervention, five pounds are saved by the public purse — so this is money well spent."
Posted by The Englishman at 6:30 AM | Comments (3) | TrackBack

Breeding Will Out

Genes are all you need for good manners say researchers - Scotsman.com News

Nanny always used to say that Manners Maketh Man, maybe she got it the wrong way round. Maybe some humanoids are incapable of good manners, and why are they always out shopping when I am?

Posted by The Englishman at 6:18 AM | Comments (0) | TrackBack

July 6, 2009
News from the sharp end
Man uses nail clippers in DIY circumcision - Telegraph
Man cuts off own penis during drunk DIY - Telegraph
Knife crime is on the rise - Telegraph
Sometimes I think I agree that there are whole swathes of the population who shouldn't be trusted with anything sharper than a crayon, but then at least they seem to be doing their best not to breed...
Posted by The Englishman at 7:07 AM | Comments (1) | TrackBack

July 3, 2009
Grind them exceeding small
Maybe columnists don't bang on about these little miseries enough. We always worry about the big things; the fiddled expenses, the bomb plots, Jordan's boobs, the lies that lead to wars. It's the little things, however, that pollute our lives so much more. The receptionist at A&E, your electricity bill, the new wheelie bin, the traffic jam, the cancelled flight, the delivery that never arrives.
It's the powerlessness, always, against these shapeless systems that seem to hate us, and leave us no option but to hate them back. It's awful. What a way to live. What a place. What bastards.
Its the little things that will cause an explosion one day, not the massive incomprensible debt, the loss of freedoms etc, it will be a little old lady being victimised that will get people on the streets.
Posted by The Englishman at 6:49 AM | Comments (3) | TrackBack

June 29, 2009
Glasto Bloat
THE BBC was blasted last night for sending 405 staff to cover Glastonbury festival.
The figure was only 32 fewer than those sent to produce 3,000 hours of Beijing Olympics coverage last year.
I'm not one to support them but I wonder if the BBC announced random drug tests on staff and dismissals for the guilty would that reduce the number of essential staff volunteering for overtime at the festival?
Posted by The Englishman at 7:04 AM | Comments (0) | TrackBack

June 26, 2009
Canterbury Plays for Gays
Canterbury is sufficiently gay, council inspectors rule
The council had to prove its inclusiveness by giving details of "touring plays and musicals, for example, which would be of interest to the LGBT community".
And it had to show that it had "put forward suggestions for small events that it might help fund, as well as proposals for other events such as exhibitions".
Rob Davies, spokesman for the council, said: "Obviously we're delighted with the outcome of the investigation.
"We feel we do a great deal for the gay community in Canterbury and we have always tried to support various gay events and promotions."
"But at the same time it is not the duty of any council to set up a gay bar – that's not what councils do."
Maybe it also not the duty of the council to "fund any small events" for any part of the community. Why should ratepayers be mulct to pay for the pleasures of others? Let Gays, Morris Dancers, Yummy Mummies, Bell Ringers or whoever stick there hands into their own pockets, not mine.
Posted by The Englishman at 6:34 AM | Comments (1) | TrackBack

June 25, 2009
A Manifesto Event for Freedom
A glass of wine with your picnic? It's against the law
More than 700 "controlled drinking zones" have been set up across England, giving police sweeping powers to confiscate beer and wine from anyone enjoying a quiet outdoor tipple.
Local authorities are introducing the zones at a rate of 100 a year, The Times has learnt. Some cover whole cities, a radical departure from what the law intended.
Once a control zone is in place, police can seize alcohol from anyone who is not on licensed premises, even if the bottles or cans are unopened.
The law made clear that the zones should cover only streets or city centre areas with a record of alcohol-related disorder or nuisance.
There are now 712 zones, some covering vast areas where there is no record of disorder. There are city-wide bans in Coventry and Brighton, which cover even the quietest suburban streets....
Police in Brighton and Hove appear to be the most energetic in the country. Their 45 community support officers are making 25 confiscations a week. The Manifesto Club was inundated with claims of over-zealous enforcement, such as two young women forced to pour away glasses of wine that they were drinking on the beach, and three men having cans of lager confiscated as they stood on the promenade. Researchers observed drinks being confiscated from people having a quiet drink while admiring the plants in the Pavilion Gardens.
To protest at what it considers an excessive approach, the Manifesto Club is hosting a picnic on Brighton beach with alcoholic drinks on Saturday.

ABOUT THE MANIFESTO CLUB
The Manifesto Club campaigns against the hyperregulation of everyday life. We support free movement across borders, free expression and free association. We challenge booze bans, photo bans, vetting and speech codes - all new ways in which the state regulates everyday life on the streets, in workplaces and in our private lives.
We believe that the freedom issues of the twenty-first century cut across old political boundaries, and require new schools of political thought, and new methods of campaigning and organisation.
There is much to celebrate about the contemporary world, but there is also an urgent need to work out how we can take that world forward. Any attempt to transform our society towards a freer, more enlightened future, must begin from the conviction that people have a tremendous capacity to organise their own lives, both individually and collectively. That is why at the Manifesto Club we campaign, write, petition and argue for freedom in everyday life.
Posted by The Englishman at 6:57 AM | Comments (8) | TrackBack

June 23, 2009
Liberal Jackboots
Minimum prices for alcohol a step closer as Lib Dems hint at U-turn
But after the alcohol summit – which was described by some in the alcohol industry as a "cheerleading event for minimum pricing" – the Liberal Democrats indicated that they were now open-minded on the issue.

Can anyone point out to me how imposing price controls are evidence of being "open-minded", Liberal or Democratic? No, thought not.
Posted by The Englishman at 6:31 AM | Comments (1) | TrackBack

June 19, 2009
The First Time is Always The Hardest
First criminal trial without a jury for 400 years
Lord Judge: "In this country trial by jury is a hallowed principle of the administration of criminal justice. It is properly identified as a right, available to be exercised by a defendant unless and until the right is amended or circumscribed by express legislation."
For 400 years we have put up with the problem of embracery without having to ditch trial by jury. Back in the days when even our cities were no larger than large towns and Jurors and defendants all lived within the same walking distance of the court we managed. With easy travel, video links and all the paraphernalia of a surveillance state are they saying we really can't manage it now?
Expect to see it happen a lot more from now on.
Posted by The Englishman at 6:34 AM | Comments (7) | TrackBack

June 17, 2009
When Plod Runs Scared of the Equality Police
Police carrying out stop and search 'just for statistics' - Telegraph
Police are making unjustified searches of members of the public to provide "racial balance" to stop and search statistics, Lord Carlile, the independent reviewer of anti-terrorism laws, has said.
He warned that police were wasting money by carrying out "self-evidently unmerited searches" which were an invasion of civil liberties and "almost certainly unlawful".
He said police were carrying out the searches on people they had no basis for suspecting so they could avoid accusations of prejudice.
As the terror threat against Britain is largely from Islamist extremists, the figures show disproportionately more Muslims and therefore more Asians being searched than whites.
But the peer said police should stop trying to balance the figures, and it may be that an "ethnic imbalance" is a "proportional consequence" of policing.
Officers in England and Wales used the powers to search 124,687 people in 2007/8, up from 41,924 in 2006/7 and only 1 per cent of searches led to an arrest.
Posted by The Englishman at 7:10 PM | Comments (0) | TrackBack

June 16, 2009
Pointless Knife
First 'anti-stab' knife to go on sale in Britain - Times Online
The first "anti-stab" knife is to go on sale in Britain, designed to work as normal in the kitchen but to be ineffective as a weapon.
The knife is expected to sell for around £40-50 and has been tested with "very favourable" results by the Home Office's Design and Technology Alliance - set up to research products that can deter crime.
Very clever, a knife with a blunt end, sorry, an expensive knife with a blunt end suitable for "cutting vegetables". I expect he will make millions as the public sector mandates it for their kitchens. For the rest of us, are you going to replace your Globals and Sabatiers just in case? Unless of course they brought a law in....
Posted by The Englishman at 7:05 AM | Comments (5) | TrackBack

June 15, 2009
Nanny Labels Pass Their Use By Dates
Rise in listeria food poisoning as elderly take 'use by' date gamble - Times Online
Research from the agency suggests that a dismissive approach to "use by" labels on food and a reluctance to throw away food may be the reason for the incidence of the bug.
In face-to-face interviews with 3,219 adults, almost 60 per cent of the over-60s did not realise that the "use by" date on a food label was an important indicator of whether the food was safe.
Older people also thought nothing of eating food past its "use by" date.
Is it time to shelve sell-by dates? | The Sun
The Government thinks so and wants to abandon them as part of a war on waste.
Environment Minister Hilary Benn reckons shoppers are confused by terms such as "sell by", "display until" and "use by", which have specific meanings.
Mr Benn said: "Too many of us are putting things in the bin because we're not sure, we're confused by the label or we're just playing safe."
Too many different labels, too much caution; many years ago someone wrote a story about the perils of crying wolf, and that is what has happened here.
Posted by The Englishman at 7:01 AM | Comments (5) | TrackBack

June 14, 2009
The Englishman's Patent Guaranteed Diet
Don't be a silly sausage with diets – soya banger can beat the bulge - Scotsman.com News
Scientists have found that if they eat high-protein foods then people do not get as hungry. The exact reason is not known, but it is thought a protein triggers particular signals from the gut to the brain that it is full. The weight lost on a high-protein diet is fat instead of muscle or water.
And if healthier high protein food does the same thing then it could be the Holy Grail of the diet world – hence the soya sausages, bacon and meatballs.
Dr Alex Johnstone, from the Rowett's Metabolic Health Group, is running experiments to see if vegetable-based proteins such as soya work as well as dairy and meat. If successful it could result in a high-protein weight loss plan diet that is healthier and more environmentally-friendly.
Soya sausages? A sure fire way for me to loose weight as I would rather eat the bloody packaging. If Dr Alex would forget for a moment trying to be green and bunny hugging she would just endorse The Englishman's Patent Guaranteed Diet - If you feel peckish a bit of decent Cheddar and a slice or two of salami gives you the mouth feel of fattiness that satisfies and the protein that tells the blood stream that the tummy is full. Bloat yourself up with rabbit food and the brain will continue to cry out for real food.
Posted by The Englishman at 8:47 AM | Comments (2) | TrackBack

Love Thy Neighbour
Middle-class drinkers in their homes are as bad as riotous youths, says bishop - Telegraph
Bishop Gladwin, a former social responsibility secretary for the Church, called for a new approach to the problem, which he said was caused by "growing prosperity".
"While do we have a significant problem among young people, not least the binge drinking that breaks out onto our streets, that is not the issue," he said.
"Growing prosperity is behind the rise in alcoholism. We now go out and buy our wine for the weekend."
The bishop said that it was unfair to draw attention to young and poorer people getting drunk in public when they are also having too much alcohol, but in the privacy of their own homes.
"Often poorer people in society haven't got the protection – the safety of jobs and homes – so when young people do go out clubbing it's all very public, whereas for older people you can collapse at home at the weekend and have levels of alcohol consumption that are just as bad."
You collapsing at home after a couple of glasses of vino too many isn't any of my business, it doesn't impinge on me. Being a violent noisy drunk on my street late at night does. Is it so hard to see the difference? The key is that the Bish doesn't like "prosperity" and people being able to choose what they want to do. How much better life would be if the flock would obey the man in the pointy hat with the crook.


Posted by The Englishman at 8:36 AM | Comments (4) | TrackBack

June 8, 2009
Dogoodery by threats

Warden of notorious US jail cancels Scottish visit after threats - Scotsman.com News

A VISIT to Scotland by the man in charge of one of America's most notorious prisons has been cancelled after police were called in by organisers over "threats" from protesters.
Burl Cain, who runs Louisiana State Penitentiary, had been invited to speak to members of the Winning Entrepreneurs business network in Edinburgh today. But organisers cancelled the dinner at Prestonfield House Hotel after a flood of protests from campaigners.
On Friday, a series of penal reform campaigners, including Paddy Hill, one of the Birmingham Six, wrote to Belinda Roberts, managing director of the business network, to complain about the visit from the head of the jail that has been dubbed "Angola"
It has been "dubbed" Angola because that is the name of the plantation it is on. Burl Cain has a renown name for reforming and running this huge prison. Tough management doesn't get much tougher, and would have been at least interesting to hear. But the tender entrepreneurs have been saved from this by a bunch of people, none of whom I can see have ever run a business.
Posted by The Englishman at 6:19 AM | Comments (0) | TrackBack

May 29, 2009
Top Boffin At Work And Play
The way you hold your drink reveals key personality traits, claim psychologists - Telegraph
All revellers fall into one of eight different personality types which are given away by their drinking techniques, a leading psychologist has concluded.
Dr Glenn Wilson, a consultant psychologist at King's College, London, observed over 500 drinkers in bars last month.
Dr Wilson said: "The simple act of holding a drink displays a lot more about us than we realise – or might want to divulge.
"The next time you're in a bar, it might be worth thinking about what you're saying to the people around you just by the way you're holding your glass."
The eight types identified are: 'Flirt', 'Gossip', 'Fun-Lover', 'Wallflower', 'Ice Queen', 'Playboy', 'Jack the Lad' and 'Browbeater'...

Good for him to get sponsored by a bar to produce this research - I think some corraborating evidence is needed, where do I apply?
Posted by The Englishman at 6:59 AM | Comments (0) | TrackBack

May 22, 2009
Yorkshire Plod Truncheon Query

Number of sex change police officers baffles West Yorkshire chiefs in survey - Halifax Today

West Yorkshire Police have said they were forced to ignore responses to a diversity questionnaire after a large number of staff claimed they had undergone a sex change.
Police said the results from the question about whether employees were undergoing, or had undergone, gender reassignment in the annual survey were "exceptionally wide of the national average".
This led police to believe the answers were not accurate....

Taking the piss out of the diversity snoops, excellent...
Posted by The Englishman at 6:03 AM | Comments (0) | TrackBack

May 15, 2009
Dr Brain to Nab Flashy Dressers
Police target people wearing too much 'bling' - Telegraph
Gloucestershire Constabulary has launched a campaign urging people to report anyone ... wearing excessive amounts of jewellery, driving expensive cars, or buying luxury items.
The force's Chief Constable, Dr Timothy Brain, said that ostentatious criminals would be easier to spot during the recession.
Adrian Foster, from Gloucestershire Crown Prosecution Service, said: "With the evidence that comes from good intelligence, we are able to restrain all of an individual's cash and bank accounts, their home, vehicles, electrical items and jewellery.
"Then following a successful prosecution we are able to take back the proceeds that they have accumulated from the last six years of crime."
Note the "restrain" all the possessions and then prosecute... Next time I go through Gloucester I better follow the Police Approved Dress Code...
Posted by The Englishman at 6:44 AM | Comments (2) | TrackBack

How Freedom Was Won And Is Being Lost
Fear of terrorism, crime and social chaos are all factors that have put our ideal of individual liberty into retreat. What Price Liberty? explores how civil liberty was constructed, and has been re-thought and re-fought, in a bid to debate and determine the value we place on it today.
Download the eBook of What Price Liberty? and pay what you think is fair.
Posted by The Englishman at 6:34 AM | Comments (0) | TrackBack

May 8, 2009
The crime of attempting to defeat the ends of justice by accessing insecure internet connections
Paedophile gang preyed on children of close friends - Times Online
James Rennie, 38, a gay rights campaigner who had managed the Stonewall Youth Project before his appointment as chief executive of LGBT Youth Scotland, an organisation which campaigns for the rights of lesbian, gay, bisexual and transgendered young people. Rennie was an opinion former, a mover and shaker. He was consulted by the Scottish Parliament over youth policy. He met the Queen and went to Downing Street to shake hands with Tony Blair
Convicted of: Sex attacks on children; conspiracy to abuse children; owning, making and distributing images of child-sex abuse; attempting to defeat the ends of justice by accessing insecure internet connections
I hope the whole gang of them enjoy meeting Mr Boiling ChipFat and friends whilst locked up. I just wish they weren't segregated but had their crimes tattooed on their foreheads... but I'm getting so unmodern.
The only questionmark I have is what is this crime "attempting to defeat the ends of justice by accessing insecure internet connections"? What does that mean?
Posted by The Englishman at 5:48 AM | Comments (6) | TrackBack

May 5, 2009
Householder vs The Law
One in 20 householders set booby traps for burglars - Telegraph
According to the Crown Prosecution Service, a householder who "knew of an intended intruder and set a trap to hurt or kill them rather than involve the police would be acting with very excessive and gratuitous force and could be prosecuted."
Sixty-five per cent of British householders would arm themselves with bats, walking sticks and other household items to use as protection if they were to come face-to-face with an uninvited guest.
Seven per cent would even use an axe and 14 per cent would use a knife.
Andrew Lowe, head of home insurance at Direct Line, which polled 2,000 people, said: "Our research shows the extremes that some householders would go to in order to protect their property from intruders. "However, while it's natural for many to look out for their family and their belongings, we do not recommend anyone resorts to violence as you put yourself at risk of injury or possibly even death.
Of course not, any Billy Burglar scaling the walls of The Castle will have only a feather cushion thrown at them and be offered a nice cup of tea, we don't want anyone to get the idea that I might consider anything rougher do we. The disparity between what the law and ordinary people consider to be right and proper grows wider.
Posted by The Englishman at 9:12 PM | Comments (5) | TrackBack

Fake Charity - Fake Scare
Baby food has more fat than cheeseburgers - Telegraph
Some baby foods contain more fat and sugar than cheeseburgers and chocolate biscuits, reveals a new study...by the Children's Food Campaign, a lobby group.

Of course babies actually need more fat and sugar than adults (pro rata) so they grow, fat especially so their brains grow and they learn to think....
The CFC website www.childrensfoodcampaign.org.uk/ is down at the moment, but then it is just part of Sustain - which you can learn about on the excellent Fake Charities site.
Posted by The Englishman at 6:50 AM | Comments (1) | TrackBack

Anne Ashworth - Landlord and Property Feckwit
New rules needed to stop rental sector spiralling out of control - Anne Ashworth, Property Editor -Times Online
The private rented sector is a cottage industry, with a vast and growing customer base.
Most of the operators are small-time players, owning one or two properties. Many of these amateur landlords regard their portfolios of flats as long-term investments and are mindful of their responsibilities and the need for high standards of service.
Fortunately, few can be described as "Rachmanite", that is, guilty of the violent practices of Peter Rachman, the notorious West London slum landlord of the late 1950s. But a considerable number of rental properties are in a deplorable state of repair. And trouble can lurk even in impeccably decorated apartments with the latest kitchens....
tenants are becoming increasingly discontented with arrangements that force them to disclose financial information to a prospective landlord, while receiving none in return.
Professor Julie Rugg, of the University of York, who was commissioned by the Government to devise rental accommodation reforms, highlighted the diversity of the customer base which ranges from international bankers to asylum seekers, from students to young professionals.
In her report, released last year, Professor Rugg recommended: a "light-touch licensing system" for landlords; VAT relief, stamp duty and other tax breaks to encourage the refurbishment of substandard properties; and a new complaints procedure for tenants.
Although last month's Budget did not contain any tax concessions, the Government is implementing the licensing proposal.
Responsible landlords will probably view the licensing scheme as yet more paperwork. We should always remember that letting out properties can be a thankless task. Landlords will, however, accept the system provided that it is effective...
Anne Ashworth, you and "your more rules are needed" friends can go screw yourselves. You outline that there are few problems, you outline that the recommendation was for a licence in return for tax breaks, you outline that all we are getting is a cumbersome prodnose intervention, and you even point out the pilot project in Scotland is a pile of crap. The costs and the reduction in rented property will hurt the tenants. But you still are for it. But then some people just like rules and ruling.
Whenever I come across one of them I comfort myself by thumbing through my well worn copy of British Standard EN40-2:2004 and calculating if the load capacity on the bracket will be acceptable or not...
Posted by The Englishman at 6:20 AM | Comments (1) | TrackBack

May 2, 2009
Speed Cameras Piggy Bank Broken
Fewer speed camera fines as police lose right to cash - Times Online
There was a big fall in the number of speed-camera penalties after police and local authorities lost the right to keep the proceeds.
The drop came in the same year that road deaths fell to their lowest level since records began, undermining claims that an increase in cameras improves road safety.
The drop in fines suggests that police chiefs decided to put fewer resources into speed enforcement when they stopped being able to recover the costs of installing and operating cameras. Many camera housings are being left empty and some forces have reduced their use of camera vans.
Ministers admitted in 2005 that allowing police to keep some of the money created a perception among drivers that cameras were being used to raise revenue, not just to save lives.
Funny how we had that perception, "incentives matter" I can hear a Worstall mutter.
Posted by The Englishman at 7:07 AM | Comments (2) | TrackBack

April 29, 2009
Passport Ban for Silly People
Woman who changed her name to Pudsey Bear refused passport - Telegraph
The Identity & Passport Service, which addressed her as 'Mrs Bear', told her in a letter: "It is deemed to be a frivolous change of name, which would bring IPS into disrepute. It could also pose problems for you at border control in some countries.
"IPS is not questioning the validity of the deed poll, however, it is not prepared to issue a passport in a frivolous name which could compromise our mission statement 'safeguarding your identity'."
Bring the IPS into disrepute?, oh get her! If she has changed her name legally then she has changed her name. Full stop. It is none of the civil servants' business as to how stupid the name is. But then they forget they are servants and believe they are the masters now.
Posted by The Englishman at 6:57 AM | Comments (5) | TrackBack

Swine Flu - Health Advice you can trust
Ryanair boss says swine flu only a risk for 'slumdwellers' - Times Online
Spot on as ever. Sandy explains at length
Posted by The Englishman at 6:47 AM | Comments (0) | TrackBack

April 27, 2009
This post breaks the Olympic law
London Olympics under threat from cyber attack says Blunkett - Telegraph
That is why it's crucial to examine what we can do now, what measures need to be put in place.....

So the fascist games will be used as an excuse to turn the screw yet again as to what can be done online.
What they have done already is beyond belief - combining the words summer and 2012 is enough to get you door beaten down. And of course we know such powers will never be misused don't we...
London Olympic Games and Paralympic Games Act 2006
1 (1) There shall be a right, to be known as the London Olympics association right, which shall confer exclusive rights in relation to the use of any representation (of any kind)...
For the purpose of considering whether a person has infringed the London Olympics association right a court may, in particular, take account of his use of a combination of expressions of a kind specified in sub-paragraph (2).
(2) The combinations referred to in sub-paragraph (1) are combinations of-
(a) any of the expressions in the first group, with
(b) any of the expressions in the second group or any of the other expressions in the first group.
(3) The following expressions form the first group for the purposes of sub-paragraph (2)-
(a) "games",
(b) "Two Thousand and Twelve",
(c) "2012", and
(d) "twenty twelve".
(4) The following expressions form the second group for the purposes of sub-paragraph (2)-
(a) gold,
(b) silver,
(c) bronze,
(d) London,
(e) medals,
(f) sponsor, and
(g) summer.
(5) It is immaterial for the purposes of this paragraph whether or not a word is written wholly or partly in capital letters.
(6) The Secretary of State may by order add, remove or vary an entry in either group of expressions.....

22 Enforcement: power of entry
(1) A constable or enforcement officer may-

(a) enter land or premises on which they reasonably believe a contravention of regulations under section 19 is occurring (whether by reason of advertising on that land or premises or by the use of that land or premises to cause an advertisement to appear elsewhere);
(b) remove, destroy, conceal or erase any infringing article;
(c) when entering land under paragraph (a), be accompanied by one or more persons for the purpose of taking action under paragraph (b);
(d) use, or authorise the use of, reasonable force for the purpose of taking action under this subsection.....


And don't forget that "2012" is a registered trademark, so what the fuck we are going to call the year between 2011 and 2013 is beyond me.
Posted by The Englishman at 6:42 AM | Comments (7) | TrackBack

April 24, 2009
Chicken or Egg?
'Women get annoyed by low pay and leave to have children' - Times Online

Really? All those maternal urges are just because you are feeling hard done by? How about "Employers get annoyed by women leaving to to have children so offer them low pay" does that make any more sense?
Posted by The Englishman at 6:49 AM | Comments (0) | TrackBack

April 23, 2009
You Will Obey Orders
More speed cameras planned for UK roads - Telegraph
Drivers are facing more points and more fines for motoring offences as the Government plans to introduce more cameras on Britain's roads.
The speed limit on A-roads are set to be reduced to 50mph in an attempt to cut the number of road deaths by a third while drivers also face limits of 20mph on residential roads and near schools.
As part of a 10-year strategy to make Britain's roads "the safest in the world", the "time over distance" cameras that measure a car's average speed over many miles are also set to be introduced en masse.
All for safety, not revenue, we are told, so why?
Careless driving on the other hand, which is currently punishable with a maximum fine of £2,500, will be downgraded to a £60 fixed penalty.
Actually doing something dangerous the penalty will be a slapped wrist; ignoring the diktats of the government regardless of circumstances, ruinous punishment. Says it all doesn't it.
Posted by The Englishman at 6:45 AM | Comments (4) | TrackBack

April 17, 2009
Met Riot Police have form
The Countryside Alliance compares the Metropolitan Police's handling of the G20 demonstration to that of our demonstration in Parliament Square on 15th September 2004. We were all shocked by the number and seriousness of injuries inflicted on demonstrators that day, and looking back, it is amazing that there were not more serious consequences.
We are the first to echo the view that policing these events is fraught with difficulty, yet exactly one week after this incident 20,000 of us demonstrated in Brighton at the Labour Party conference. Tensions were high and the opportunity for 'flash points' even more numerous than before, but this time with real anger added to the mix. Sussex Police handled the event to perfection. It was controlled and peaceful; there were no arrests and no injuries, which suggests a clear distinction between the attitude of rural and urban police officers.
What is most worrying is that despite a detailed investigation by the Independent Police Complaints Commission's (IPCC) nothing much seems to have changed within the Metropolitan police.
20,000 demonstrators attended the Parliament Square demonstration, along with 1300 police officers. In the clashes that followed, 40 of our members received serious head injuries as a result of being hit on the head by police officers, against all instructions. There were 425 complaints to the IPCC and 31 officers received Regulation 9 notices. 17 officers had files passed to the Crown Prosecution Service (CPS) for crimes varying from Common Assault to Actual Bodily Harm.
Just prior to the IPCC inquiry a Metropolitan Police press release claimed that 60 officers had been injured, and yet none of the local hospitals had any record of admissions or treating any officers, let alone 60 of them. The inquiry involved up to 17 people from the IPCC and took 14 months to report. Of the cases that went to the CPS, there were no convictions, and no disciplinary action was taken against any officer, including those who removed their ID, despite, as the report stated there being "clear examples of some officers ignoring this instruction".

Posted by The Englishman at 6:03 AM | Comments (0) | TrackBack

April 15, 2009
Banned Advert
A poster showing a nervous man alongside the slogan "Take Courage my friend" has been banned for suggesting the beer could boost confidence.
The Advertising Standards Authority (ASA) said it acknowledged the poster's message was meant to be humorous, but concluded it broke advertising rules.
The ASA upheld three complaints from people who argued the image of the man with a glass of beer clearly implied it would give him enough confidence to tell the woman the dress was not flattering.


"No, of course it doesn't..."

Posted by The Englishman at 7:10 AM | Comments (3) | TrackBack

April 13, 2009
£190 Bribe to be Lectured
£190 to help pregnant women eat healthily | Money | The Observer
Pregnant women will, from tomorrow, be entitled to a £190 "health in pregnancy" grant from the government irrespective of their household income.
The money can be claimed from the 25th week of pregnancy, but only after receiving health advice from a midwife or other professional....
The aim of the grant is to ensure that all pregnant women have funds available to help them eat well in the run-up to giving birth, reducing infant mortality rates. Women can, however, spend the money on whatever they want.
"The grant answers an important, and until now unmet, need for families expecting a child," said Kate Green, chief executive of the Child Poverty Action Group.
How callous of me not to notice the babies dying of malnutrition on the streets of Britain, great heaps of them. Thank goodness for the kindly guiding hand of the State will now save them all.
(I note in the print edition of The Times some quack complaining it doesn't go far enough and that girls even thinking about getting up the duff ought to be given £250 if they ask for it....)
Posted by The Englishman at 7:52 AM | Comments (5) | TrackBack

£0.5m Taxpayer Shrill for Fake Charities
This advert cost the taxpayer £500,000.
...nine out of ten children will grow up to have unhealthy amounts of fat in their bodies, a government report has concluded.
The British Heart Foundation, Diabetes UK and Cancer Research UK want to do all we can to help parents give their kids healthy diets and a more active lifestyle.
For some top tips and great ideas on ways to change your kid's eating and exercise habits, visit our websites by following the links from this page.
Yep - Nine out of ten of your children are going to die unless you do as we say....
Posted by The Englishman at 7:44 AM | Comments (1) | TrackBack

April 12, 2009
Goodhart Soft Brain
Think Tank: New ideas for the 21st Century: Privacy or safety: it's your choice
The liberty lobby conveniently forgets that the state needs our data to protect us
David Goodhart
We are not living in a police state. Not even a remotely authoritarian one. In fact we, all of us, have never enjoyed so much liberty – personal, political and legal....
These are not normal times: the combination of new technology and the ever-rising expectations that the public have of state services means that we are unavoidably living in a new era of the database state and a cool, technocratic debate is required to establish its parameters. The shrill politicisation of the liberty lobby makes this harder...The modern social democratic state needs lots of data about us in order to fulfil the demands we make on it; not just trivial things like our bank account details to pay in pensions or tax credits but more personal things like health records – to make sure we get the right treatment at the right time.
If there is too much suspicion of the state and too many data protection rules, the state cannot give us what we want. ...
It might be useful if we started to see our data as similar to tax, something we willingly surrender to the authorities in return for various benefits....
By turning these complex debates into a story of noble defenders of liberty versus power-grabbing tyrants (whether politicians or officials), the liberty lobby reinforces the lazy antipolitics of the age – a sort of UK Independence party for the chattering classes.
And what's the weather like on the planet you live on? I only ask pretending to be interested because I never want to visit or live there. Twat.
Posted by The Englishman at 10:25 AM | Comments (1) | TrackBack

April 10, 2009
Shocking - What Internet Porn Does to Young Minds!
Posted by The Englishman at 7:14 PM | Comments (0) | TrackBack

April 8, 2009
More Guns Less Crime Experts Baffled
Can the US live in peace with its guns? | Chris Ayres - Times Online
The truth is that it's hard to envisage a scenario in which the benefits of owning a gun for the sake of self-defence outnumber the pitfalls...
...all over the country (Americans) are stocking up on as many pistols, rifles, and shotguns as possible before the Obama Administration bans or taxes them.According to the National Shooting Sports Foundation, the FBI carried out more than 4.2 million background checks on behalf of gundealers from November to January (a check is required with every sale), up 31 per cent on the same period in the previous year.Interestingly, however, violent crime rates have at the same time been falling in Los Angeles, New York and other big American cities The experts are at loss as to explain why this should be happening.
Good job I'm not an expert as I have an idea as to why....
Posted by The Englishman at 7:31 AM | Comments (5) | TrackBack

Tears of a Clown - How Banks Really Work
It isn't very funny to lose your pot of money | Griff Rhys Jones - Times Online
I am a financial innocent. I distrust all wealth management and fund manager types. I distrust them from a deep, puritanical atavistic well. But I happen to have savings and pension funds to consider. We drones make our money by luck and talent, by inventing things or creating things, and not by accountancy, so we are doomed to be the patsies of the financial sector. We are the wildebeests by the waterhole. We are the ones who have to die to feed these ghastly, lazy, incompetent predators.
Posted by The Englishman at 7:08 AM | Comments (0) | TrackBack

April 7, 2009
Nanny wants you eat only Industrial Food

You want fries with that calorie count? Fast-food giants put diet data on menu - Scotsman.com News

FAST-FOOD outlets and high-street restaurants, including KFC, Burger King and Pizza Hut, have agreed to introduce calorie information on their menus.
Cafés in Marks & Spencer, Sainsbury's, Co-op and Waitrose are among the 17 groups that will display calorie information per portion for most food and drink they serve.
FOR many in the catering industry, this is a step too far. When people eat out for leisure and pleasure, do they want to be bombarded with nutritional information? Most people know what foods they should go easy on, writes Bob Cotton,Chief executive of the British Hospitality Association
Eating out in a restaurant means letting go. Calorie-counting menu items is redolent of the nanny-state – one more eye over the diner's shoulder, watching and checking what he's eating.
But there are also technical difficulties, which pose even more serious obstacles. Popular branded restaurants which offer standardised menus can be reasonably certain that the pizza they sell in Edinburgh has the same calories as the pizza they sell in Glasgow or Wick.
But it's far more difficult for an independent restaurateur, who makes up different dishes every day from what's available in the market. Under time and cost pressures, he's not going to have the expertise (which would add cost, because he would have to buy it in), nor the time (which he can't spare) to work out accurately what the calorie count of each individual dish is. And if it's not accurate, how misleading might that be?
At present, it's on a voluntary basis – but voluntary schemes have a habit of becoming compulsory....
So a handmade pizza with a handful of this and a splash of that as wanted would be outlawed in favour of an assembly line product - great.
Posted by The Englishman at 6:39 AM | Comments (2) | TrackBack

April 4, 2009
BBC Fine - Who Pays?

Ofcom fines BBC £150k over radio prank calls to Sachs - Scotsman.com News

Did this £150k come out of the pockets of those responsible? And where does it end up? Those are the two more interesting questions that no one has asked.
Posted by The Englishman at 6:54 AM | Comments (2) | TrackBack

April 3, 2009
Students - Remember you don't have to belong to the NUS
NUS wants end to cheap student beer - Times Online
The National Union of Students (NUS) has decided to campaign for alcohol prices to be raised because of concerns about binge drinking. Wes Streeting, the NUS president, said: "Students' unions work hard to inform their members of the dangers of excessive drinking. But more can be done. 'All you can drink' and 'three for the price of one' offers encourage students to drink to dangerous levels."
Wes Streeting, there is a name to watch in the future as he carves out a condescending career nannying, preaching and not trusting the people who pay his wages. When I was at college we voted not to belong to the NUS, Trevor Phillips, the NUS President (I wonder whatever became of him) lectured us on the importance of rejoining and got custard pied. Oh happy days.
Posted by The Englishman at 6:27 AM | Comments (7) | TrackBack

March 31, 2009
Alcohol Limits - The Consensus Fights Back
You may remember sometime ago I blogged about The Times reporting that the recommended Alcohol Limits were simply "plucked out of the air".
Over the weekend a comment appeared from Dom:

The Times article quoted has since been discredited...there will always be those who deny the harm caused by alcohol as over estimated, usually those who drink too much. The suggestion that 60 units a week is acceptable is raving mad...unless you imagine that drinking 3 pints of vodka a week is normal. An individual's right to cause their bodies permanent damage notwithstanding, The Times article should be removed from internet, it's a hugely irresponsible green light for alcohol abuse.
It's a typical reaction of people to believe something only when it sounds acceptable to their ears.
I emailed him back to ask if he had any source for his claim, no reply; I have googled but can't see any rebuttal. Has the report being discredited or is his comment simply "plucked out of the air"?
Posted by The Englishman at 6:47 AM | Comments (6) | TrackBack

Telegraph Fails to Report What Bear Did in the Woods
'Bear' spotted in Suffolk woods - Telegraph
The "large" bear was allegedly spotted over the weekend as it roamed around 3,700-acre Rendlesham Forest near Woodbridge.
Left no traces? Didn't become a Catholic or sleep on its back?
Posted by The Englishman at 6:38 AM | Comments (0) | TrackBack

March 27, 2009
Another Scientific Consensus Discovered
BBC NEWS | Education | UK youths among worst for drink
Prof Martin Plant, University of the West of England; "There is a clear scientific consensus that alcohol education and mass media campaigns have a very poor track record in influencing drinking habits," he said.
"Far more effective - and cost effective - policies include using taxation to make alcohol less affordable.
"It is therefore recommended that a minimum price of 50p per unit of alcohol should be introduced. This would save over 3,000 lives per year."
Hurrah for the University of Scrumpy Drinkers and Professor Geranium for that rigorous research! Mass media campaigns don't influence drinking choices, just don't tell the advertising companies that. Now where else have I heard of a Scientific Consensus putting debate beyond the pale...
Posted by The Englishman at 8:00 AM | Comments (0) | TrackBack

March 24, 2009
No One Died So Important Safety Campaign Launched
Electrical socket safety covers are "absurd and dangerous" say engineers - Telegraph
The Institution of Engineering and Technology (IET) is campaigning for the safety covers to be banned. It says that the covers, used by thousands of parents to stop their children poking their fingers into a socket, are not just a waste of money but are also potentially dangerous.
Though it admits there are no cases of any children being harmed by socket covers...
Adam Hart-Davis, the television broadcaster who specialises in promoting science, said: "I normally refuse to join in campaigns – I get asked to do so about once a week – but this seemed so important, and the 'safety' covers so absurd and dangerous, that I agreed. I do think someone should do something, since children's lives could be put at risk'.
...the IET argues that there have been no cases of children being harmed from sockets that have been left uncovered since a new generation of sockets were introduced in 1990.
So socket covers are unnecessary but reassure parents who don't like to see Jimmy sticking an HB into the live hole. They are cheap and no one has been hurt, haven't these people got anything better to worry about?
Posted by The Englishman at 7:46 AM | Comments (3) | TrackBack

March 23, 2009
Tim Teeman Disses Stable Love Affairs
This tide of bigotry should not go uncensured | Tim Teeman - Times Online
...equated gay sex with having sex with donkeys. Do those in authority not condemn this?... So much bigotry is tied up with an obsession about gay sex, but to conflate what people do in bed with their human rights makes as little sense as comparing homosexuality with bestiality...
No one likes being told what to say, and gays don't want "special rights", but equality. So, as with racism, a law preventing incitement to hatred on sexual orientation should have no exceptions at all.

So why are you being rude about the donkey buggers then? Isn't that a sexual orientation that needs protection from hurtful comments as well? Slippery slope ruling against the freedom to say what you want to isn't it?
Posted by The Englishman at 8:33 AM | Comments (4) | TrackBack

March 20, 2009
State Prodnoses Coming Your Pub
'Snoops' to nag their friends to live healthier lives - Telegraph
Public health "mentors" will be enlisted by the NHS to offer 'on the spot' advice in their local neighbourhood when they see people smoking, eating or drinking too much.
Eating a third fried breakfast of the week in the office canteen, having a drink 'for the road' at your local pub or chain-smoking another cigarette while waiting for the bus could all see the mentors spring into action to offer the Government's advice.
Volunteer attend training sessions where they are taught how to offer appropriate advice on health issues including how to become more active, have a better diet, stop smoking and reduce stress.
Reduce the stress of not being nagged and ordered about presumably. Do they also receive advice on how to deal with a bleeding nose and an earful of abuse?
Posted by The Englishman at 6:57 AM | Comments (7) | TrackBack

March 18, 2009
Lardarse Stereotyping
Family who are 'too fat to work' say £22,000 worth of benefits is not enough - Telegraph
You know the rest of the story already...
Posted by The Englishman at 7:04 AM | Comments (2) | TrackBack

March 15, 2009
Sir Liam Donaldson Arse
Posted by The Englishman at 7:24 AM | Comments (0) | TrackBack

March 14, 2009
Imprisoned
All travel plans to be tracked by Government - Telegraph
The travel plans and personal details of every holidaymaker, business traveller and day-tripper who leaves Britain are to be tracked by the Government, the Daily Telegraph can disclose.
Passengers leaving every international sea port, station or airport will have to supply detailed personal information as well as their travel plans. ..the rules which will require the provision of travellers' personal information such as passport and credit card details, home and email addresses and exact travel plans.
The full extent of the impact of the government's "e-borders" scheme emerged amid warnings that passengers face increased congestion as air, rail and ferry companies introduce some of the changes over the Easter holidays.
The new checks are being introduced piecemeal by the UK Border Agency. By the end of the year 60 per cent of journeys made out of Britain will be affected with 95 per cent of people leaving the country being subject to the plans by the end 2010.
Yachtsmen, leisure boaters, trawlermen and private pilots will be given until 2014 to comply with the programme.
They will be expected to use the internet to send their details each time they leave the country and would face a fine of up to £5,000 should they fail to do so.
Ever thought you had woken up and you were in a prison cell?
Posted by The Englishman at 1:38 AM | Comments (4) | TrackBack

March 10, 2009
Photojournalism
'On Special Offer' Sloggi underwear poster named 'most degrading advertisement of the year' - Telegraph
The poster of buttocks clad in sheer tights by Swiss underwear giant Sloggi was given the award for "promoting pornography and prostitution" by the Guard Dogs, a French and Swiss feminist association.
The group gave another prize for "gratuitous nudity that has nothing to do with the product" to Italian coffee company Lavazza for a picture of a naked woman on all fours.
Wot no pictures? The Telegraph is slipping...
Posted by The Englishman at 7:28 AM | Comments (2) | TrackBack

March 8, 2009
Stagnating the economy on purpose
THE government is to cut the national speed limit from 60mph to 50mph on most of Britain's roads, enforced by a new generation of average speed cameras.
The reduction , to be imposed as early as next year, will affect two thirds of the country's road network. Drivers will still be able to reach 70mph on motorways and dual carriageways and 60mph on the safest A roads.
Jim Fitzpatrick, the roads minister, defended the plan, which will be the most dramatic cut since 1978, when the national speed limit was reduced from 70mph to 60mph.
"There will be some in the driving lobby who think this is a further attack and a restriction on people's freedom," he said. "But when you compare that to the fact we are killing 3,000 people a year on our roads, it would be irresponsible not to do something about it. I'm sure that the vast majority of motorists would support the proposals."
...could save 200-250 lives a year and also reduce carbon emissions....Local authorities will have the power to raise the limit to 60mph on the safest roads, but will have to justify it.....Speed Check Services, the company behind the cameras, claims the number of deaths or serious injuries at its sites has fallen on average by 60%...Fitzpatrick said: " The nature of some rural roads, with dips and bends and difficult conditions, means that the 60mph limit is not enough."
Yes, you statist bastard I do think it is "a further attack and a restriction on people's freedom", the problem is specific drivers driving dangerously in specific places. But your answer is a blanket ban on everyone everywhere enforced by surveillance technology which will alienate large numbers of ordinary people, because you don't trust ordinary people to make any decision. You think that sitting in Whitehall you know better than I do what the appropriate speed is for the road in front of my eyes is. Those on the public payroll are happy to dawdle around, but those actually trying to earn their living need to get a move on. Are you actually trying to provoke the middle classes to riot, because if they do I hope your scrawny neck gets to have a set of jump leads wrapped around it.
Posted by The Englishman at 6:51 AM | Comments (11) | TrackBack

March 3, 2009
Half a Cheer for ID Voting Cards
New ruling to force British voters to show ID before voting - Times Online
Every British citizen will soon have to sign a form or show identification before they can vote, the Government has announced.
In an historic shift, which comes after years of campaigning by the Electoral Commission and The Times, the Government finally agreed yesterday to end the system whereby one person in each household names all those eligible to vote in their property.
The Government had resisted the switch out of fear that it would result in a sharp dip in the number on the electoral roll. A similar exercise resulted in a drop in the vote in Northern Ireland. This would be likely to be most pronounced in more deprived areas, which Labour feared would mean a disproportionate effect on their own vote.
Hurrah! About time too - the system has been far too lax for too long, but wait...
The Government will also begin a pilot data-matching scheme to allow electoral registration officers to obtain relevant and restricted data from public authorities such as Revenue & Customs and the Department for Work and Pensions. Mr Wills insisted that the release of data would be "carefully controlled" and subject to a number of safeguards.
Oh! What does that mean? I don't like the sound of that at all....
Posted by The Englishman at 6:13 AM | Comments (2) | TrackBack

March 1, 2009
Bootlegging it into Scotland
SNP booze blitz steams ahead - Scotsman.com News
MINISTERS are to press ahead with a crackdown on sales of cheap alcohol in a move that could be fast-tracked through Parliament in as little as six months, Scotland on Sunday can reveal.
In the biggest shake-up of alcohol laws for years, the Government is expected to confirm tomorrow that cut-price drink offers will be banned, minimum prices on alcohol imposed and a higher age limit set on off-sales.
A minimum price of 50p per unit of alcohol, as advocated by health campaigners, would result in rocketing prices. A two-litre bottle of cider, currently priced at around £3, would cost £7.50. Wine would also increase in price, with a £3 bottle of wine possibly rising to a minimum of £5.
The controversial plan to increase the age limit for off-sales to 21 is to remain in the proposals, despite opposition from students.
Scotland on Sunday understands that ministers may seek to place some of the measures – such as the ban on "Buy One Get One Free" deals – in the existing 2005 Licensing Act, which is due to come into force in September.
The Act enshrines "protecting and improving public health" as a key objective of all licensing decisions, so the Government may argue that it gives the power to ban cheap drink offers. The same logic could also be applied to plans to impose minimum pricing.

Another example of a law passed for one purpose being used for another without parliamentary scrutiny.
And how are they going to police cross border sales? Will they confiscate Mr FM's hip flask as he travels north to go shooting?
Posted by The Englishman at 7:07 AM | Comments (4) | TrackBack

February 28, 2009
Where's Philip Pullman's Article on Liberty gone?
Philip Pullman wrote a punchy and poetic article on our disappearing freedoms for The Times yesterday - it appeared in the print version and I linked to it, but it seems to have been wiped from the ether - did anyone save a copy?
cache:www.timesonline.co.uk/tol/comment/columnists/guest_contributors/article5811412.ece - Google Search

UPDATE - The Times definitely seems to have pulled it, I wonder why, but thanks to commentators, and Mr Google who has now updated his results, I have now found a couple of copies on the web, one of which I reproduce below.
Malevolent voices that despise our freedoms
To mark the Convention on Modern Liberty, the children's author has written this article
Are such things done on Albion's shore?
The image of this nation that haunts me most powerfully is that of the sleeping giant Albion in William Blake's prophetic books. Sleep, profound and inveterate slumber: that is the condition of Britain today.
We do not know what is happening to us. In the world outside, great events take place, great figures move and act, great matters unfold, and this nation of Albion murmurs and stirs while malevolent voices whisper in the darkness - the voices of the new laws that are silently strangling the old freedoms the nation still dreams it enjoys.
We are so fast asleep that we don't know who we are any more. Are we English? Scottish? Welsh? British? More than one of them? One but not another? Are we a Christian nation - after all we have an Established Church - or are we something post-Christian? Are we a secular state? Are we a multifaith state? Are we anything we can all agree on and feel proud of?
The new laws whisper:
You don't know who you are
You're mistaken about yourself
We know better than you do what you consist of, what labels apply to you, which facts about you are important and which are worthless
We do not believe you can be trusted to know these things, so we shall know them for you
And if we take against you, we shall remove from your possession the only proof we shall allow to be recognised
The sleeping nation dreams it has the freedom to speak its mind. It fantasises about making tyrants cringe with the bluff bold vigour of its ancient right to express its opinions in the street. This is what the new laws say about that:
Expressing an opinion is a dangerous activity
Whatever your opinions are, we don't want to hear them
So if you threaten us or our friends with your opinions we shall treat you like the rabble you are
And we do not want to hear you arguing about it
So hold your tongue and forget about protesting
What we want from you is acquiescence
The nation dreams it is a democratic state where the laws were made by freely elected representatives who were answerable to the people. It used to be such a nation once, it dreams, so it must be that nation still. It is a sweet dream.
You are not to be trusted with laws
So we shall put ourselves out of your reach
We shall put ourselves beyond your amendment or abolition
You do not need to argue about any changes we make, or to debate them, or to send your representatives to vote against them
You do not need to hold us to account
You think you will get what you want from an inquiry?
Who do you think you are?
What sort of fools do you think we are?
The nation's dreams are troubled, sometimes; dim rumours reach our sleeping ears, rumours that all is not well in the administration of justice; but an ancient spell murmurs through our somnolence, and we remember that the courts are bound to seek the truth, the whole truth, and nothing but the truth, and we turn over and sleep soundly again.
And the new laws whisper:
We do not want to hear you talking about truth
Truth is a friend of yours, not a friend of ours
We have a better friend called hearsay, who is a witness we can always rely on
We do not want to hear you talking about innocence
Innocent means guilty of things not yet done
We do not want to hear you talking about the right to silence
You need to be told what silence means: it means guilt
We do not want to hear you talking about justice
Justice is whatever we want to do to you
And nothing else
Are we conscious of being watched, as we sleep? Are we aware of an ever-open eye at the corner of every street, of a watching presence in the very keyboards we type our messages on? The new laws don't mind if we are. They don't think we care about it.
We want to watch you day and night
We think you are abject enough to feel safe when we watch you
We can see you have lost all sense of what is proper to a free people
We can see you have abandoned modesty
Some of our friends have seen to that
They have arranged for you to find modesty contemptible
In a thousand ways they have led you to think that whoever does not want to be watched must have something shameful to hide
We want you to feel that solitude is frightening and unnatural
We want you to feel that being watched is the natural state of things
One of the pleasant fantasies that consoles us in our sleep is that we are a sovereign nation, and safe within our borders. This is what the new laws say about that:
We know who our friends are
And when our friends want to have words with one of you
We shall make it easy for them to take you away to a country where you will learn that you have more fingernails than you need
It will be no use bleating that you know of no offence you have committed under British law
It is for us to know what your offence is
Angering our friends is an offence
It is inconceivable to me that a waking nation in the full consciousness of its freedom would have allowed its government to pass such laws as the Protection from Harassment Act (1997), the Crime and Disorder Act (1998), the Regulation of Investigatory Powers Act (2000), the Terrorism Act (2000), the Criminal Justice and Police Act (2001), the Anti-Terrorism, Crime and Security Act (2001), the Regulation of Investigatory Powers Extension Act (2002), the Criminal Justice Act (2003), the Extradition Act (2003), the Anti-Social Behaviour Act (2003), the Domestic Violence, Crime and Victims Act (2004), the Civil Contingencies Act (2004), the Prevention of Terrorism Act (2005), the Inquiries Act (2005), the Serious Organised Crime and Police Act (2005), not to mention a host of pending legislation such as the Identity Cards Bill, the Coroners and Justice Bill, and the Legislative and Regulatory Reform Bill.
Inconceivable.
And those laws say:
Sleep, you stinking cowards
Sweating as you dream of rights and freedoms
Freedom is too hard for you
We shall decide what freedom is
Sleep, you vermin
Sleep, you scum
Source: Times Online
Posted by The Englishman at 12:22 AM | Comments (9) | TrackBack

February 27, 2009
Divine Lightening?
High earning speed camera sites kept secret after vigilante-style attacks - Telegraph
Safety camera partnerships, the organisations which operate the yellow roadside machines, were accused of resorting to "unnecessary secrecy" after several devices previously named in the media as the most lucrative were set alight, apparently by protesters....
One of the organisations approached, Wiltshire & Swindon Safety Camera Partnership, said that one device close to Stonehenge was attacked just a few hours after it was named as one of the most lucrative in the country last year while another nearby was torched the next morning.
A spokesman added that four cameras in the area had been attacked following a wave of media coverage about how much revenue they were generating.
My lips are sealed in case I start giggling at this wanton vandalism...
Posted by The Englishman at 6:45 AM | Comments (1) | TrackBack

Snooping has gone too far - Official
Information Commissioner Richard Thomas warns of surveillance culture - Times Online
Richard Thomas told The Times that "creeping surveillance" in the public and private sectors had gone "too far, too fast" and risked undermining democracy.
The Information Commissioner warned that proposals to allow widespread data sharing between Whitehall and the private sector were too far-reaching and that plans to create a giant database of every telephone call, e-mail and text message risked turning everyone into a suspect. "In the last 10 or 15 years a great deal of surveillance in public and private places has been extended without sufficient thought to the risks and consequences," said Mr Thomas, 59. "Our society is based on liberty and democracy. I do not want to see excessive surveillance hardwired into British society."
Of the Home Secretary's proposal to build a database to store information currently held by internet service providers and telephone companies, Mr Thomas said: "A government-run database of the communications of all citizens, every phone call, every e-mail, every text, every internet use; a database of all those activities held by the Government would be a step too far for the British way of life."
Posted by The Englishman at 6:41 AM | Comments (1) | TrackBack

February 23, 2009
Let the NHS know all your hidden secrets?
Genetic code could be used to offer ultimate personal care on the NHS - Times Online
A powerful new approach to reading genetic codes has been tested for the first time in a study that could transform the prospects of personalised medical treatment based on individuals' DNA.
It should be possible to sequence a patient's entire genetic profile for little more than £500 within five years, making it affordable to the NHS and private health insurers.
...he expected every baby born a decade from now to have its entire genetic code sequenced.
I don't know whether to be scared or excited by the prospect.
Posted by The Englishman at 7:00 AM | Comments (2) | TrackBack

February 20, 2009
Govt Plans To Control How We Dress
The government has launched a campaign to tackle the environmental impact of a "fast fashion" culture.
The Minister for Sustainability Lord Philip Hunt, said the plan represented a "concerted effort to change the face of fashion".
Little Mao suits for every one then.....
Posted by The Englishman at 6:52 AM | Comments (0) | TrackBack

February 19, 2009
If you go down to the woods today...
Big thumbs-down for 'private' forests - Scotsman.com News
PLANS to lease out a quarter of Scotland's forest estates have met with opposition from almost three- quarters of people who responded to a Scottish Government consultation, The Scotsman can reveal.
Among reasons for opposing the plans, in the draft Scottish Climate Change Bill, were that it was "tantamount to privatisation" and that public access and use of woodlands could suffer if they were in the hands of private firms whose priority was to make a profit.
Allan MacKenzie, department trade union secretary at the Forestry Commission, said it was time to shelve the proposals.
"We are not surprised at the overall percentage of people against it," he said. "What we are surprised at is the cross section of the population who have taken the time and trouble to voice their opinions as to why leasing is a bad idea."
Jonathan Hughes, head of policy at Scottish Wildlife Trust, said the overwhelming "no" vote sent a very clear signal.
Of 399 people who gave their views on allowing private companies to have 75-year leases for a quarter of Scotland's publicly owned forests in return for £200 million, 71 per cent were against.

So they managed to find 284 socialists still in Scotland running wild in the state owned forests spitting venom against Maggie Thatcher and privatisation. I wonder if there will be a captive breeding program to ensure these relics from an earlier age are preserved for our children to wonder at and the BBC to make documentaries about?
Posted by The Englishman at 7:01 AM | Comments (3) | TrackBack

February 18, 2009
The costs of being spied on
Surveillance will cost more than £34 billion say Convention on Modern Liberty - Times Online
Supporters of the Convention on Modern Liberty claim that spending on computer systems ranging from the NHS Spine to the ID card register is rising at an alarming rate....A Home Office working party has drawn up three options for surveillance of telephone calls, e-mails and text messages, including a huge government database. Opponents describe this as a Big Brother project that could cost £12 billion over the next ten years.
Mobile phone companies retain call logs for billing purposes, which can be obtained by detectives. The problem facing the police is that internet telephony networks such as Skype do not need the data and so do not collate it. One senior police source said: "We face a potentially disastrous loss of our investigative capability."
Lord Bingham of Cornhill, the former Lord Chief Justice said:
"Perhaps the British are content to be the most spied-upon people in the democratic world," he wrote in The Guardian. "But this would be surprising given their traditional belief that the state should mind its own business.
I worry less about the £34 Billion than the loss of our liberty.
Posted by The Englishman at 6:41 AM | Comments (0) | TrackBack

February 17, 2009
Your Tax Money at Work in the NHS
BBC NEWS | England | Wiltshire | Hospital smoke wardens criticised
A Wiltshire hospital has been criticised for employing two full-time no-smoking wardens to patrol its grounds.
Bosses at the Great Western Hospital in Swindon imposed a smoking ban on the site last year.
A hospital spokesman said it was an effective move and claimed the number of smokers had decreased.
But the Taxpayers' Alliance said it was not a justifiable use of money which should go on primary healthcare.
Terri Stevans, from the hospital added: "It is our duty to protect our patients. We are not telling them not to smoke, just that this is a non-smoking site.
Posted by The Englishman at 1:42 PM | Comments (3) | TrackBack

February 13, 2009
Rights vs Justice
I listened to this case yesterday as I was driving and I struggled to pinpoint what was wrong, Andrew Lilco points out what it is :
CentreRight: The wicked principle that "the welfare of the child is paramount"
...the central principle that the welfare of the children is paramount. It was very likely to be in the best interests of the children that they stay with their new adoptive parents. Yet this principle is obviously wicked - consciously so, for it sets aside even the aspiration of being just. The notion that these parents should be denied the raising of their children just because they would be better off being raised by someone else is horrific.
Australia used to take children from Aborigines so they could be raised in environments in which the children would do better. One could imagine taking away the children of British unemployed teenage single mothers to give them to wealthy childless couples. I don't doubt that by any objective measure of life outcomes - qualifications, lifetime earnings, likelihood of falling to crime or drugs, likelihood of divorce, whatever you like - I have no doubt that on any objective measure of the welfare of children the children taken from Aborigines would have done better, and the children taken from teenage single mothers to give to wealthy childless couples would do better. But we rightly think that this practice in Australia was wicked, and we would rightly think that taking the children of teenage mothers in this way would be wicked - provided only that the parents were competent to raise their children. Setting aside justice in order to take paramount concern for the welfare of children is unjust...
Posted by The Englishman at 8:05 AM | Comments (3) | TrackBack

February 12, 2009
Local Snoop's Charter
Councils to be given power to snoop on calls and emails - Telegraph
Towns halls, along with police, security services and other public bodies will be able to view "communications" details of any one suspected of crime...will have access to data such as who was called or texted and when or which websites were visited...
But critics fear the move will simply pave the way for authorities to spy on millions of citizens and taxpayers.
The power is contained in a new statutory order quietly laid before parliament yesterday.
If approved, it will come into effect from next month...
And for a hint as to how this brave new world will feel here's another story from today:
Primary school receptionist 'facing sack' after daughter talks about Jesus to classmate - Telegraph
....
Her daughter Jasmine had been overheard by a teacher discussing heaven and God with a friend and had been pulled to one side and told off.
On January 22, Mrs Cain went to pick up her children from the 275-strong primary school.
"My daughter burst into tears, her face was all red and she was clearly upset.
"She said 'my teacher told me I couldn't talk about Jesus' – I couldn't believe what I was hearing.
"She said she was taken aside in the classroom and told she couldn't say that. I was so shocked, I didn't know what to do."
Mrs Cain said she decided to wait until she wasn't working to discuss the issue with the teacher as a parent rather than an employee.
But she was called into The Headmaster's office the next day over another matter before he started discussing Jasmine.
"He started talking about my daughter about how he wasn't happy about her making statements about her faith.
"At that point I froze, I felt very small and I felt trapped as I was a junior member of staff."
That weekend, she emailed a prayer request from her personal computer at home to 10 trusted friends from her church.
"I asked them to please pray for us, please pray for Jasmine, please pray for the school and pray for the church."
A few days later she was called back into the Headmaster's office.
"I didn't think at this point I could be more stunned. He had in his hand a copy of my private, personal email and it was highlighted all the way through.
"He said that he was going to investigate me for professional misconduct because I had been making allegations about the school and staff to members of the public."
Posted by The Englishman at 6:24 AM | Comments (10) | TrackBack

February 11, 2009
Vote of No Confidence
Public authorities weather the storm, poll suggests - Times Online
As many as two in five of us think that local authorities and public transport have done a good job of handling the recent snowstorms and bad weather, according to the latest Populus poll for The Times.
Wow 40% approval! And with 40% of people working for the Government what a surprise!
Just for a moment imagine your local supermarket manager telling his bosses the good news that 40% of his customers were understanding enough to think that he was doing a good job. Yes that wooshing sound was him leaving the building. But of course we have no choice when it comes to paying for local authorities....
Posted by The Englishman at 6:54 AM | Comments (0) | TrackBack

February 10, 2009
Thought Crime Daily Update
Simon Clark - Taking Liberties - A sorry tale of drugs and climatechange
Another day, another public apology and another blow for freedom of speech. This time it's the government's top drugs adviser Professor David Nutt who has been forced to say sorry. His "crime"? Suggesting that the risks of taking ecstasy are no worse than riding a horse, which is responsible for more than 100 deaths a year....
Meanwhile, in Northern Ireland, politicians and campaigners have demanded that the DUP's Sammy Wilson be sacked after the environment minister blocked a government advertisement campaign on climate change saying the adverts were part of an "insidious propaganda campaign"....
Posted by The Englishman at 8:02 AM | Comments (2) | TrackBack

February 6, 2009
How to Cure Artists
Anger after student stages 'suicide' as performance art - Scotsman.com News
A SWEDISH art student has been condemned by police and medical staff after she faked a suicide attempt and then attacked a hospital's psychiatric nurses and doctors as part of a "play"....
The charade led to David Eberhard, the chief psychiatric doctor at St Goran's, lashing out at Odell for using up scarce resources and staff time at the already crowded hospital.
"She and the head of her school ought to cut their hair and get a real job," he said."It's just pathetic – paint a picture instead. But she's welcome to come back so I can give her a shot of Haloperidol, and then we'll see how much fun she has. That would make a great installation."
Haloperidol is an anti- psychotic drug that can have serious side-effects in some patients.

I like the sound of him, maybe we could send some of our "artists" over to Sweden to be treated as well.
Posted by The Englishman at 6:33 AM | Comments (0) | TrackBack

BBC faces One-eyed-idiotgate row
Top Gear's Jeremy Clarkson calls Gordon Brown a 'one-eyed Scottish idiot, he keeps telling us everything's fine and he's saved the world and we know he's lying, but he's smooth at telling us.' - Telegraph
Scottish politicians reacted angrily to the remark.
Scottish Labour leader Iain Gray said: "Such a comment is really a reflection on Jeremy Clarkson and speaks for itself.
"Most people here are proud that the Prime Minister is a Scot and believe him to be the right person to get the UK through this global economic crisis."
Gordon Banks, Labour MP for Ochil and South Perthshire, branded the comments "unforgivable".
The BBC and Downing Street declined to comment.
Posted by The Englishman at 6:15 AM | Comments (9) | TrackBack

February 4, 2009
Nanny claims people love nanny
BBC NEWS | Health | Why we need more nannying
Dr Alan Maryon-Davis - President, UK Faculty of Public Health
Is the government 'nannying' us too much? Is it trying too hard to micro-manage our health?
I say firmly - no....
I see an increasing acceptance that we, all of us, need not only more information and guidance from government, but also more legislation to save us from ourselves....
We need to press for more legislation to improve and protect health and well-being.
We've been largely successful with the tobacco industry, and now it's time to shift the focus onto alcohol and junk-food.
What next? I would like to see a ban on smoking in cars with a child on board and a ban on displays of cigarettes in shops. I would like to see a real hike in tax on alcohol and a ban on deep price-cuts for booze. I would like to see a wider ban on junk-food adverts around TV programmes watched largely by children.
I would like to see …. Oh, a whole raft of other legislation for health.
This is not 'nannying'. This is responsible government acting on behalf of a consenting public.
Campaigns, guidelines and voluntary codes aren't enough. We need more laws to ensure that the world in which we live, work and play will help promote and protect our health.
We need a big stick to curb the worst excesses of the various commercial interests who shape our lifestyle.

And the biggest commercial interest that shapes our lives is the "health" industry and people like you Dr Alan; and I have a very big stick in mind suitable for curbing you and your fascist tendency.
Posted by The Englishman at 7:07 AM | Comments (5) | TrackBack

Less Gollywog more Porridgewog
Carol Thatcher banned from BBC's The One Show for 'golliwog' comment - Telegraph
Not following tennis it seems I was wrong in surmising who the "golliwog" was; Noah it wasn't him, it was Andy Murray (apparently), who I believe is a British White tennis player when he is winning but otherwise is a Scottish whiner.
So is the reason the BBC and the Fat Boy are refusing to name him because it makes the whole row even more ridiculous?
Update : Iain Dale says it wasn't Murray but doesn't say who it was...
Posted by The Englishman at 6:08 AM | Comments (1) | TrackBack

January 29, 2009
How Alcohol Policy is Made
Official: children must not drink a drop - Health News, Health & Wellbeing - The Independent
All children should be guaranteed an alcohol-free childhood, parents will be told by the Government today....
In his guidance, Sir Liam will say that an alcohol-free upbringing is best for a child's brain development.
The guidance is to be turned into a leaflet offering advice and information. However, mindful of accusations the Government is acting as a "nanny state", and would be unable to enforce the recommendation, ministers will consult on the proposal beforehand. Norman Lamb, the Liberal Democrats' health spokesman, said: "The danger with the Chief Medical Officer's guidelines is that they fly so much in the face of reality that one questions whether they will be taken seriously"
Couldn't say it better myself: Reading on I looked for the evidence behind this move. The only learned opinion The Independent comes up with is this;

Meanwhile, others argue that the UK should adopt the policy of some European countries where children are introduced to diluted wine or small amounts of alcohol to demystify its appeal. Margaret Morrissey, the spokeswoman for the Parents Outloud pressure group, said she was behind the Government's aim. "I feel they shouldn't be drinking until that age," she said.
"The dilemma is that – unless you introduce them slowly to drinking – when they do start at 15 or 16 they go absolutely ballistic – so maybe there is something to be said for what happens in France where you can get diluted wine for youngsters.
"However, if the Government is really serious about it, it should ban alcohol from supermarkets and go back to just having it available from off-licences which can be more regulated."
But then it seems the Indy just copied that of Ms Morrissey's blog from last month. And her blog seems to be the only sign of existence of this pressure group. I can' find any sign of meetings, how to join or any other members, strange that....
Posted by The Englishman at 7:13 AM | Comments (6) | TrackBack

January 27, 2009
The BBC is right for once
Stars attack BBC for refusing to broadcast Gaza appeal but Sky won't show it either | Mail Online
Actress Samantha Morton led a string of celebrities who criticised the BBC's decision...
The 31-year-old Golden Globe winner and Oscar nominee said she would never work for the BBC again if the corporation failed to show a charity appeal for money for aid for Gaza.
I apologise for not having heard of her before, and I won't spoil your breakfast by showing her picture so I googled her:
The curious case of Samantha Morton's stroke | Mail Online
Miss Morton, who starred opposite Cruise in the blockbuster Minority Report, told a music magazine she had been "close to death" following the stroke, which she suffered after part of the ceiling at her London home collapsed on her.
She said she was nursed back to health by friends, who helped her through her rehabilitation as she struggled to walk again. She had hidden her condition from the world, she revealed, because she feared it could jeopardise her movie career...
All of which is dramatic and, given that she kept such a devastating illness hidden from her many fans, suggests levels of discretion not normally associated with this outspoken young star.
Strangely enough, even those who count themselves among her friends have been somewhat taken aback by her claims.
Last night, one associate of the actress said: "I was gobsmacked when I read what she said. Look, no one is accusing Sam of making it up. It's just that she can get a bit carried away sometimes."
..By February 2007, less than two months after she says she was struck down and faced with the agonising task of relearning how to walk, Miss Morton was to be seen firmly back on the party circuit....So what is going on in the sometimes bizarre world of the troubled Miss Morton? Once again, it seems, she has been left in a bit of a tangle by her often wayward tongue.
It is a character trait that has regularly landed her in hot water. Witness her habit of falling out with co- stars and the Hollywood studios, who are said to shun her because of her reputation for being "difficult".
After being invited to attend a reception at Buckingham Palace, Samantha raised eyebrows by arriving in flip-flops and later ungraciously described the Queen as a "right stuffy cow".
....the actress's spokesman, Karon Maskill, insisted her recuperation from the stroke had taken six months.
"It was just something Sam talked about without thinking it was a big deal. She doesn't want to discuss it any further."
Which, given the excitable Miss Morton's reputation for letting her mouth run away with her, might be a wise - if belated - policy.

I really ought to read the Daily Mail more often! I can't find out who else promised never to work for the BBC ever again but I think I won't miss Ms Morton.
And the BBC should stick its decision; the appeal is, and has become more, political and biased.
Posted by The Englishman at 7:11 AM | Comments (1) | TrackBack

January 26, 2009
The War on Fat
Fat dogs seized by RSPCA - Telegraph
Early 2008, an RSPCA inspector called at Miss Davidson's home in Hatfield, Hertfordshire, after an anonymous phone call about the animals.
The official carried out an assessment of the dogs, Rocky and Chubby, and said they were overweight. The inspector gave advice on how their weight could be reduced.
Miss Davidson, who works for Hertfordshire social services and who has owned dogs for more than 20 years, followed the instructions and managed to bring down their weight.
Miss Davidson is registered disabled. Although she can walk, she cannot take the dogs on long walks.
However, she had to cancel three vets appointments to have her pets weighed, after her mother fell ill and she had to care for her.
After the missed appointments, an RSPCA inspector returned to her house in October while Miss Davidson was at work. The inspector asked her partner, Terry Shadbolt, for permission to take the animals to the vets.
"The inspector just asked if she could take them to get them weighed, and he said yes," said Miss Davidson. "When I got home, I rang the vets, and the RSPCA inspector said that under the guidance of the vet, the dogs were not coming home.
"Three days later, the inspector came to interview me. But since then, I haven't been able to find out anything about the dogs.

Take obese children into care, says health expert - Telegraph
Tam Fry, a member of the National Obesity Forum's board, will tell a conference that youngsters who are over-fed by their parents should be treated as victims of abuse, as happens with malnourished children.
He will argue that authorities should take obese children from their families and into care, and that those whose health is at risk should then undergo stomach-stapling operations.
Children across the country, from Tower Hamlets in London to Lincolnshire, have already been placed on "at risk" registers or taken into care because of their weight. Last year Cumbria county council removed an obese eight-year-old girl from her family.
Posted by The Englishman at 6:49 AM | Comments (1) | TrackBack

January 23, 2009
Nanny Stats Yet Again
Millions of middle-class drinkers putting health at risk with evening tipple - Telegraph
More than 7 million middle-class drinkers are putting their health at risk by enjoying evenings at home with a bottle of wine, Government statisticians claimed yesterday.
According to the researchers, many middle class drinkers insist they know what the safe level of alcohol consumption is.
This suggests they do not believe they are drinking too much and that simply having a large glass or two of wine each evening is an acceptable way to unwind after a stressful day at work....
The study, by the Office for National Statistics, also claims that middle class drinkers are more likely to indulge in "heavy" drinking - This is equivalent to a man having three pints of strong lager or a woman drinking two large glasses of wine.
So where's the evidence that they are "putting their health at risk"? Where is the evidence that they are "drinking too much" and that unwinding with a glass or two of wine is not "acceptable"?
Nowhere, I wonder if these bean jugglers actually know what it is like to live outside the cosy world of the Gov Stats Office?

Posted by The Englishman at 6:34 AM | Comments (5) | TrackBack

January 13, 2009
Digestives which do not kill us make us stronger
Spiked - It's a Digestive, Jim, but not as we know it -Anti-fat Whitehall functionaries have managed to ruin the British biscuit that even Hitler failed to crush.
McVities Digestive are quite indigestible now, the dark chocolate ones bland and mucky beyond belief. Luckily there is an answer, Mssrs Lidl, purveyors of groceries to 4x4 driving terrier owners, produces a fine own brand alternative, full of whatever gives it a flavour.
Even better the Times Ecoworrier says: but think twice before heading to Lidl, the discount retailer. It came bottom in a report by Ethical Consumer magazine on the social and environmental records of supermarkets... My sort of store!
Though even I'm a little sceptical about stocking up on this...

Posted by The Englishman at 6:52 AM | Comments (7) | TrackBack

Watchful eyes over you
Let's face it, soon Big Brother will have no trouble recognising you | David Rowan - Times Online
This is the year when automated face-recognition finally goes mainstream, and it's about time we considered its social and political implications. Over the past few days, at trade fairs from Las Vegas to Seoul, a constant theme has been the unstoppable advance of "FRT", the benign abbreviation favoured by industry insiders. ...
The strongest face-recognition algorithms are now considered more accurate than most humans - and already the Home Office and the Association of Chief Police Officers have held discussions about the possibility of linking such systems with automatic car-numberplate recognition and public-transport databases. Join everything together via the internet, and voilà - the nation's population, down to the individual Times reader, can be conveniently and automatically monitored in real time.
Just listen to senior law-enforcement executives to understand their brave new intentions. Three months ago, Mark Branchflower, Interpol's database chief, declared facial recognition a desirable means of alerting local forces about the movements of internationally wanted suspects, "a step we could go to quite quickly". And in evidence to MPs last March, Peter Neyroud, head of the National Policing Improvement Agency, raised the prospect of "automated face recognition" to identify suspects, as well as "behaviourial matching" software that uses CCTV images to predict potential troublemakers.
So let's understand this: governments and police are planning to implement increasingly accurate surveillance technologies that are unnoticeable, cheap, pervasive, ubiquitous, and searchable in real time. And private businesses, from bars to workplaces, will also operate such systems, whose data trail may well be sold on or leaked to third parties - let's say, insurance companies that have an interest in knowing about your unhealthy lifestyle, or your ex-spouse who wants evidence that you can afford higher maintenance payments.
Rather than jump up and down with rage - you never know who is watching through the window - you have a duty now, as a citizen, to question this stealthy rush towards permanent individual surveillance. A Government already obsessed with pursuing an unworkable and unnecessary identity-card database must be held to account.
I think I need one of those hijabs to wear.....
Posted by The Englishman at 6:33 AM | Comments (0) | TrackBack

January 11, 2009
Old and Cold - No more

RSPCA: Keep wildlife and pets warm through the big freeze - politics.co.uk

Dogs with thin or sparse coats, who are very young or old may benefit from a coat when out exercising.
Animal welfare experts hot under the collar over dogs in coats - Telegraph
The RSPCA has warned that if people consistently allow their dogs to get too hot when wearing clothing they could face prosecution.
Helen Briggs, a spokeswoman from the RSPCA, added: "Under the Animal Welfare Act, you are obliged to provide appropriate conditions and environments for your dog... If people are worried that their dog might be cold, it is worth getting some advice from their vet.
Confused? George is getting old and grumpy so I bought him a coat yesterday - I didn't realise I faced prosecution and should have consulted a vet, the RSPCA, his Animal Rights Lawyers etc first.
Posted by The Englishman at 9:01 AM | Comments (1) | TrackBack

The creatures outside looked from pig to man, and from man to pig, and from pig to man again; but already it was impossible to say which was which.
Civil servants get £40,000 home perk - Times Online
David Nicholson, the head of the NHS, claims an annual £37,600 allowance for working away from home - yet he was already working and living in London when he took the job three years ago, so did not have to relocate. Nicholson was head of NHS London, and had a flat in the centre of the city, when he was moved to his highly paid London-based post in charge of the National Health Service in 2006.
According to the Department of Health resource accounts for 2007-8, he received the second-home perk on top of his £215,000 salary.
Nicholson, who was a member of the Communist party in his early years as a health official, has told parliament that he intends to "squeeze the pay bill in the NHS".
I hope he doesn't slip on an icy pavement anytime soon and have to be treated by a nurse who was awarded a 1.5% pay increase....
Posted by The Englishman at 6:59 AM | Comments (1) | TrackBack

January 8, 2009
Sneezing to be outlawed
GEOFF BAKER'S Exclusive:: Sneezing to be Criminal Offence
An official UK Government report has revealed that sneezing in the street could become a criminal offence under emergency laws now being prepared for dealing with a flu pandemic.

"A National Framework For Responding To An Influenza Pandemic" reveals that sneezing in the street could become a criminal offence under shock laws to halt the flu.
"Powers in an emergency lie with local authorities and include the powers... that a person be examined, removed and detained …and [the creation of] criminal offences where people expose others to risk of infection ...powers to require the provision of information to help control the spread of disease. " Page 12
Posted by The Englishman at 2:09 PM | Comments (18) | TrackBack

January 4, 2009
Change4Life - Junk Food Science
Junkfood Science: The new word for 2009: bansturbation - as ever an excellent and essential read.
(One minor inaccuracy Sandy kindly credits me with coining the word bansturbation - I think it was Worstall, but I may be wrong ...)
Posted by The Englishman at 7:39 AM | Comments (4) | TrackBack

January 3, 2009
Ban food from being tasty
THE woman given the job of promoting McDonald's has revealed the secret of the fast-food chain's success – salt and fat.
...fat and salt makes food taste good. There is no point taking all the fat and salt out of your food because people won't like it and they will eat with someone else.
Fife-based nutritionist Carina Norris said : "Ideally, we would like people to start weaning themselves off these tastes and on to healthier options."
"But failing that, it would be great if restaurants and manufacturers did their own bit by taking salt and fat out of foods."
Ms Norris added: "The problem from a business point of view is that no-one wants to be the first one to take fat and salt out of their foods and make them less tasty. People would go somewhere else."
Tam Fry, chairman of the Child Growth Foundation, said: "It is true that humans do require some level of fat, salt and sugar in their diet....

...but we don't want you to enjoy your food, or anyone to profit from selling you food you want to eat, eat lettuce, damn you, eat only lettuce....
Posted by The Englishman at 12:03 AM | Comments (4) | TrackBack

January 2, 2009
Change4Life logo
Government looks for 'lifestyle revolution' in £275m anti-obesity drive |guardian.co.uk
The Department of Health's Change4Life campaign includes £75m of government marketing over three years and a pledge of £200m in services and marketing support from a 33-strong coalition of companies.
It aims to prevent the forecast that by 2050 up to 90% of today's children will be overweight or obese.
"Change4Life has a critical ambition. We are trying to create a lifestyle revolution on a huge scale, something which no government has attempted before," said public health minister Prawn Dimarolo.
I'm glad to see they have got the logo sorted out....
Posted by The Englishman at 11:40 PM | Comments (8) | TrackBack

Ban Ban Ban....
Fatty foods could be banned to halt obesity rises - Telegraph
Ben Bradshaw, the Health Minister, promised that the Government would not shy away from bringing in new rules to force food companies to play a part in changing the country's eating habits. Limits could be imposed on the amount of fat and salt in certain products.
He said: "We have already made progress on things like labelling and fat and salt content working with the industry. But ... if this three-year campaign does not succeed, we don't rule out regulating in future."
Tam Fry, a National Obesity Forum board member, told the BBC that greater regulation of the food industry was needed to tackle rising obesity.
He said: "What we fear is that the industry is very willing to give £200 million to the campaign as a way of deflecting the Government's interest in regulation.
He actually doesn't want the voluntary measures to work, he is all excited by the prospect of some mutual bansturbation with Ben Bradshaw....
Posted by The Englishman at 8:21 PM | Comments (2) | TrackBack

Improving choice by bans
School ban will keep junk food 400 metres from pupils - Times Online
Clyde Loakes, (Lab), Leader, Waltham Forest Council, said: "We have too many fast-food outlets in this borough and we've had enough. We don't want to tell people how to live their lives - but at the moment residents simply don't have enough choice because of the amount of fast-food takeaways."
Posted by The Englishman at 7:49 AM | Comments (3) | TrackBack

December 31, 2008
Après Blair le déluge
'Operation Credit Crunch' to round up every burglar in London - Telegraph
Sir Paul Stephenson, acting Commissioner, has ordered officers to pursue every outstanding warrant for known, wanted or suspected burglars. It has led to almost 600 arrests since mid-November.
Operation Spotlight has rounded up 593 suspects wanted on warrants for burglary in six weeks - at more than double the usual rate for that offence. Of those, 250 were charged with burglary and a further 200 face prosecution for other criminal offences.
In a further move to improve public confidence, Sir Paul ordered a police officer to be assigned to every reported burglary in the capital and a forensics team to visit the victim's home within four hours.
And why is this new, why wasn't this standard procedure, what did ex-boss Blair think was more important for the police to be doing than nabbing burglars and investigating crimes.....don't bother answering I think we all know....
Posted by The Englishman at 11:25 PM | Comments (1) | TrackBack

Next Year - 1984
Private firm to run communications super database - Telegraph
Plans for a private company to run a super database containing the identities and location of every person in Britain are being considered by the Government.
Under the new system, which will be outlined in the new year in a consultation paper on the interception modernisation programme, one or a number of organisations would proactively collect all communications data, including from broadband phone calls and chatrooms, instead of such information being retrieved at the behest of police or intelligence agencies.
The potential cost of such a database has been estimated to reach £12bn, but the consultation paper includes an option to put it out to private tender in a bid to cut costs.
They will be able to track my movements as I travel round the ropemakers of this isle buying up all the hempen lengths I can as I believe there will be a shortage soon.
Posted by The Englishman at 7:33 AM | Comments (3) | TrackBack

December 26, 2008
The Nanny State
How did I survive without nanny's advice? | Hugo Rifkind - Times Online
Have you noticed how you don't really hear the phrase "nanny state" any more? It seems to have fallen out of fashion. This could be mainly due to a very deliberate shift in Tory cultural linguistics (Dave and Sam, of course, would only ever talk about au pairs) but I fear that there is something altogether more insidious going on. We don't talk about the nanny state because the nanny state has won. It has seeped in.
In years to come, I reckon, historians will look at the first decade of the new Labour government, and marvel at the extent to which petty legislation actually managed to change the national character. I doubt they meant it to happen. They just wanted to be responsible for everything. Basically, and to bring my degree in philosophy into play, they didn't think that we could be entrusted with duties. They had to turn them all into rights.
Once you stop resenting nanny, you start to rely on her. If nanny tells you to stop smoking in pubs, you probably stop smoking in pubs. But, in time, you also stop thinking about whether you ought to smoke in pubs or not. And worse, if somebody else lights up next to you, you expect nanny to do something about it. It's not your business or even really his. It's just nanny's business. You've both become morons.
Posted by The Englishman at 7:18 AM | Comments (0) | TrackBack

December 24, 2008
Bah Humbug Plod
Christmas spirit off limits as police halt shops' mulled wine tradition - Scotsman.com News
POLICE have used anti-social behaviour laws to stop shopkeepers handing out mulled wine to customers as part of a village's Christmas celebrations.
Traders are angry that officers from Fife Constabulary moved in to stamp out a practice that has been a tradition in Anstruther for 17 years.
Mr Dibley, who runs a pet shop in the village, said: "In a small community you know your customers, who are also your neighbours, and this was to thank them for a year's business. I found the police's action a wee bit strange, but then we live in strange politically correct times."
Posted by The Englishman at 6:53 AM | Comments (0) | TrackBack

Whose side are they on?
Probation chiefs 'undermine plan for criminals to wear punishment jackets' - Times Online
Plans to make criminals wear high-visibility jackets while doing community punishments face being undermined by a probation service "institutionally on the side of offenders", the Government's neighbourhood crime adviser said.
I thought it was only horrible reactionary Tories who said that. I would just like to see some evidence that any work is ever done. Our village has been waiting eighteen months for a bunch of scrotes to come and paint the children's play equipment; obviously there aren't any naughty boys in Wiltshire...
Posted by The Englishman at 6:39 AM | Comments (0) | TrackBack

December 21, 2008
Hokey Cokey Pokey Party
YOU put your right leg in . . . It's a dance-floor favourite at family gatherings and a good indicator of when elderly aunts have had enough sherry.
But, as the party season gets into full swing, the Catholic church and politicians in Scotland have warned that singing the Hokey Cokey could get you arrested because it contains a sinister, sectarian message. They claim the ditty was composed by Puritans during the 18th century to mock the language and actions used by priests at Latin Mass and could be hijacked by bigots.
Politicians have urged the police to arrest anyone caught singing the song in a sectarian context under legislation on incitement to religious hatred.
SNP MSP Michael Matheson said: "It is important that the police and football clubs are aware of the sinister background to this song, and take the appropriate action...

(The single reached the #18 spot on the U.K. singles chart in 1981. The holiday spoof was performed by Frosty, Blob, Lump and Norman according to Stiff Records. Most people suspect that it was Ian Dury and The Blockheads.)
Posted by The Englishman at 3:32 PM | Comments (4) | TrackBack

December 19, 2008
Nanny's sense of humour
Shopkeeper told to stop putting jokes on adverts - Telegraph
Bob Singh, 36, has been adding jokes to his promotional leaflets for more than 10 years at his Landmark store in Port Talbot, south Wales.
But police officers turned up at his general store to offer "appropriate advice" and warned he could face prosecution for breaching public order if he did not stop.
Mr Singh has been left baffled by the police intervention as he claims the jokes contain no bad language and are not racist. He admits some were "a bit saucy".
South Wales Police sergeant Simon Merrick said: "The content of promotional material which has been distributed in the area has been brought to our attention as being potentially inflammatory and offensive.
"The distributor has been appropriately advised and instructed to withdraw the leaflets from circulation."
Some of Mr Singh's jokes include:
:: What is the technical name for three days of horrendous weather followed by bright sunshine? A Welsh Bank Holiday!
:: What do you call a sheep with no legs? A Cloud!
:: What do you get when you cross an elephant with a rhino? El-if-i-no!
:: What do you call a deer with no eyes? I have No-I-Deer.
Barbara Wilding CBE QPM CCMI writes
As the Chief Constable of South Wales Police I am interested in what you think of the service you receive from my force. I am launching a new consultation program, with the aim of gathering your views.
Your Comments Count – Click here

A survey to tell us about any 'excellent customer service' you have experienced from South Wales Police staff. We strive to deliver a high level of customer service and aim to achieve this through one of the force priorities, "Making Every Contact Count". Your comments can help us to reinforce quality of service through recognising and rewarding excellence.
Nothing like a bit of old fashioned policing, in fact it is nothing like a bit of old fashioned policing....
Posted by The Englishman at 7:02 AM | Comments (1) | TrackBack

December 16, 2008
The Assault on Liberty: What Went Wrong with Rights - Book Launch
iea ::: institute of economic affairs
Wednesday 21st January 2009
6.30pm – 8.00pm (with brief remarks by the Author at 7.00pm)
2 Lord North Street, Westminster, SW1

Since 1997, the government has launched an unprecedented assault on our most basic rights. In so doing it has eroded the very idea of liberty developed over 800 years and which millions have died defending. From 42 days detention without charge and ID cards to mammoth government databases and local surveillance, our fundamental freedoms are being pawned off cheaply on the false pretence that it will make us safer. At the same time, a whole range of novel rights are being conjured up and handed out with scant democratic accountability, fuelling a compensation culture, undermining social responsibility and turning common sense on its head.
As a general election beckons, with all three political parties proposing major constitutional reform, The Assault on Liberty is a long overdue polemic that seeks to shed light on the state of our democracy, by answering one of the most hotly disputed questions of our times - what went wrong with rights?
One for the diary
Posted by The Englishman at 11:58 AM | Comments (1) | TrackBack

HMS QM2
Letters to The Editor - The Times
Sir, Two new Royal Navy aircraft carriers were announced by the Labour Government in mid-1998. At about that same time, Cunard announced its plans to build the Queen Mary 2. Since then, the QM2 has been delivered, on time and to budget, and now has five years' active service behind her. The aircraft carriers have not even left the drawing board yet and have already notched up expenses equal to the entire cost of the QM2. Perhaps the Admiralty and the Ministry of Defence should engage with the Carnival Corporation (Cunard's parent company) on how to design and construct ships to time, on budget, and without excessive cost overruns.
Posted by The Englishman at 7:29 AM | Comments (2) | TrackBack

Council Misuse of RIPA - No Change
Stop snooping on the public, councils told - Times Online
Local councils are to be barred from using surveillance powers to snoop on members of the public suspected of minor offences such as dog fouling, the Home Secretary is to announce today.
"While the vast majority of the investigations that are carried out under Ripa are important – like protecting the public from dodgy traders, trapping fly-tippers who dump tonnes of rubbish on an industrial scale across the countryside, or tackling the misery caused by noisy and disruptive neighbours – there are clearly cases where these powers should not be used," she will announce..
In other words, a slap on the wrist for generating bad publicity for The Project but carry on, just more carefully.
Posted by The Englishman at 6:56 AM | Comments (0) | TrackBack

December 15, 2008
Annual Offensive Christmas Lights Story
Woman told to remove Christmas lights to avoid offending non-Christian neighbours - Telegraph
She was astonished when an employee of South Tyneside Homes called at her house and informed her that the decorations she was displaying might be offending her neighbours.
Independent councillor Ahmed Khan, who represents Mrs Glenn's ward, condemned the employee's actions.
He said: "Every year this woman puts her Christmas lights up and I know how popular they are. It's great when people make an effort to decorate their houses.
"It's this kind of nonsense that sets race relations back 20 years.
There is some sort of rule where that if A tries to ban B from doing something that A thinks C might find offensive, without the slightest bit of evidence that C would then A is always wrong and an intolerant fascist twat.
Posted by The Englishman at 7:01 AM | Comments (5) | TrackBack

December 12, 2008
Fat Pork Barrel
Change4Life shock adverts to reduce child obesity - Times Online
National Child Measurement Programme, which last year measured the weight and height of almost a million children in the first and last years of primary school... a £375 million campaign called Change4Life. But campaigners say that more radical tactics are needed ...The advertising company M&C Saatchi has been testing messages...Tam Fry, a spokesman for the National Obesity Forum, said...Tim Straughan, the Information Centre's chief executive, said...Josh Bayly, of the British Heart Foundation (BHF), said...Dawn Primarolo, the Minister for Public Health, said....

Getting fat at the taxpayer's trough

Posted by The Englishman at 6:51 AM | Comments (0) | TrackBack

December 10, 2008
Guns and Girls Don't Mix
Husband shot at semi-naked wife for target practice - Telegraph
Vedran Ribaric, 26, forced wife Mirna to strip to her knickers and run round her garden while he took pot shots at the terrified woman.
He even persuaded the frightened 23-year-old to pose provocatively while he took aim.
A neighbour said: "Shooting at a beautiful woman like her is crazy. Couldn't he have practised on a wild pig like everyone else?'
And where is the Youtube link?
Posted by The Englishman at 6:44 AM | Comments (1) | TrackBack

December 9, 2008
What set Nanny off
BBC NEWS | The Reporters | Mark Easton's UK
Where does Britain figure in a league table of nanny states? Well, according to boffins in the prime minister's Strategy Unit in 2004, about two thirds of the way down. Some will argue we have moved rapidly up the league since them...
The document surmised that "people in Britain appear fairly comfortable with the balance that UK policy has generally struck between state and individual responsibility."...
The British public doesn't seem too exercised either way and so, the strategists argued, the UK could afford to tilt more towards a state intervention model....
The white paper railed at the "sterile national debate... between those proposing a heavy handed nanny state on one hand, and those supporting inactivity bordering on neglect in the name of individual freedom on the other."
Suddenly Whitehall was awash with initiatives to change behaviour - on health, welfare, the environment and crime....

Posted by The Englishman at 10:09 PM | Comments (1) | TrackBack

December 4, 2008
Gosh a business wants to make more money, we can't have that.
Marlborough takeway's extra hours bid criticised (From The Wiltshire Gazette and Herald)
On Monday the town council planning committee discussed a proposal by the Charcoal Grill kebab and burger takeaway at the back of Hughenden Yard to open until 3.30am on Fridays and Saturday nights.
Councillors came up with several reasons for objecting.
Coun Marian Hannaford Dobson said she was surprised to see one of the reasons stated in the application for the longer hours was "making more money".
And she is a "Conservative", I'm not sure Councillors have quite got the hang of why people want to fry burgers at all hours of the night...

(As an aside I used to have an office next door to this kebab shop, to save queuing they would actually bring the programmers their burgers to their desks, and as it was a smoking office the code jockeys had no reason to ever leave their keyboards....)
Posted by The Englishman at 7:07 PM | Comments (3) | TrackBack

December 3, 2008
Can't be unlawful
Jean Charles De Menezes coroner rules out unlawful killing verdict - Times Online
Sir Michael Wright, QC, ruled yesterday that jurors would not be allowed to consider a verdict of unlawful killing.
Sir Michael, a retired High Court judge, told the eleven jurors that they could only consider two outcomes: either that Mr de Menezes was lawfully killed or an open verdict.
That is reassuring, next time you are faced with bunch of hyped up plod about to blow your innocent head off remember it will either be lawful or just one of those things that no one can be blamed for.
Posted by The Englishman at 6:49 AM | Comments (3) | TrackBack

December 2, 2008
Haringey - The Secret Report
Why focus on meeting targets did not save Baby P | Camilla Cavendish: Commentary - Times Online
There are 191 children with child protection plans in Haringey. There are 121 social worker posts.
Mr Balls is refusing to publish the serious case review (SCR) into the handling of the Baby P case because he says that lessons cannot be learnt if people are put off contributing to reviews. But it is clear that the SCRs and the regulators have failed. We need public scrutiny of this uniquely unaccountable public service.
Of Haringey's 121 social workers, 51 are temporary agency staff. It is not fear of scrutiny that puts good social workers off going to Haringey. It is lack of leadership, shockingly poor management and cover-ups. If the public were privy to all the details, they might conclude that doing more to "embed the London protocol for interagency working to improve outcomes for children and young people", as yesterday's report advised, may not be the answer. What is needed is not more jargon but for staff to take responsibility.
The report needs to be published, No more cover ups. No more box ticking. We won't stand for it.
Posted by The Englishman at 6:31 AM | Comments (0) | TrackBack

November 21, 2008
ID Cards - they are so good for you!
Introducing the National Identity Scheme
How the Scheme will work and how it will benefit you - pdf
The UK Identity and Passport Service have published yet another launch document for the National Identity Scheme. The 20 page propaganda piece is entitled "Introducing the National Identity Scheme - How the Scheme will work and how it will benefit you" with illustrative examples to show what the government thinks an ID card could do for you. For instance a 19 year old goes up to a bar "digs in her bag and pulls out her identity card. She hands it over which confirms that she is in fact 19. As she puts the card back in her purse she is relieved that she no longer has to hand over documents with her address on them to prove her age". Or Dave who wants to get a mortgage and "is pleasantly surprised to be told that, as he has his identity card with him, they can verify his details now and start processing his application immediately". The document doesn't mention that once your details are in the database they are in there for life, that it is your responsibility to keep that data up to date and to not lose your card, that you can't check your record, that there are fines for any errors or if you fail to keep your data up to date, and that the National Identity Register Number will be used to track you for the rest of your life.
Thanks to regular reader DA for that.
Posted by The Englishman at 7:26 AM | Comments (1) | TrackBack

November 15, 2008
Regulate the Internet - It's for the children

Booze ad restrictions 'no use without power over internet' - Scotsman.com News

CONTROLS on alcohol advertising should be extended to the internet as part of the drive against under-age drinking, a conference in Edinburgh will be told next week....
The current code on drinks ads says they must not link alcohol with sex, social success or daring behaviour; show alcohol being handled irresponsibly; or depict people who appear to be under 25.
"Ultimately, this is where the regulatory battleground is happening."
Posted by The Englishman at 7:40 PM | Comments (2) | TrackBack

November 14, 2008
The Cost of Food
Crop sprays a risk to health, rules High Court - Telegraph
And the Government has been ordered to "rethink" its policies on pesticides so that human health is given more priority.
The ruling by Mr Justice Collins is a landmark victory for Georgina Downs who launched a one-woman campaign after her own health was damaged by crop spraying. ...
I suppose The Telegraph can get away without inserting "she claimed" in the second sentence as she has persuaded Mr Justice Cocklecarrot that her symptoms were caused by evil industrial agrochemicals. Not a shred of scientific proof as far as I can see apart from anecdotes. Of course I feel sorry for her, she is sick, but not as sick as the kids who live far far away from her rural idyl who will be unable to afford food as the costs she is imposing on farming are translated in higher food prices.
Posted by The Englishman at 10:36 PM | Comments (2) | TrackBack

November 10, 2008
Taxman Admits Smoking Ban Devalues Pubs
Smoking ban may reduce pub rates by thousands - Telegraph
Publicans who applied for a reduction in the rateable value of their premises after the ban was introduced in 2007 were turned down on the grounds there had been no material change in the way the pub was used.
But the Valuation Office Agency has received legal advice saying that decision was wrong.
"The Government's own tax inspectors have now admitted that pubs may be eligible for refunds on their business rates, but pub owners are being intentionally kept in the dark on this U-turn.
"Ministers are only interested in changing the local tax regime when it raises extra money for Gordon Brown's coffers. Yet again, Labour's taxmen have been caught red-handed fiddling the system to make families and firms pay more than they should. Thanks to Whitehall secrecy and this stealth pub tax, local firms are going to the wall and everyday pub-goers are being hit in the wallet."
Posted by The Englishman at 5:22 AM | Comments (1) | TrackBack

November 7, 2008
Hurt in the line of duty
MoD pays £4m to gays for breach of human rights - Times Online...the average payout was £61,500.
The MOD's lump sum payout for a level 5 injury in course of duty is £57,500 - (Table 10 to Annex A)
Level 5 Injuries include:
Burns, with deep second degree, third degree, or full thickness burns affecting 50 to 69 per cent of whole body surface area.
Complex injury covering all or most of the area from thigh to ankle or shoulder to wrist, with complications, causing permanent functional limitation and restriction.
Loss of both kidneys or chronic renal failure.
Spinal cord injury at vertebra T7 to T10.
Hemiplegia. (one-half of a patient's body is paralysed)
Posted by The Englishman at 5:52 AM | Comments (1) | TrackBack

November 4, 2008
Fat Girls F*** - Shock Horror
Fat women more likely to have had sex - Telegraph
American women aged 15 to 44. A Body Mass Index (BMI) of 25 was chosen as the cut-off point between being normal and overweight. 92 per cent of those who were overweight had slept with a man.
The figure was only 87 per cent among those of a "normal" size.
Dr Bliss Kaneshiro, who led the research, published in the journal Obstetrics & Gynaecology, said: "These results were unexpected and we don't really know why this is the case.
Maybe they aren't so hung up on perfection and are more interested in enjoying life? But he continues...

"Our analysis demonstrated that overweight women do not differ significantly in some of the measures of sexual behaviour compared to women of normal weight.
"This study indicates that all women deserve diligence in counselling on unintended pregnancy and sexually transmitted diseases, regardless of their weight."
In other words the conventional view is that fat women don't have sex, don't face the same risks (or pleasures) as thin women, this is because the conventional view is that being fat is so abnormal, so abhorrent, so unnatural that they should be ashamed and live a life of solitary penitence. It is so unfair that after all those years of not dieting the fat girls are still enjoying themselves.....
Posted by The Englishman at 5:14 AM | Comments (5) | TrackBack

November 2, 2008
Vescere bracis meis Mr Council!
Councils ban 'elitist' and 'discriminatory' Latin phrases - Telegraph
Local authorities have ordered employees to stop using the words and phrases on documents and when communicating with members of the public and to rely on wordier alternatives instead.
The ban has infuriated classical scholars who say it is diluting the world's richest language and is the "linguistic equivalent of ethnic cleansing".
In instructions to staff, the council said: "Many readers do not have English as their first language so using Latin can be particularly difficult."

More dumbing down - it isn't as though the banned phrases are obscure legal phrases, they have been absorbed into our language and are part of our heritage.
Luckily I have discovered a NSFW source of suitable phrases to use when writing to the council...
Posted by The Englishman at 6:26 AM | Comments (3) | TrackBack

October 29, 2008
1067781345046160692992979584215948335363056972783128881420721375504640
Vampires are said to suffer from a condition called arithmomania: a compulsive desire to count things.
Vampires are said to have their own numbers: these are defined as a number that can be written as the product of two smaller numbers of half the length which contain all the digits of the larger number. For example 1395=15x93. The two smaller numbers are called the vampire number's fangs. Although this is little more than a numerical curiosity, mathematicians have proved that there are an infinite number of vampire numbers.
However, research into the science of Hallowe'en has also proved that vampires cannot exist. Vampires need to feed on the blood of a human being at least once a month to survive. The trouble is that once you have feasted on the human, the victim too becomes a vampire. So next month there are twice as many vampires in the search for human blood to feast on.
The world's population is estimated to be 6.7 billion. Each month the population of vampires doubles. Such is the devastating affect of doubling that within 33 months a single vampire would end up transforming the world's population into vampires. Even if one factors in the effect of the birthrate, humans can't reproduce quickly enough to counter the mathematical effect of doubling.
So forget the garlic and the mirrors, it's mathematics that is your best protection against the Prince of Darkness.

Marcus du Sautoy will be the new Simonyi Professor for the Public Understanding of Science at Oxford University, succeeding the evolutionist Richard Dawkins.
Excellent! We really need better public understanding of science, and if he can engage our interest with quirky snippets like that then there is hope.
(Headline - A 70-digit vampire number with 100025 different fang pairs)

Posted by The Englishman at 7:17 AM | Comments (1) | TrackBack

October 27, 2008
Sheep tagging - some protest.
Police to use handheld fingerprint scanners in the street - Telegraph
Every police force is to be issued handheld fingerprint scanners that will allow officers to carry out identity checks on people in the street. Project Midas would give the police "a full, mobile national capability" to check identities.
In other news:
Unions protest over EID - Meatinfo.co.uk
Farming unions from the UK and the Republic of Ireland turned out in force in Brussels this week to protest against compulsory electronic tagging for sheep.
Representatives from the farming unions of England, Scotland, Wales and Ireland are in agreement that plans for all sheep in Europe to be electronically tagged by 2010 are unworkable.
Posted by The Englishman at 7:26 AM | Comments (1) | TrackBack

October 23, 2008
No Filthy Puns in the Countryside
The Country Wife Act 4, scene 3
....This allows Sir Jasper to utter innocently what is, for the audience, a filthy double entendre:
"Wife! my Lady Fidget! wife! he is coming into you the back way."
Lady Fidget's reply spells out the joke:
"Let him come, and welcome, which way he will".
Filth! Smut! Disgusting! Not the sort of Restoration Romp we want perfomed at our school thank you very much, far better the children are safely at home watching Eastenders.
Posted by The Englishman at 8:11 PM | Comments (0) | TrackBack

October 22, 2008
It's My Job
Supermarket shoppers could be forced through alcohol-only checkout - Telegraph
"Having separate areas to sell alcohol will help us tackle this growing problem of young people getting tanked up on cheap supermarket beers and lagers," the source was reported as saying. "We would also want to see specially-trained staff in these areas to make sure alcohol is not being bought by people who are underage."
But those buying a selection of beer and wine along with their weekly groceries would be forced to queue twice to pay for one, then the other.
And the move is likely to enrage supermarkets because of the potential cost of constructing new areas and training staff, and the potential inconvenience to customers who could simply opt to buy their drink elsewhere.
Ministers are expected to reject, however, the suggestion of doctors that alcohol be priced per unit of alcohol and a minimum price for any alcoholic drink.
They are also considering whether to force supermarkets to stamp a bar code on cans of lager, alcopops and bottles of spirits and wine to enable police to quickly be able to identify where alcohol they confiscate from underage drinkers has come from.
The plans all form part of a draft code of practice looking at ways of clamping down on British drinking drawn up by the Home Office and the Department of Health.
"Specially-trained staff" - sounds impressive doesn't it! If they ever went to a supermarket they would see that Tracey already has a badge apologising for having to ask if you are old enough - "it's my job" that I will lose, sort of stuff. Of course teaching someone to say, "You got ID?" if they aren't using a zimmer frame is probably worthy of a GCSE these days, but it is hardly rocket science. It is all bollocks, it is all about control.
Posted by The Englishman at 6:34 AM | Comments (4) | TrackBack

October 19, 2008
Simizdata
Passports will be needed to buy mobile phones - Times Online
Everyone who buys a mobile telephone will be forced to register their identity on a national database under government plans to extend massively the powers of state surveillance.
Phone buyers would have to present a passport or other official form of identification at the point of purchase. Privacy campaigners fear it marks the latest government move to create a surveillance society.
A compulsory national register for the owners of all 72m mobile phones in Britain would be part of a much bigger database to combat terrorism and crime.
Back to the happy days when all typewriters had official IDs and reference printouts stored for identification purposes. Maybe it is time to stock up on some sim cards....
Posted by The Englishman at 7:25 AM | Comments (2) | TrackBack

October 15, 2008
Truth in Advertising

Maltesers and Jaffa Cakes ads banned over health claims - Scotsman.com News

TWO adverts, for Jaffa Cakes and Maltesers, were banned yesterday for suggesting the products were low-fat or low-calorie.
The Advertising Standards Authority (ASA) ruled that an advert featuring the statement that a Malteser contains "less than 11 calories" gave the "misleading impression" that the sweet was low in energy.
The watchdog also criticised a Jaffa Cakes advert that said each cake had "only one gram of fat". Again, it said this suggested the product was low in fat.
Both statements were statements of fact, neither advert made the claim that it is said they suggested, nor even came close to it. But people can't be trusted to understand that if one Malteser is about 11 calories then a bucket of them has a lot more, or that if a 12g Jaffa cake only has one gram of fat then it isn't low fat. It is a thought crime.
Judge for yourself...
Posted by The Englishman at 6:28 AM | Comments (0) | TrackBack

October 12, 2008
Drinkers Unite
So the latest edict from politicians in London and Edinburgh is that they should decide how much alcohol should cost to try to control how much we all drink. Despite all the legislation already out there to deal with shops that sell to the underage, or bars and clubs that contribute to anti-social behaviour, politicians seem to think that writing even more laws that punish everyone is the solution.
Like so many Government-led debates, the average punter who enjoys a pint or a bottle of wine with friends, continues to be ignored.
The Drinkers Alliance, is a new platform recently launched to give everyone a chance to make their views heard on the debate on alcohol.

Go and sign up.
Posted by The Englishman at 7:18 AM | Comments (0) | TrackBack

October 11, 2008
Tagged and sampled
DNA of 1,800 people every day added to police database - Telegraph
Overall the number of DNA profiles on the database increased from 3.78million to 4.43million by the end of March 2008, the National Policing Improvement Agency said. Taking into account replication factors, there were 4.1 million different individuals represented on the database.
Of those, 3.25million had a conviction, caution or formal warning which means that over 730,000 people were innocent of any offence.
The NPIA said that 244,514 young people under the age of 18 are included on the database.
Under 84 years to get everyone at this rate - so nothing to worry about???
Posted by The Englishman at 7:19 AM | Comments (2) | TrackBack

Just Deserts
Strangled paedophile may have been the victim of a vigilante - Telegraph
"The investigation into the death continues and officers are following up a number of lines of inquiry."
Put the file in with the missing cats and UFO spotted over Kings Lynn cases and treat yourself to a large scotch would be my advice.
Posted by The Englishman at 7:01 AM | Comments (2) | TrackBack

October 3, 2008
Swiss Army Death Threat to Britain's Streets
TK Maxx sold jackets with knifes attached - Telegraph
The Swiss-made Strellson jacket, which was reduced from £200 to £59 at the discount clothing shop, has a metal chain with a Vecorinox officer's knife on the end attached to the lining.
"It's horrendous. They're promoting knife crime.
"Someone could get hurt. I hope whoever came up with that idea gets a big fine."
"Vecorinox officer's knife"? Do they mean Victorinox Swiss Army knife? (Officer's knife is an Americanism and the misspelling of Victorinox is just sheer laziness.) Either way I'm fleeing the streets in terror at the idea I may be poked by a tool for getting stones out of horses hooves or threatened by the death of a thousand cuts from a pair of folding scissors...
Posted by The Englishman at 6:47 AM | Comments (5) | TrackBack

The Guardian's Blair Obituary
The fall and fall of Sir Ian Blair | UK news | guardian.co.uk
...his lack of judgment, luck and people skills..
Even the Guardian had turned against him, and if there ever was a Guardian Copper Blair was it. The Met needs a leader who the Met trusts, not one that is part of the the failing nuLabour project.
Posted by The Englishman at 6:27 AM | Comments (1) | TrackBack

October 1, 2008
Give me Freedom and/or Death
The anti-smoking campaign to nationalise our bodies | Mick Hume - Times Online
It's not just the banks. Today marks the next stage in the campaign to nationalise our bodies. Not content with those big written warnings on packets - Smoking Kills/Causes Impotence/Destabilises the Financial System, etc - the authorities are replacing them from today with stark pictures of what smoking can do:... know that smoking is bad for you. And so, by now, does everybody else. Yet the lifestyle police cannot accept that any thinking individual could simply choose to ignore their lectures and carry on smoking. "Let's show them pictures - they must be too thick to read!"
There are bigger issues here than discoloured teeth. In his essay On Liberty, J.S.Mill took a stand not only for freedom of thought and speech, but also for "liberty of tastes and pursuits...of doing as we like, subject to such consequences as may follow [ie, if you smoke don't sue tobacco companies] without impediment from our fellow creatures, so long as what we do does not harm them, even though they should think our conduct foolish, perverse, or wrong".
...the anti-smokers' real aim is to get you to cleanse yourself by changing what they think is your foolish, perverse and wrong behaviour, regardless of any harm it may or may not do to others. They have banned smoking in public places; they are pushing to ban it in private homes. Ultimately they want to ban it in your body and soul....They apparently believe that personal freedom has turned us into disgustingly obese, drunken ignoramuses, riddled with self-inflicted sexually transmitted and smoking-related diseases. I ask you, is that a healthy attitude?

Our personal freedom is under attack as never before. What I don't understand why it is that legal and long established freedoms to stuff our bodies with cream cakes, fine ales and Marlboro lights are vilified daily but newer freedoms to stuff our bodies with things that were or are illegal such as cocaine, filthy pictures or by buggery never have a word said against them.
Posted by The Englishman at 7:09 AM | Comments (6) | TrackBack

September 30, 2008
Local Punishments for Local People
Local people can set punishments for offenders for first time - Telegraph
As part of pilots in six areas of the country, citizens' panels will able to tell probation officers and council officials what community sentences would help their neighbourhoods most.
Meetings to discuss community "pay back" schemes will take place regularly in each of the pilot areas.
Officials said that if the pilots in Leicester, Manchester, Suffolk, Hampshire, Wiltshire and north Wales were successful they would be expanded nationwide

Wiltshire? Please Sir may I be on the panel to set the punishments, it won't be just the local swings being repainted, oh no, driving down the A303 will be whole lot nicer as the tarmac is swept clean with toothbrushes everyday by chained gangs in orange boilersuits....
Why do I guess it won't happen and it will just be panels of the local do gooders who get appointed? Because there is a chasm between what punishments local people really want to see and what the system provides. ..Though I wonder if we could get Mrs FM snuck on board, she would have them picking oakum before they knew it...
Posted by The Englishman at 6:17 AM | Comments (0) | TrackBack

September 27, 2008
God Blogging
Thou shalt not upload: religious leaders draw up Ten Blogging Commandments -Times Online
Church leaders have drawn up a new set of the Ten Commandments aimed at delivering "God bloggers" from the temptations of the blogosphere.
Alarmed by the extent to which religious blogs can descend into vitriol, senior evangelical clergy are calling on bloggers to obey the new commandments or risk perdition.
The commandments order bloggers not to put your blog before your integrity; not to "make an idol" of the blog; not to misuse your screen name by using your anonymity to sin and to remember the Sabbath by taking one day off a week from blogging. They also order: "You shall not use the web to commit or permit adultery in your mind."
That's you Theo they are talking to!

The "instant access" nature of most blogs means people posting comments often do so in the heat of passion and rarely stop to reflect, as they would if giving a lecture or writing a letter.
The result can be intemperate and sometimes foul language..
Be warned Devil

Church leaders are growing increasingly concerned at the defamatory and inflammatory content of some blogs, which unlike newspapers and television are unregulated.
Free thinkers are dangerous.....
Posted by The Englishman at 6:32 AM | Comments (5) | TrackBack

September 26, 2008
Pub Sign Update
The Publican - Home - Support for pub asked to remove road sign
A pub asked to remove its road sign, due to fears it could encourage drink-driving and distract drivers, has been inundated with letters and calls of support.
As revealed on ThePublican.com last week the Black Dog in Chilmark, Wiltshire was ordered to take down its sign by the Highways Agency
A spokesman for the Highways Agency said: "The local authority were cracking down on the number of illegal signs in the area anyway and that is why I believe the sign was refused, not on the basis of [local Highways Agency planning manager] Mrs Ashman's regrettable comments. The comments about drink-driving, should not have been made and won't lead to any precedents being set."
That whirring sound you can hear is furious backpedaling - sometimes public pressure works.
Posted by The Englishman at 6:22 AM | Comments (0) | TrackBack

September 25, 2008
David Blaine who cares? Part Two
An Englishman's Castle: David Blaine who cares?
I have been proud of the way nearly the entire British nation has treated him, as a joke. I think he believed he would get "respect" - no he got eggs thrown....
The ninth post ever on this blog, one that I was reminded of as people have been searching it out this week....
David Blaine rubbished over breaks from hanging upside down - Times Online
After discovering the 35-year-old with feet firmly on a platform, and seemingly breaking his promise to drink through a straw while hanging and urinate through a catheter, journalists and bloggers have brought back memories of the disdain surrounding his 2003 London stunt, in which he spent 44 days in a Perspex box, by penning scathing criticisms of his effort.
It seems some things never change.

Posted by The Englishman at 7:08 AM | Comments (0) | TrackBack

September 24, 2008
Nannying the old dears
Wiltshire holds slipper exchanges
Older people in Wiltshire are being invited to put their best foot forward and take advantage of free slipper exchanges.
To help keep people safe Wiltshire County Council are organising slipper exchanges in Salisbury, Devizes and Amesbury.
Wednesday 1 October is International Day of Older People and the Slipper Exchange is taking place at a celebration of the skills and achievements of older people living in South Wiltshire, organised by Age Concern Salisbury District.
At all the Slipper Exchanges there will be advice and information available from a range of organisations including Age Concern, Wiltshire Primary Care Trust, and Wiltshire Fire and Rescue Service.
People will also be able to find out about a variety of county council services including trading standards, care and support services for older people and libraries.
People over 65 can bring along a pair of old, worn-out slippers and exchange them free for a new pair which will be fitted by trained fitters. The new slippers are comfortable, warm and safe and will help reduce the risk of falls.

Words fail me.
Posted by The Englishman at 6:34 PM | Comments (3) | TrackBack

September 20, 2008
Disseminating a moronic ... whoops! two banned words already...
The phrase Old Masters is sexist, authors and students are told - Telegraph
The list of banned words was written by the British Sociological Association, whose members include dozens of professors, lecturers and researchers.
The list of allegedly racist words includes immigrants, developing nations and black, while so-called "disablist" terms include patient, the elderly and special needs....
the BSA warns authors against using civilisation because of its "racist overtones that derive from a colonialist perception of the world".
Among the "sexist" terms to be avoided are "seminal" and "disseminate" because they are derived from the word semen and supposedly imply a male-dominated view of the world.
Prof Frank Furedi, a sociologist at the University of Kent, said he was shocked when he saw the extent of the list and how readily academics had accepted it.
"I was genuinely taken aback when I discovered that the term 'Chinese Whisper' was offensive because of its apparently racist connotations. I was moved to despair when I found out that one of my favourite words, 'civilised', ought not be used by a culturally sensitive author because of its alleged racist implications."
Prof Furedi said that censorship is about the "policing of moral behaviour" by an army of campaign groups, teachers and media organisations who are on a "crusade" to ban certain words and promote their own politically correct alternatives.

Posted by The Englishman at 7:03 AM | Comments (4) | TrackBack

September 19, 2008
Silly Old Woman Demands Silly Old Women Put Down For The Good Of Society
Baroness Warnock: Dementia sufferers may have a 'duty to die' - Telegraph
Lady Warnock, a former headmistress who went on to become Britain's leading moral philosopher, insisted there was "nothing wrong" with people being helped to die for the sake of their loved ones or society.
The 84-year-old added that she hoped people will soon be "licensed to put others down" if they are unable to look after themselves.
No one has a problem with those facing dementia reaching for the club Webley, no one objects to soup dribblers in hospital being eased on their way for their own relief. But there is a line there and the stupid old bat has crossed it, when we license people to kill the old and feeble for the good of society we are a sick and evil people.
Posted by The Englishman at 6:46 AM | Comments (1) | TrackBack

September 15, 2008
Dennis Bashing Journalists
PC brigade put boot into Dennis 'the gay-basher' - Scotsman.com News 14th September
Euan Kerr... has spoken out in a book chronicling the official history of the comic, which will be published later this month.
He said: "I definitely felt a sense of responsibility in making sure the characters did nothing that was easily imitable. The evidence is that the kids understand a comic is a comic and that it isn't anything like real life.
"But the relationship between Dennis and Walter was always one that worried me. There were accusations from certain quarters that it was a little like gay-bashing. This obviously wasn't the way we intended it to be perceived."
Not only does he say it in a book The Scotsman picked up yesterday but today he has said it to The Times::

Euan Kerr,...
"I definitely felt a sense of responsibility in making sure the characters did nothing that was easily imitable," he told The Times.
"The evidence is that kids understand a comic is a comic and that it isn't anything like real life. But the relationship between Dennis and Walter was always one that worried me."
Papers of record - you know you can rely on them.

Posted by The Englishman at 6:39 AM | Comments (2) | TrackBack

September 14, 2008
The Fat Police
Fat-buster nurses won't give an inch - Scotsman.com News
A TEAM of NHS nurses is patrolling Scotland's streets to target pot-bellied members of the public and tell them how to lose weight.
Armed with measuring tapes to check waists and equipment to test blood pressure, the "Street Nurses" are policing busy shopping centres, supermarkets and community centres.
Any man with a paunch, or woman with an "apple-shaped" body whose waist measurement is higher than recommended limits is given diet and lifestyle advice or referred to local slimming classes.
Um, I wonder if the nurses get given any suggestions as to where they might go when they pounce on the unwary Rangers supporters enjoying a pie and a pint....
Posted by The Englishman at 9:05 AM | Comments (1) | TrackBack

Time To Bash Some Softies Again
PC brigade put boot into Dennis 'the gay-basher' - Scotsman.com News
A long-running Beano editor... says that he stopped Dennis from menacing fellow character Walter the Softy in the late 1980s because of fears that his behaviour appeared to endorse the violent bullying of homosexuals. But the DC Thomson veteran now feels the pendulum has swung too far in favour of political correctness and hopes there will be a return to the comic's anti- establishment roots.
"We decided the best way to approach it was to make sure that even though he and Dennis didn't get along, Walter was completely happy about who he was and a confident, likeable character in his own right. We eventually give Walter a girlfriend too, as a measure to combat any further criticism."
"The comic has certainly changed over the years to come in line with political correctness," he said.
"For example, every strip used to end with the rogue of the piece being punished in some way – usually a smack across the head or a slipper across the bottom.
"This sort of corporal punishment became outdated and eventually it was phased out."
Similar changes took place at the Dandy, where the burly cowboy Desperate Dan, who used to shave with a blowtorch and smoke tobacco by the bucket-full, was forced to go on a diet and had his six-shooter replaced by a water pistol.
But Kerr believes the time is right for a swing away from political correctness.
"Luckily for us, I think there is a real resistance to the overt political correctness creeping into British life and the Beano can hopefully use this to its advantage."
Posted by The Englishman at 9:03 AM | Comments (0) | TrackBack

September 5, 2008
Salt - the coppers friend
Obese criminals who eat junk food 'easier to catch' - Telegraph
A police scientist has developed a way of analysing the corrosion on bullet casings and knife blades that is caused by microscopic amounts of salt in hand sweat.
Dr John Bond suggested that those who eat junk foods - which contain large quantities of salt - will give away the most clues.
And that is why you should listen to your Mummy when she tells you to wash your hands after eating as well as before....
Posted by The Englishman at 8:28 AM | Comments (2) | TrackBack

September 4, 2008
Tommy this, an' Tommy that
Kim du Toit - RCOB Moment - 2007
A wounded soldier home from Afghanistan on sick leave was forced to spend the night in his car after a hotel refused him a room.
Corporal Tomos Stringer was told by staff at Metro Hotel, in Woking, that it was company policy not to accept members of the armed forces as guests. The 24-year-old had travelled to the Surrey town to help with funeral preparations for a friend killed in action.
I went into a public-'ouse to get a pint o' beer,
The publican 'e up an' sez, 'We serve no red-coats 'ere.'
The girls be'ind the bar they laughed and giggled fit to die,
I outs into the street again, an' to myself sez I:
Oh, it's Tommy this, an' Tommy that, an' 'Tommy, go away':
But it's 'Thank you, Mister Atkins,' when the band begins to play -
Posted by The Englishman at 7:00 PM | Comments (1) | TrackBack

September 2, 2008
The Machine in Control
'Have-a-go heroes' an increasing rarity in a Britain that has developed Robocop justice system, says report - Scotsman.com News
BRITAIN has become a nation of "passive bystanders" with fundamental changes needed on policing and criminal justice to tackle the issue, a report warns today.
The study, by the independent think tank, Reform, finds that the public are uninformed about crime and unlikely to participate in maintaining justice.
In a 36-page report entitled The Lawful Society, Reform says Britain has the most expensive criminal justice system in the world but that over-centralisation is failing to deliver results.
It also says the "have-a-go hero" is an increasing rarity, with Britons the least likely in Europe to intervene when a crime is taking place.
The report found that six out of ten people in Britain would be unlikely to challenge a group of 14-year-old boys vandalising a bus shelter, more than Germany, the Netherlands, Italy, France and Spain. In Germany, six out of ten would challenge the group.
The authors said that Britain had developed a "Robocop" criminal justice system where human judgment and engagement had been replaced by bureaucracy.
They said: "The result is a criminal justice system without a human face – bureaucratic, technocratic and machine-like.
"If the face of British criminal justice was once George Dixon of Dock Green, the new face might be the Robocop of Detroit's fictional future."
The system is winning, for us to be more of a sheeple than the Germans et al is a bloody disgrace.
(And if Reform launched this yesterday at lunchtime why isn't a copy on the web this morning, too good a lunch boys?)
Posted by The Englishman at 6:46 AM | Comments (2) | TrackBack

September 1, 2008
Choice and Enjoyment
Stores are attacked for cutting prices of fatty foods - Home News, UK - The Independent
Supermarkets are undermining healthy eating by bombarding shoppers with cut-price offers for unhealthy food during the credit crunch, according to a National Consumer Council report into the £90bn grocery market.
"The volume of in-house promotions for fatty and sugary foods the supermarkets are all offering is staggering," said Lucy Yates, the report's author. "We expected to see evidence of big improvements since our last investigation, but we've been sadly disappointed.
"Despite their claims, the supermarkets all still have a long way to go to help customers choose and enjoy a healthier diet."

Don't you love the way that nanny insists it is all about helping the consumer "choose and enjoy", not allowing us to choose and enjoy things we like but choosing and enjoying the things that will make us free...
Posted by The Englishman at 6:35 AM | Comments (0) | TrackBack

August 22, 2008
Stupid Bunts
Jacqueline Wilson falls out with Asda after spelling twit with an 'a' - Times Online
But that letter has led to a supermarket chain removing a book from its shelves, the publisher agreeing to remove the offending word from the next edition and one of Britain's bestselling authors being made to look rather foolish.
The decision by Random House to remove the word from Jacqueline Wilson's My Sister Jodie followed a complaint from Anne Dixon from Co Durham..."I am not a prude. In fact, I am quite broadminded, but this is completely inappropriate for children. They should not have to be subjected to trash and vulgarity. I did not expect this from a well-respected author and do not want my young niece to have to see this obscene slang."
John Simpson, the chief editor of the Oxford English Dictionary said: "I do not think it is felt to be the worst swear word in the language. It is used to mean a mere fool without any indication of what its original meaning is. I am a bit surprised that it has been taken out."
Whoops, it never occurred to me that those literary critics at ASDA would be offended if I called them a bunch of twats.
Posted by The Englishman at 6:33 AM | Comments (4) | TrackBack

How extra customers annoy the council
Council refuses to collect bins from culs-de-sac - Telegraph
Russell Clark, Uttlesford's waste and recycling officer, said efficiency savings had to be made because a glut of new housing had increased the number of households from 11,000 to 16,000 within two years.
But rather than increase the amount of money spent on waste collection, in line with increased revenue from council tax, Mr Clark said the council is trying to make savings.
I'm all for councils making savings but do they really understand this customer service thing? If BurgerKing's customer numbers grow from 11,000 to 16,000 they don't complain how hard it is and how all those extra burgers cost them too much money, they get on with serving them and use the increased efficiencies of scale to keep their prices down. Why is it so hard for a council to do this?
Posted by The Englishman at 6:22 AM | Comments (6) | TrackBack

August 20, 2008
The Price of Liberty
Kirsty McCluckie: Our liberty is a small price to pay to keep the verges tidy - Scotsman.com News
I'VE always been opposed to governments' increasing checks on their population: the hidden surveillance using CCTV cameras; the suggestion that it might be a good idea to keep everyone's DNA on file, whether or not we are criminals; and the introduction of identity cards from birth.
But perhaps I am just following the well-worn path of becoming less liberal and more reactionary as I get older, because the news that drivers will be fined if caught on camera throwing litter from their cars makes me hop from foot to foot and rub my...

To read this article in full you must have registered and have a Premium Content Subscription with the The Scotsman site.
I'm not wasting a brass testoon on reading such rubbish, you may differ. But as I grow older I may be becoming more reactionary, but that is reactionary against the young spitpups who trample over our liberties and destroy our hardwon freedoms. I am a reactionary who want to return to freer days.

Posted by The Englishman at 7:10 AM | Comments (1) | TrackBack

The Crime - They speed up and then slow down the music
Pete Doherty's Babyshambles banned from headlining Moonfest festival - Telegraph
Chief Superintendent Julian Kirby added: "We carried out an analysis of what Pete Doherty and his band does.
"What he does as part of his routine is to gee up the crowd. They speed up and then slow down the music and create a whirlpool effect in the crowd.
"They (the crowd) all get geed up and then they start fighting."
Superintendent Paul Williams, of Wiltshire Police, said "We are not killjoys and we help organisers with many events throughout the year and some are much larger than this one."
But then you read that the truth may be more disturbing ;



Green said police had offered him a deal during a pause in court proceedings to allow the night to go ahead if he agreed to spend more on security and removed Doherty from the lineup but he refused the "offer". "They told me privately they hate the fact he lives in Wiltshire and they don't want him on their patch," he said.



Now, I think Doherty is a complete prick, but I defend his right not to be run out of town by a bunch of corrupt, armed, state bully boys.
And personally I would rather my local plod were trying to run the pikeys who are traveling round here stealing anything metal that isn't nailed down out of town.

Posted by The Englishman at 6:52 AM | Comments (3) | TrackBack

August 19, 2008
PR Talk - what a joke.
James Corden to write jokes on Wall's lollies - Telegraph
A spokesman for Wall's Ice Cream said: "We want to re-launch the jokes on lolly sticks and we thought that using a comedian like James would be ideal.
"James is an up and coming comedian who is cutting edge and some of his jokes could make ice cream even more accessible to people.
"We want to update the current jokes and make them more relevant.
"cutting edge, relevant, accessible" Doesn't that sort of marketing guff make you want to shove a 99 where the sun don't shine? But he failed to get the full house as he missed out "diversity".
Posted by The Englishman at 11:12 AM | Comments (2) | TrackBack

August 18, 2008
Well they do get a lot of criminals in there....
Police would raise the roof over station thefts - if it hadn't already been stolen - Times Online

It's the last place you would expect thieves to strike. But handcuffs and hedge trimmers, blood samples and packed lunches have all been stolen from police premises in the past three years.

Figures obtained by The Times under the Freedom of Information Act reveal that petty criminals view the police station or the patrol car as more of a temptation than a deterrent. More than £1 million of police property, including sat-navs, stab vests, breath-test kits and helmets have been stolen since 2005.

Wiltshire Police were puzzled when a £40,000 motor home vanished... West Midlands suffered the most expensive spate of thefts over three years, losing £130,000 of equipment. It was followed by Wiltshire, which lost more than £60,000 of property. The Metropolitan Police said that it had suffered 119 incidents of theft, including 15 uniforms, last year alone...

Wiltshire Police said that it took all instances of theft "very seriously", regardless of where they happened.

On average, only one third of thefts committed on police premises were solved.

I find that strangely reassuring that they are no better at solving those thefts than they are of Joe Public's.
Posted by The Englishman at 6:20 AM | Comments (1) | TrackBack

August 17, 2008
Stasi State
Malicious gossip could cost you your job | The Register

A recent landmark ruling by the High Court takes the UK one step closer to becoming an "informant society" along the lines of the former East Germany or Soviet Union.

El Reg previously reported on the case of deputy head, John Pinnington, who was fired from his job when an enhanced criminal record background (CRB) check turned up allegations of abuse made against him. He took his case to judicial review, arguing that the allegations were seriously flawed, were unsubstantiated, and that the police should only include them in a CRB check where there were some grounds to believe they might be true.

Let's be completely clear: Vulture Central hax no way of knowing whether these allegations were true, false, or the deluded imaginings of politically-correct Martians. What we do know is that police investigated and took no further action.

Yet the court held that the threshold for disclosure should fall below reasonable suspicion. All that was required was that the allegations could not, on the untested material in possession of the police, be dismissed as necessarily untrue.
Posted by The Englishman at 9:31 AM | Comments (1) | TrackBack

August 16, 2008
We are from the council and are here to stop your kids running around
Children face prosecution for playing ball games in street - Telegraph
Newark and Sherwood District Council has sent letters to youngsters who have been found playing cricket, tennis and football warning they could be arrested and fined up to £100 in a magistrates' court.
Lynn Pallett, the council's anti-social behaviour co-ordinator, said: "We are not intending to spoil anyone's fun.
"However, if children must play any type of ball game in the street, it must be in an acceptable manner.
Nice to know the council employs someone to co-ordinate its anti social behaviour. Of course we don't want kids to have fun and run around in their own way, it must be council approved.
Posted by The Englishman at 7:22 AM | Comments (6) | TrackBack

We are from the council and are here to weigh your child
Fat children 'should be taken from parents' to curb obesity epidemic - Times Online

Grossly overweight children may be taken from their families and put into care if Britain's obesity epidemic continues to escalate, council chiefs said yesterday.

David Rogers, the Local Government Association's public health spokesman, said: "If parents consistently place their children at risk through bad diet and lack of exercise, is it right that a council should step in to keep the child's health under review?"

"The nation's expanding waistline threatens to have a devastating impact on our public services. It's a huge issue for public health, but it also risks placing an unprecedented amount of pressure on council services."
And of course we are only here to make the council's life easy. Is there any medical condition that has a worse prognosis than being taken into the council's care?
Posted by The Englishman at 6:51 AM | Comments (2) | TrackBack

August 13, 2008
Junkfood Horror Story
Junkfood Science: An interesting observation - Olympic diet

His typical breakfast order from Pete's Grille in Baltimore, Maryland:

Start with three [white bread] sandwiches of fried eggs, cheese, lettuce, tomato, fried onions, and mayonnaise; add one omelet, a bowl of grits, and three slices of French toast with powdered sugar; then wash down with three chocolate chip pancakes.

According to his autobiography, growing up, lunch also consisted of 1 pound of pasta, 2 large ham and cheese sandwiches with mayo and 1,000 calories of energy drinks. Dinner's another pound of pasta and a whole pizza and 1,000 calories more in energy drinks. No food hang-ups with him. He gets it. Food is fuel, not endowed with magical or evil effects.
What a fat slob he must be, bet he can barely get up from the sofa to get to the fridge, something ought to be done to prevent our youths ending up like him...
Posted by The Englishman at 7:50 PM | Comments (0) | TrackBack

Snoops ratchet up powers
Councils get power to 'spy' on your e-mail and net use - Times Online

Councils and health authorities are to be given the right to access e-mail and internet records under surveillance powers to be introduced next year, the Home Office said yesterday.

Although first proposed to tackle terrorism and serious crime, powers have been extended to cover other criminal activity, public health, threats to public safety and even prevention of self-harm.

Dominic Grieve, the Shadow Home Secretary, said: "Yet again the Government has proved itself unable to resist the temptation to take a power quite properly designed to combat terrorism to snoop on the lives of ordinary people in everyday circumstances."
So my local NHS trust will have the right to check whether I send Mr FM an email to suggest going out for a few pints - self harm remember...
Tom Harris (a Labour Minister) says this...


The regular accusation that we are living in what is close to, or is in reality, a "police state" is not only ridiculous - it's offensive to the millions of people across the world who do live in such states and who regard the UK, rightly, as a beacon of freedom and democracy. So there.
He then responds to something I said in the comments on his post about the proliferation of CCTV cameras by saying...
But can you explain to me exactly why or how our civil liberties are even remotely infringed by our being "the most watched society in the world"?
You know, if a Labour Minister like Tom asks that question, suddenly you realise just how out of touch this government has become. And he's one of the more sensible ones!
And it continues....
Councils snooping into residents' bedrooms - Telegraph
More than 7.5 million people who claim a 25-per-cent discount on their council tax bill because they live alone could be forced to prove that they do not share their life with another adult by opening their home to inspectors.
Until now, most councils have been reluctant to use powers given to them by central government to inspect residents' bedrooms for signs of occupancy by more than one person over the age of 18.
Eric Pickles, shadow communities and local government spokesman, warned "Day by the day under Labour, the rights and liberties of law-abiding citizens are being undermined, with more and more state officials trying to enter and spy on people's homes.
"It may be appropriate for local authorities to check that council tax discounts are not wrongly claimed.
"But it is wholly disproportionate to threaten higher council tax bills if residents do not allow state officials into their bedrooms.
"This is another worrying sign of function creep. State duties originally intended to tackle fraud are now being over-used by bureaucrats in a heavy-handed, intrusive manner."
A spokesman for the Local Government Association said: "Pretending to live alone to defraud the taxpayer is not a victimless offence.
"This is money that could be spent on the genuinely vulnerable or keeping council tax down."
Posted by The Englishman at 6:34 AM | Comments (0) | TrackBack

August 10, 2008
Have a go hero zaps Council bin policy
Hero of seven arrests is honoured - News - Manchester Evening News
BRITAIN'S busiest have-a-go hero has won an award after carrying out SEVEN citizen's arrests.
Stockport solicitor, Roger Houlker has tackled muggers, chased crooks and nabbed thieves up and down the country.
Now the former rugby player has received an award for his public-spirited behaviour.
Sounds like the right sort of bloke - but his biggest victory is announced today:
Man wins right to second wheelie bin - Times Online

THE policy of councils across Britain of limiting households to one wheelie bin each may have to change after an official complaint by a solicitor exasperated at having to make regular trips to his local rubbish tip.

The local government ombudsman has ruled in favour of Roger Houlker, who has fought a 2½ year battle against Congleton borough council to be given a second bin for his six-bedroom Cheshire home.

The ombudsman, Anne Seex, found the council guilty of "maladministration with injustice" for failing to collect all his waste and ordered it to review its policy. She also said she had "reservations" about the authority's refusal to collect additional bags of waste left beside wheelie bins.

While waiting for his bin to be emptied, Houlker had to deal with vermin ripping open black bags used to hold extra waste in his garden and he made regular 12-mile trips to take them to a dump because dustmen would only take waste from his one 240-litre bin.
Of course some councils, such as Kennet District Council, only issue 180 litre bins. And if you complain of it not fitting in they send round some prodnose to poke through your rubbish to educate you on how to cut down. Following our Cheshire hero's victory I feel a letter coming on.
Posted by The Englishman at 8:33 AM | Comments (2) | TrackBack

August 9, 2008
No apology needed
Care home worker grants wish to serve fish and chips dressed in a thong - Telegraph
A care home has apologised after a member of staff granted a 90-year-old woman's lifelong wish - to be served fish and chips by a man wearing a thong.
"The lady herself, her family and the member of staff who acted as her waiter believe that while it may have been a bit risque the wish was carried out with the utmost respect for all those involved and taken in the good humoured way it was intended by residents and staff present at the time.
So who are they apologising to? Good on the staff to make her wish come true and good on the old girl for wishing it. Yaa Boo Sucks to the managers who are scared someone somewhere somehow might be offended. If they aren't prepared to risk a little to cheer up the old dears in their homes then they shouldn't be in charge.
Posted by The Englishman at 11:12 AM | Comments (0) | TrackBack

August 6, 2008
Round'em up, weigh'em and tag'em..
Why I refused to let my child be weighed | Mick Hume - Times Online
It appears my wife and I have upset the Government, as part of the small minority of parents who refused to have our 11-year-old child weighed and measured in school last term....the message is clear: that the authorities have the right to decide whether or not our children are living "healthy lives". They want to measure not only body mass but moral worth, to decide whether our children fit the State's model.
Despite overegged talk of a child obesity "epidemic", the real extent, causes and health consequences of children being overweight remain uncertain. What is more certain is the lack of hard evidence that campaigns of intervention in school or family life have any beneficial effects...Yet the authorities throw their substantial weight behind every stunt from policing lunchboxes to weighing children like little piggies. At a time when governments have lowered horizons from creating the Good Society to moulding the Healthy Citizen, the anti-obesity crusade legitimises public monitoring of private behaviour.
But "It's for the children" ™! They will be assimilated into the State's desired image, how could you doubt the all knowing benevolence of the State? Even Tory MPs don't read Hayek anymore.
Posted by The Englishman at 7:09 AM | Comments (5) | TrackBack

Ihre Papieren, bitte!
Millions of passengers' details 'should be given to the Government' - Telegraph
Confidential personal details of millions of passengers flying into and out of Britain should he handed over to the Government to help them fight crime, ministers will say today.
Immigration minister Liam Byrne is also likely to say that these powers to probe passenger records should be extended to other forms of travel like the Eurostar train service between the UK and the Continent.Currently European Union regulations restrict the use of so-called of "Passenger Name Record" data, including names and addresses, to Governments to fight the threat from terrorists and organised crime.
However the Home Office has said that it believes these rules are too narrow ....
You bet it does, until we are all tagged and bound it will not be satisfied. And whilst millions of ordinary passengers will be harrassed guess how the very naughty people will get round it?
'Fakeproof' e-passport is cloned in minutes - Times Online

New microchipped passports designed to be foolproof against identity theft can be cloned and manipulated in minutes and accepted as genuine by the computer software recommended for use at international airports.
Posted by The Englishman at 6:32 AM | Comments (0) | TrackBack

August 5, 2008
Speed Cameras - Follow the money
Speeding fines up by 400 per cent - Telegraph
In 1997, when Labour came to power, there were 712,753 speeding tickets issued as a result of motorists being caught by camera and police patrols.
By 2006, according to figures released by the Home Office in a Commons written reply, this had soared to 1,773,412.
With the cost of a Fixed Penalty Notice having risen from £40 to £60 in 2000, this has meant that the cash raised increased from ?£28.5 million to £106.4 million.
This figure would have continued rising further had the Government not reformed the policing of speeding in April last year, scrapping the arrangements under which safety camera partnerships kept all the cash.
Since then all fines are paid to the Treasury with the cash then being distributed to partnerships as grants for a variety of road safety initiatives and not just cameras.
As a result, according to the Department for Transport's latest figures, speed camera fines fell from £114.6 million in 2005-6 to £104.4 million in 2006-7.
Surprising? Incentives matter, stop letting the locals keep all the money and they stop chasing the motorists so hard! But if they sens the erring motorist on a Speed Awareness course instead of fining him then they get to keep the money - As I have blogged before the operation of the Wiltshire Safety Camera Partnership Workshop for instance is all tied up with funding and bickering over who gets the money...
Posted by The Englishman at 6:22 AM | Comments (2) | TrackBack

August 4, 2008
Pedlar Meddlers
Councillors call for ban on 'Del Boy' pedlars - Telegraph
Councils say trading by pedlars is a growing problem on local high streets due to outdated and confusing regulations, which offer little protection to consumers. The 1871 and 1881 Pedlars Acts established the rules for pedlars....
If pedlars have been operating under the same rules for over 125 years why is suddenly a growing problem, why the demand for urgent action and new laws? If you buy a £1 umbrella from a man on the corner do you really need the full protection of consumer rights? You know it's crap, but it will probably keep you dry until you get to the office. When things have been unchanged for so long there is a certain Darwinian interpretation of the need for change, there isn't one.
Posted by The Englishman at 6:04 AM | Comments (0) | TrackBack

August 3, 2008
Don't mention State Propaganda
Inquiry into television shows funded by ministers - Telegraph
The Government has spent almost £2 million to fund programmes that are all but indistinguishable from regular shows, The Sunday Telegraph has established.
But unlike normal documentaries, the programmes are commissioned by ministers with the purpose of showing their policies or activities in a sympathetic light. ...
Beat: Life on the Street, which was supported with £800,000 of funding by the Home Office for its first two series, portrayed PCSOs as dedicated, helpful and an effective adjunct to the police — despite the controversy about their role.
One Whitehall source admitted of the documentary: "It allows the Government to have more air time and get its message across to people." ...
Home Office officials were directly involved in the making of the series.
They were allowed to view a second edit of individual programmes and were able to suggest changes to some of the "terminology" and "language" used in the narration.
Of course the programs were independent and objective in showing how wonderful the Home Office policies were.......
Posted by The Englishman at 6:29 AM | Comments (0) | TrackBack

August 1, 2008
Top Cop Doesn't Demand New Laws
Paparazzi menace melts away as stars sober up - Scotsman.com News
"Since Britney started wearing clothes and behaving, Paris Hilton is out of town not bothering anybody, thank God, and evidently Lindsay Lohan has gone gay, we don't seem to have much of an issue," Los Angeles police chief William Bratton said yesterday.
Mr Bratton spoke after hearing city councillor Dennis Zine discussing possible new restrictions on freelance photographers.
Mr Bratton called the hearing "foolishness" and said he would not join in. There were "sufficient laws" to deal with aggressive paparazzi.

How refreshing to hear a Police Chief bluntly tell it how it is and not demand yet more laws - Sir Ian please note.
Posted by The Englishman at 7:18 AM | Comments (0) | TrackBack

July 31, 2008
You can't beat the market....
Is war on drugs just a waste of money? - Scotsman.com News
Yes, next question please....
Posted by The Englishman at 6:45 AM | Comments (0) | TrackBack

July 30, 2008
The Wiltshire Cure for Good Health
The full lowdown on the Nitrite health scare:
Junkfood Science: Does banning hotdogs and bacon make sense?

....So, hotdogs and processed meats are condemned as junk food because they contain nitrates, which they don't, while vegetables are declared health food because they're free from the same chemicals, which they're not.
There's still plenty of summertime left and lots of regional hotdog specialties and BLTs left to enjoy, along with those garden vegies. With a little more science under our belts, hopefully everyone can enjoy it all with a lot less worry.
And apart from giving the health nazis fixation with trying to ban anything tasty a good kicking, this also gives the lie to the Nitrate Vulnerable Zone billion pound wastefulness here in the UK.
Posted by The Englishman at 7:05 AM | Comments (5) | TrackBack

July 29, 2008
The Pussification of Murder
Women who kill abusive partners in cold blood could escape murder charge in radical law shake-up | Mail Online
More male partners will be convicted of murder after law reform - Times Online
The reforms, including a defence for people who kill when they feel "seriously wronged", would result in life sentences for about 100 killers a year who currently escape murder convictions by claiming that they were provoked by unfaithful or nagging spouses. At the same time, people who kill because they feel seriously wronged by someone's "words and conduct" could escape a murder conviction under a new partial defence. The reforms would make clear that a partner having an affair would not come into this category.

The trouble is trying to codify what is unreasonable behaviour - the defence of "feeling seriously wronged", of being disrespected, of preserving honour depends so much on what an individual feels worth defending. And there are gender biases which seem to be being codified. For many men being cuckolded is the most degrading thought, for others it is not. In some families dating the wrong class of person is considered reason enough to be killed, do we accept that now?
Posted by The Englishman at 7:08 AM | Comments (4) | TrackBack

Watching Big Brother
Giant TVs win my gold medal for crassness | Griff Rhys Jones - Times Online

The London Organising Committee for the Olympic Games boasts that huge city-centre television screens will be a "lasting legacy" of the Olympic Games. I have a horrible feeling it may be right.

Nobody can rationally object to a temporary screen and a fleeting festival, but eight permanent mammoth tellies with 40 more to come, for ever, will clearly be a horrendous imposition - useless except as an eyesore for most of their projected life, especially in winter....

Personally, I do not relish watching the Mayor of London engaging in would-be Nuremberg rallies. I don't want to be told by the Lord Coe that I have some sort of public duty to commune with his pet project. But now, as a passer-by, I will be forced to encounter it on a mammoth television. Mind you, as a passer-by I can jeer loudly, toss my Coke can down, stub out my fag and do that - pass by. But if I live near one, and have invested my life in the area, what choice do I have? I can see it all day or listen to it all day. I am doomed to endure the crowd that congregates around it, doomed to have it desecrate my environment for ever. ...

The underlying truth is already flashing glaringly at us. Don't risk personal commitment - just broadcast. Don't expect people to choose, just propagandise. Don't give people the option, just push your "entertainment" on them. A short-term, badly thought-out proposal for a hot summer night is transformed into a permanent flickering hoarding, blaring away during a wet February. What a legacy.

Has the Government learnt nothing from the Dome debacle? They are not entertainment moguls. That any of these screens should become permanent, is a dreadful, wasteful, aesthetically horrible idea. That lottery funding can so casually be sequestered to achieve this is verging on public corruption. Orwell never imagined this cack-handed horror even in his worst nightmares.

Griff, despair ye not, even if they are too big to be nicked then reflect on the sad loss of Weston-super-Mare's Pier and invest in a box of Vestas.....
Posted by The Englishman at 6:57 AM | Comments (2) | TrackBack

July 28, 2008
No Happy Hour for Pubs
Pubs cry into beer no one is drinking - Times Online
Pubs are serving fewer drinks than ever. Publicans say that they are pulling 1.4 million pints a day - 1.6 million fewer than at the height of the market in 1979. The decline has been blamed on closures after the smoking ban, rising costs and competition from supermarkets.
The police are calling for tough new laws after the association announced that its members were abandoning the voluntary code banning aggressive drinks promotions.
The decision by more than half of the country's 57,000 pubs not to end happy-hour deals is likely to trigger an intense price war this summer.
The Association of Chief Police Officers and Alcohol Concern have asked the Government to abandon self-regulation in the industry in light of growing concerns over alcohol abuse. "Sadly the trade repeatedly shows that it cannot be relied upon to consistently act in a responsible way," said Chris Allison, its spokesman on alcohol.
You stupid little prodnose - it isn't the yoofs drinking in pubs that are the problem, not with beer at over £2 a pint and a landlord watching over them - it is the consumers of the cases of cooking lager bought from the back of a van. You ought to be encouraging pubs and trying to drive the youths back into them.
Posted by The Englishman at 6:31 AM | Comments (5) | TrackBack

July 26, 2008
Voiding the warranty
"I'll tell you the truth," a criminal complaint quotes an apparently inebriated Keith Walendowski. "I got pissed because my lawn mower wouldn't start, so I got my shotgun and shot it.
"I can do that. It's my lawn mower and my yard, so I can shoot it if I want," Walendowski told police.
…
According to the complaint, Walendowski had been drinking all morning. Around 9:30 a.m., he attempted to start his 21-inch Lawn-Boy - unsuccessfully.
After shooting the mower, he went in his basement, where he was arrested by police, the complaint says.
Police recovered the shotgun, shells, a handgun, rounds for the handgun and a stun gun.
Dick Wagner of Wagner's Garden Mart, 6075 N. Green Bay Ave., said shooting the mower didn't help Walendowski's odds of getting it repaired.
"Anything not factory recommended would void the warranty," he said.

No comment needed - enjoy your weekend in the garden.
Posted by The Englishman at 9:56 AM | Comments (1) | TrackBack

Insulting the State
French face prosecution for 'insulting' civil servants - Times Online

The offence — which carries a maximum sentence of six months in prison and a €7,500 fine — dates from Napoleonic times and is designed to protect "the dignity ... of a person charged with a public service mission".

Behind the legalese is the belief that civil servants are the embodiment of a French State that deserves the respect and support of all its citizens. The number of prosecutions for insulting police officers and other civil servants has risen from 17,700 in 1996 to 31,731 last year in what critics say is an abuse of government power...

Post office employees, tax inspectors, railway staff and teachers are all starting to file lawsuits when they believe that they have been slighted.

Even Gérard Depardieu has fallen foul of the law. A description of three work inspectors as "jokers" when they raided the film set where the actor was performing left him with him a €3,500 fine.

A homeless man was given a one-month prison term for shouting out that Mr Sarkozy — Interior Minister at the time — was a "bloody Hungarian" in reference to his family origins. A 21-year-old was given a similar sentence for insulting the President's mother.
Thank goodness I'm not French, I'd be up in front of the beak every day...what was that you said about the European Arrest Warrant?
Posted by The Englishman at 7:37 AM | Comments (1) | TrackBack

July 24, 2008
Fatty Johnson Launchs National Movement
Health Secretary Alan Johnson: 'Don't vilify the obese' - Telegraph
Mr Johnson will say: "Obesity is the biggest health challenge we face. ....
"Just as the government has a moral duty to tackle poverty and exclusion, so it also has a duty to address obesity. But this is not a licence to hector and lecture people on how they should spend their lives - not least because this simply won't work."
He will call for a broader approach with all sectors of society, retail, leisure, media, government and voluntary sector involved. ...
Ministers want to see a 'national movement' from the smallest keep fit class to the biggest retailers to join a campaign to tackle obesity.

Who could object to a "national movement" to combat "the biggest threat we face", lots of money to be spent on propaganda, healthy young people exercising in the open air...
BBC - Newsbeat - Health - NHS fit camp aims to cut obesity

...special residential fit camps where they'll spend six weeks losing weight and learning how to lead a healthier lifestyle.... The parents of the children at the camp also have to get involved, and there are weekly check-up sessions after the residential course to make sure all the good things the kids learn are actually put into practice at home. ...The daily routine for the children at the fit camp is demanding.
While most other kids are enjoying their school holidays, these children are up at eight o'clock every morning.
It's then a long day of physical activities like boxercise or basketball sessions....
I think I have found a film of this healthy new idea...
Posted by The Englishman at 6:55 AM | Comments (1) | TrackBack

What to wear when going out clubbing
Sporran's fate dangling after seal-fur ban call - Scotsman.com News
THE traditional sporran, which has been part of Highland dress for centuries, could be under threat because of proposals to ban the trade in seal pelts.
Stavros Dimas, the European environment commissioner, yesterday announced plans to bring in a total import ban on products derived from seals that have been killed in a cruel way.
The move was welcomed by animal rights groups and the government.
They will have to switch to badger instead then. How to make on at home instructions here
Posted by The Englishman at 6:40 AM | Comments (1) | TrackBack

July 22, 2008
Art Grad Employment News
Children are being denied their cultural human rights - Telegraph
Children are being denied the right to a cultural life as the Government is not doing enough to promote music, art and drama, a group of leading authors and artists has warned....
All children are entitled to access to the arts under Article 31 of the UN Convention on the Rights of the Child. ...
The manifesto by ACA states:...
• Creativity, play and the arts should be put "at the heart of the school curriculum" by ministers.
• More funding should be devoted to children's arts by the four UK Arts Councils to "keep standards high and ticket prices low."

Now this collective of children's artists wouldn't have any self interest in demanding more funding would they? Maybe it is the only way that Arts Grads can get jobs now MacDonalds isn't expanding so fast...
Arts graduates 'more likely to lie on CVs' - Telegraph
Students completing arts and humanities courses are most likely to be guilty of "embellishment"
Posted by The Englishman at 6:49 AM | Comments (0) | TrackBack

July 21, 2008
Rods, Poles and Perchs are thriving on Council allotments
A very quick google on official local council websites for allotment sizes throws up proper old measurements being used:
Portsmouth Council Allotment Leaflet
Rental costs for an allotment are very modest and based on the size of the individual plot. A 10 rod plot works out at less than £1 a week and a 5 rod plot less than 50p a week.
SOUTH HOLLAND DISTRICT COUNCIL APPLICATION FORM ALLOTMENTS Allotment Size : 1 rood approx Rent :£37.45 per annum
Allotments Charges - Marlow Town Council
£3.20 per pole
A full size plot of 10 poles = £32.00 per annum
A half size plot of 5 poles = £16.00 per annum
Thanet District Council Allotments
The cost of an allotment ranges from £2.20 per perch...
Olveston Parish Allotment Association
The annual rental is £1.80 per lug
As Merton Council says; "A rod or perch, as it was also known, was a traditional Saxon land measure and survives in the twentieth century." (Though I note they are still using them in the 21st)
I suppose all these councils - and these are just a small sample - will be welcoming the Eu's banning of the acre and that none have been prosecuting anyone for using non metric measures....

Posted by The Englishman at 6:18 AM | Comments (2) | TrackBack

July 17, 2008
Her Majesty's Preference
Adam Smith Institute - Chapter 11

The UK bankruptcy problem, though, is HM Revenue & Customs. When a firm fails, they are fist in the queue for payment. Suppliers and customers get left with a few pence for each pound they're owed. ...It would be better.. if they (HMRC) were in the same queue as all the other creditors.
Even Homer nods - HM Revenue & Customs

HMRC does not have preferential status in the distribution of the assets of an insolvent estate. The former Departments of Customs & Excise and Inland Revenue both lost preferential status on 15 September 2003 under the provisions of the Enterprise Act 2002.
Something that even their debt collectors "don't know" as when I was being chased for an erroneous debt they tried the "preferential creditor" line on me and I was able to correct them and never heard from them again.
UPDATE - The ASI blog post has been silently edited and the error corrected.
Posted by The Englishman at 7:16 AM | Comments (1) | TrackBack

July 15, 2008
having a wife who refuses to keep her opinions to herself - a crime against modern Britain
Gibraltar's top judge accused of 'colonial approach' - Telegraph
In a dossier before the tribunal and accepted as evidence, Judge Schofield stands accused of failing to have a valid MOT for his car, paying his housekeeper a wage below the statutory minimum and having a wife who refuses to keep her opinions to herself.
I'm a bit confused - I thought Gibraltar was a colony and so why is it wrong for him to have a colonial attitude? And "having a wife who refuses to keep her opinions to herself" - is that a colonial crime or a crime in modern Britain? Is it old fashioned to have an outspoken Memsahib or old fashioned to expect her to be a mere ornament?
Maybe Mrs Tony Blair could help out on this case...
Posted by The Englishman at 7:20 AM | Comments (1) | TrackBack

July 14, 2008
"No self-respecting small businessman with a brain in the right place would ever employ a lady of child-bearing age"
Equality laws 'are now holding women back' - Times Online

The radical extension of maternity leave and parents' rights is sabotaging women's careers, according to the head of the new equalities watchdog.

Nicola Brewer said that it was an inconvenient truth that giving women a year off work after the birth of each child - soon to be paid throughout - was making employers think twice before offering a job or promotion.
How mother's stand after job humiliation won her £120,000 - Times Online

Sarah Vince-Cain describes herself as a child of the Eighties, brought up in the age of "hard work, power suits and Margaret Thatcher", and felt guilty about taking time off to start a family.

"I wondered if I was being a bit of a nuisance by having a child," she said.

A few months after giving birth to her second child and taking her second period of maternity leave in three years she was told in 2001 that she was being made redundant as a senior manager at the Giorgio Armani group. In the dispute that followed, she won about £120,000 in compensation for unfair dismissal and sex discrimination.
BBC NEWS | Have Your Say | Women's work: Your views on UKIP comments

"No self-respecting small businessman with a brain in the right place would ever employ a lady of child-bearing age", Godfrey Bloom MEP has said....His comments provoked a storm of protests including Labour Euro MP Glenys Kinnock who called UKIP attitudes "neanderthal".
Of course you will remember this row - do you expect the same reaction today?

Posted by The Englishman at 6:34 AM | Comments (2) | TrackBack

July 11, 2008
NHS bosses need guide to find their own arses
Professional travel adviser to show NHS staff how to get to new health headquarters - Telegraph
Health chiefs have been criticised for hiring an official adviser to inform staff how to get to their new £1.4 million headquarters on time.
The "travel co-ordinator" has been seconded for two days a week from the local passenger transport executive over nine months at a cost of around £6,000,
Although a regular bus service stops virtually outside, the co-ordinator's role is to suggest efficient ways for the 400 administrative staff to travel.
It is 3.4 miles from the Sheffield centre, a six minutes car journey, and a dual carriageway linking the city to the M1 is half a mile away.
The number 52 bus arrives there every six minutes and Darnall railway station is five minutes walk away.
If they are too stupid to work out how to get there then great the Darwinian job market works - but I not the employee are complaining of the waste, maybe it isn't the employees who are too stupid at all....
Posted by The Englishman at 7:09 AM | Comments (0) | TrackBack

July 9, 2008
Manufactured Nigger Row - Who's The Intolerant Bigot?
Storm over Tory peer Lord Dixon-Smith's 'nigger in woodpile' remark - Times Online

Lord Dixon-Smith, 73, a Eurosceptic farmer from Essex, replied: "I apologise, my Lords. I left my brains behind. I apologise to the House."

He told The Times afterwards that the remark had "slipped out without my thinking".

He said that he had realised his mistake when in the chamber and apologised. "It was common parlance when I was younger, put it that way," he said. He emphasised that he now considered the matter closed.
I'm a good few years younger than his Lordship and it was common when I was younger as well, just as we chanted the non-Tiger version of eeny meeny miny mo, there wasn't racist intention or thought behind the use of the insensitive word. Times change and what was appropriate then isn't now, but if we can't forgive an old man's slip of the tongue when he has immediately and completely apologised for the slip then we truly have become an intolerant society.
Posted by The Englishman at 6:30 AM | Comments (3) | TrackBack

July 8, 2008
NHS - the biggest food waster?
Waste on wards as patients leave 17m meals untouched - Times Online

MORE than 17 million meals are being thrown away untouched in Britain's hospitals every year

Of the 162 million main meals produced for patients in 2004, almost 11 per cent went untouched, up from 8.8 per cent in 2002. There are more than 55,000 meals thrown away each day. About 40 per cent of patients admitted to hospital have malnutrition. More than half lose weight or become undernourished while in care because of poor-quality food, a lack of appetite and difficulty feeding themselves.
I can't find the latest figures, or how much of the meals that were "touched" are left and thrown away, but with Gordon Brown lecturing us on wasting 4 million tonnes of food a year before he went off for an eight course banquet (I hope he cleared his plate for each course, even the sushi he can't stand) it is worthwhile pointing the finger, especially as alongside all the wasted food the patients actually become malnourished.
Posted by The Englishman at 6:34 AM | Comments (1) | TrackBack

July 2, 2008
BBC - rotten penis acceptable - splicing the mainbrace not.
BBC NEWS | Entertainment | Top Gear rapped for alcohol use

Motoring show Top Gear has been criticised by the BBC Trust after viewers complained about "highly irresponsible" footage.

The Polar Special featured hosts Jeremy Clarkson and James May drinking while driving as they tried to reach the Magnetic North Pole last year.

The trust said the scene "could be seen to glamorise the misuse of alcohol".

The show's executive producer said they were beyond the jurisdiction of drink driving laws in international waters. ...

In the same show complaints were also made about scenes showing frostbitten genitalia.

The trust said there was "a clear editorial purpose for the inclusion of an image of a frostbitten penis, which had been shown for "a medical rather than a sexual purpose".

Posted by The Englishman at 10:22 PM | Comments (0) | TrackBack

Blogging Puppies "Offensive"
Police apologise for 'offensive to Muslims' puppy dog advert
A police force apologised today after complaints that an advert featuring a German shepherd puppy could be offensive to members of the local Muslim community.
Tayside Police used a picture of 29-week-old black puppy Rebel on postcards promoting the force's new non-emergency telephone number.
But the choice of the image, which shows Rebel sitting in a police officer's hat, was questioned by a Dundee councillor who said it would "not be welcomed" by some communities.

And the puppy has a blog so he is one of us, we must protest on his behalf!
Posted by The Englishman at 7:09 AM | Comments (6) | TrackBack

Happiness is ...being Healthy, Wealthy and Wise, not Being Equal.
The world has never been so happy, study says - Telegraph
The world has never been a happier place, according to a survey of global wellbeing which has ranked Denmark as the most content nation.
Denmark scored highest marks thanks to its peaceful atmosphere, democracy and social equality.
Wooa! Denmark has been voted happiest many times over the years, but where did that bit of editorialisation about social equality come from?
Lets look at the rest of the top five:
2 - Puerto Rico
3 - Colombia
4 - Iceland
5 - N Ireland
Do "peaceful atmosphere, democracy and social equality" come to mind? No. "Social equality" is not a factor - the boffins at the University of Leicester say:

"..a nation's level of happiness was most closely associated with health levels (correlation of .62), followed by wealth (.52), and then provision of education (.51).
"The three predictor variables of health, wealth and education were also very closely associated with each other, illustrating the interdependence of these factors.
"There is a belief that capitalism leads to unhappy people. However, when people are asked if they are happy with their lives, people in countries with good healthcare, a higher GDP per captia, and access to education were much more likely to report being happy.
"We were surprised to see countries in Asia scoring so low, with China 82nd, Japan 90th and India 125th. These are countries that are thought as having a strong sense of collective identity which other researchers have associated with well-being.
"It is also notable that many of the largest countries in terms of population do quite badly. With China 82nd, India 125th and Russia 167th it is interesting to note that larger populations are not associated with happy countries."
"Happiness is ...being Healthy, Wealthy and Wise" and not living in a large population socialist superstate made up of different countries, - anyone listening in Brussels?
Posted by The Englishman at 7:06 AM | Comments (0) | TrackBack

July 1, 2008
What are they on?
Dutch tobacco ban means cafe smokers can only light up pure cannabis cigarettes - Telegraph
Smoking tobacco in restaurants and cafes across Holland is now illegal, but customers are still allowed to light up pure cannabis cigarettes.
"In other countries they look to see whether you have marijuana in your cigarette, here they'll look to see if you've got cigarette in your marijuana."
The Food and Consumer Product Safety Authority, which is responsible for enforcing the ban, said it had trained around 200 inspectors.
A spokesman said: "They can tell the difference between a mix or a pure joint from its smell and appearance."
The Dutch health minister, Ab Klink, said he hoped the law would help to rid the country of cannabis-induced idleness.
Posted by The Englishman at 6:34 AM | Comments (0) | TrackBack

June 27, 2008
Jacquiiii Smith - Punish the precriminals before they commit a crime
State to take action against parents who can't control their children - Times Online

Jacqui Smith, the Home Secretary, called for a huge expansion of state intervention in family life as a way of preventing young people from problem families drifting into antisocial behaviour and crime.

Ms Smith's enthusiasm for more early intervention in family life as a way of improving the behaviour of youngsters will revive criticism of Labour's "nanny state" instincts. But she is unrepentant.

She said work was already under way in which agencies identify early the people and families who will end up engaging in violence. "I believe it is about identifying families in which you are going to intervene at an early stage, where you will expect certain behaviour and if that does not happen there will be sanctions."

She said she "fundamentally disagrees" with the "nanny state" charge: "It is part of the role of government not to wait till crime has been committed but, for the good of the wider community and the families themselves, to step in earlier."

I get it now, stereotyping is good, the all wise and knowing state and its "agencies" know who is going to turn into a criminal - precriminal is a term I expect we will be hearing more of - and of course should deal with them. It is even better than the fit ups that the Government is and has rushed through Parliament to bang up people for crimes that have been committed; we can now expect laws to bang people up for crimes they might commit in the future. What a wonderful brave new world we will live in.
Posted by The Englishman at 6:44 AM | Comments (1) | TrackBack

June 26, 2008
Olympic Cash, now the Scots want it too
Hand us 」165m share of Olympic funding, SNP tells Westminster - Scotsman.com News
WESTMINSTER is facing a wave of pressure from Scotland, Wales and Northern Ireland to give the devolved administrations a share of Olympic regeneration funds.
The SNP insists that for Scotland, this would be worth £165 million alone in Barnett "consequentials", or more than £40 million a year until the 2012 Games.
Eh? Much to my disappointment London has got the games - do you notice that, London? The Games are awarded to a city not a country, and unless I'm very much mistaken London isn't in Jockland. Or do the spongers just want a bit of every cake that is eaten anywhere in the Kingdom?
Posted by The Englishman at 6:50 AM | Comments (0) | TrackBack

How a VC winner is treated in modern Britain
Gurkha VC winner delivers medals to Downing Street in protest - Telegraph
A Gurkha who won the Victoria Cross delivered dozens of his medals to Downing Street in protest at the treatment of his fellow soldiers.
Tul Bahadur Pun VC, 87, a Second World War hero who is now in a wheelchair, handed in medals including an MBE as part of a demonstration to promote the rights of more than 2,000 Gurkhas to stay in Britain.
Mr Pun's protest came only days after he himself was refused treatment for a heart condition at an NHS hospital.
He was then told he owed the hospital thousands of pounds in unpaid medical bills.
Mr Pun, one of only 10 living VC holders in the UK, was close to tears after he was humiliated at a cardiology department at West Middlesex Hospital in London.
The war hero, who lives on just £135 a week, was forced to leave the hospital on the anniversary of winning his VC in Burma on June 23, 1944.
After examining his passport hospital officials said he was not entitled to treatment and would have to pay back the NHS for previous medical help because he had been "misleading" over his immigration status.
Mr Pun, who is blind and almost deaf, said: "I could not sleep worrying about having to pay thousands of pounds for the treatment I have already had. I have not misled anyone. The British Government allows me to live here."
He was originally refused entrance to the UK by British officials in Nepal as it was claimed he did not have strong enough ties with the UK.
But in June last year the decision was overthrown by Immigration Minister Liam Byrne, and he now lives in a home in Hounslow, west London.
What an utter, utter disgrace, I wish it hadn't been his medals he had deployed in Downing Street.
Posted by The Englishman at 6:45 AM | Comments (5) | TrackBack

June 23, 2008
Council Spies Bait and Switch
BBC NEWS | UK | Council surveillance review urged

Councils in England have been urged to review the way they use surveillance powers to investigate suspected crime.

Under laws brought in to help fight terrorism, councils can access phone and e-mail records and use surveillance to detect or stop a criminal offence...Figures released by councils under the Freedom of Information Act show that thousands of people have had their telephone and e-mail records accessed.

But Local Government Association chairman Sir Simon Milton has written to councils warning overzealous use of the powers could alienate the public.

They should not be used for "trivial offences" such as dog fouling, he adds.

Sir Simon urges councils to use the powers only for complaints about more serious matters such as fly tipping, rogue traders and housing benefit fraud.

The powers were brought in for Terrorism - flytipping isn't terrorism, housing benefit fraud doesn't kill people just because you want the councils to stop using them against dogfouling doesn't mean that it then becomes "necessary and proportionate" to use them against other petty criminals. It is the bloody bait and switch at work, if we stop beating you with an iron bar that makes it alright to thrash you with a stick.
Posted by The Englishman at 6:59 AM | Comments (5) | TrackBack

June 22, 2008
Weighing in to the Nanny State
Scots told to work on their weight - Scotsman.com News

BUSINESSES will be encouraged to monitor the weight of their employees as part of a £56m Government plan to tackle Scotland's obesity epidemic.
Workers will type in their weight every morning – using Government-provided software – allowing occupational health staff to spot significant weight gain and offer early help...

The Government's new anti-obesity strategy is being launched today by the public health minister Shona Robison.

Robison said: "Obesity is one of the problems that, like climate change, does not have a simple solution and requires a new way of thinking....

It was a fucking warning, not an instruction manual you halfwitted authoritarian pokenose; I suppose Nanny will want the state of our bowel movements every morning to be added to the national database as well.
Posted by The Englishman at 7:13 PM | Comments (3) | TrackBack

June 21, 2008
Free Olympic Party - So who is paying?
BBC SPORT | Olympics 2008 blog
Today I was invited along with other media representatives to a venue just off the Mall to hear more about London's plans for 24 August.
There is to be a free party for 40,000 people in front of Buckingham Palace....
Not much has been given away.
I don't suppose as a proper journalist as you munched on the very agreeable snacks and downed the booze you actually asked Sebum Coe to define the word "free", did you?
Posted by The Englishman at 6:34 AM | Comments (1) | TrackBack

June 19, 2008
Thoughts Not Outlawed - Yet
Law: Wicked thoughts are not a crime – yet - Telegraph

You can think what you like. That was what the Director of Public Prosecutions told a conference on Monday organised by the free speech group Index on Censorship. Sir Ken Macdonald's remarks were backed up by Home Office minister Tony McNulty.

"We do not seek to outlaw thought," Mr McNulty said.
Well that is a relief, and a worry that they have to even make it clear....
Posted by The Englishman at 6:54 AM | Comments (4) | TrackBack

June 18, 2008
Price Control Mindset Addiction
Price rise for target drinks in booze culture crackdown - Scotsman.com News
The proposals include allowing young people to buy drink in pubs at 18, but not from supermarkets or off-licences until they are 21; imposing a 35p minimum price per unit of alcohol; and banning some promotional offers.
Kenny MacAskill, the justice secretary, said: ...that many off-sales premises were "already looking for" measures such as increasing the age to buy drink – and denied they were evidence of a "nanny state". Mr MacAskill said the social responsibility fee was a way to give licensing boards "the power to recognise that alcohol is not cost free". "It has social, economic and health costs, which should not be met by the taxpayer but by those who profit," he said.
"WORLD Health Organisation advice is absolutely clear: to bring about control of alcohol consumption we have to address the price so it is fair and balanced, address the availability and then address the service provision and enforcement of the law....Price has to be controlled carefully ...We have to do something about price. Offers like three-for-two are positively dangerous...We have a long, long way to catch up in funding, because for 25-30 years alcohol services have been neglected." - Tom Wood, former chairman of the Alcohol and Drug Action Team in Edinburgh and former Deputy Chief Constable of Lothian and Borders Police

Posted by The Englishman at 6:58 AM | Comments (1) | TrackBack

June 16, 2008
BBC Hack Discovers Rightwingers Can Be Nice
Lefties hug their children less. Don't they? | Libby Purves - Times Online
I have long been puzzled by the fact that the British left-wing media house the most gratuitously spiteful, snarky columnists while weeping all over the front page about Africa, while rabidly conservative journalists often turn out to be personally kind and thoughtful.
Libby Purves worked for some years for BBC Radio 4, as a reporter and a presenter on the Today programme and, since 1983, has presented Midweek. She joined The Times as a columnist in 1990. She received an OBE in 1999 for her services to journalism and was Columnist of the Year in the same year.
Posted by The Englishman at 6:37 AM | Comments (2) | TrackBack

June 11, 2008
Tesco nanny - the uninvited guest at your BBQ
Tesco refuses to sell BBQ sauce to woman without ID - Telegraph
A Tesco store refused to sell barbecue sauce to a customer because it contained a tiny amount of alcohol and she couldn't prove her age.
Claire Birchell, 25, was told she could not buy the Jack Daniel's barbecue sauce which has an alcohol content of 2 per cent.
Staff at the store in in Flitwick, near Bedford also refused to sell the bottle to her brother-in-law, Philip Dover, 27, who did have ID, because they believed he would just give the bottle to Miss Birchell.
And even if she was only six years old and he did so when they were at home there would be nothing illegal about it. It is none of Tesco's business to be nannying us after we have paid good money and the product's ours.
In other news:
Tesco non-food sales hit by consumer downturn - Times Online The supermarket giant also admitted that discount rivals such as Asda and Aldi were "having a moment in the sun" in a trading update that sent its shares down 2.5 per cent to their lowest level for two months.
Posted by The Englishman at 6:31 AM | Comments (2) | TrackBack

June 10, 2008
Calling Rick Stein
Cornish Recipe:
1 1/4 lb. thickly sliced dolphin
8 cloves fresh garlic, minced
1/2 c. olive oil
1/2 tsp. paprika
1/2 c. rice vinegar
Salt if desired
1/2 tsp. pepper, black lg. ground
Dinner for 4. Cut off any dark meat on dolphin. Marinate 4 even slices of dolphin in large bowl. All ingredients mixed for at least 6 hours. Grill 5-7 minutes on each side depending on thickness. Approximately 10 minutes total for 1 inch fillets. Baste with marinade mix while grilling.
Posted by The Englishman at 6:23 AM | Comments (0) | TrackBack

June 8, 2008
ID Fraud - The Official Advice
National Insurance Numbers: What to do if you suspect or discover fraud

This text has been withheld because of exemptions in the Freedom of Information Act 2000
Posted by The Englishman at 10:06 PM | Comments (0) | TrackBack

ID Cards - MPs Fear They May Be Used
ID cards 'may be used to spy on us' - Scotsman.com News
The compulsory identity card could be used to carry out surveillance on people, MPs have warned.
Members of the Commons home affairs select committee said they were concerned that the way the authorities use sensitive data gathered in the multibillion-pound programme could "creep" to include spying.
The all-party committee also urged ministers to make plans about how to deal with the theft of personal details from the National Identity Scheme, which will build a massive database on every person over 16 in Britain.
The committee accepted ministers' assurances that surveillance was not part of current plans, ......
Shock, outrage at the very suggestion, why on earth would anyone suspect that? Why even the BBC has joined in with the news of the bleeding obvious:
BBC NEWS - ID cards 'could threaten privacy'
Posted by The Englishman at 7:30 AM | Comments (2) | TrackBack

Drug Q&A; Blah and D'oh
Scottish Conservative leader Annabel Goldie asked the government how many drug finds there had been in each Scottish prison over the last five years, broken down by type.

The answer - issued in the name of Enterprise Minister Jim Mather and not the justice department - simply stated: "Blah."

Issuing a Homer Simpson-style response, a spokesman for the Scottish Conservatives said: "D'oh".
Posted by The Englishman at 6:21 AM | Comments (0) | TrackBack

June 3, 2008
Mind how you go
The Ladybird Book of The Policeman
Ah, happy days.......??
Posted by The Englishman at 7:48 AM | Comments (0) | TrackBack

May 31, 2008
The Road to Serfdom
Terror law turns thousands of council officials into spies - Times Online
Thousands of middle managers in local councils are being authorised to spy on people suspected of petty offences using powers designed to prevent crime and terrorism.
Even junior council officials are being allowed to initiate surveillance operations in what privacy campaigners likened to Eastern bloc police tactics.
Councils are increasingly allowing anyone of a "service manager" grade rather than high-ranking officials with a legal background to authorise surveillance operations. Relatively junior council officials are giving permission for operations to spy on people, their homes, obtain their telephone records and discover who they are e-mailing.
"A lot of councils are making the proactive decision to use these powers more," a spokesman for Lacors, the central body that
oversees local authorities, said.
"They think it's a fantastic tool. Inevitably, more middle-management staff will be called on to authorise surveillance."
Tens of thousands of service managers work in hundreds of councils throughout Britain and many have less than three years' experience.
Gus Hosein, of the campaign group Privacy International, said: "The tactics of local authorities are more like the behaviour of the Stasi."
Last year, councils and government departments made 12,494 applications for "directed surveillance", according to figures released by the Office of the Surveillance Commissioner. This was almost double the number for the previous year. Applications from police and other law enforcement agencies fell during the same period, to about 19,000. Councils have admitted using the Act to spy on people committing minor offences such as fly-tipping, failing to pick up dog mess, and littering.
Quincy Whitaker, a human rights barrister...said:"Spying by councils is just assumed to be the norm. It seems we've given up these freedoms to stop our streets being covered in dog s***.
"It's all part of the increasing surveillance state."
It's all going to plan - The Illustrated Road to Serfdom by Friedrich A. Hayek

Posted by The Englishman at 8:01 AM | Comments (2) | TrackBack

May 26, 2008
CCTV is not working, we need more!
CCTV: Does it actually work? - Scotsman.com News
NEW fears have been raised over how effective CCTV cameras are in cutting crime after it emerged that only one in seven incidents caught on camera in Scotland was followed by an arrest at the scene.
More than 200,000 incidents have been picked up by CCTV cameras over the past four years, at a cost of £42 million.
But experts admit that it is still not known how many crimes they have solved....
Walter Kean, the man in charge of CCTV in Glasgow, admitted here were doubts about its effectiveness. ..he insisted that the benefits of CCTV extended to identifying missing children and aiding the work of council services by spotting local problems, such as burst water mains and abandoned cars.
But he conceded that it was unclear how successful CCTV was at solving and deterring crime. "It's very difficult to look at statistics and say whether CCTV is working or not. There are too many reports saying 'maybe it does, maybe it doesn't'. But we are convinced it is beneficial," he said.
"How many people get convicted on the back of CCTV? I would struggle to tell you. And how many have been charged on the back of CCTV? I wouldn't know either." He added: "CCTV doesn't make a difference on its own. If we had more resources, we would make better use of CCTV footage.

Well he would say that, wouldn't he. Of course 350 full-time police officers could have been paid for with the public money spent on CCTV in the past four years. Would a few more on the beat have reduced crime more, and freed us from the continual spying?
Posted by The Englishman at 7:34 AM | Comments (0) | TrackBack

May 23, 2008
Damned Lies
Binge drinking Britain: Alcohol fuelled admissions to hospital double - Telegraph
The number of people admitted to hospital because of their drinking has doubled in just over a decade to reach more than 200,000, new figures show.
No they haven't, the way the figures are collected and analyzed has changed. If you are sitting at home on your sofa with a glass of wine and a truck crashes through your wall you are now an alcoholic victim...
Posted by The Englishman at 6:21 AM | Comments (1) | TrackBack

May 21, 2008
Ask a Policeman
Road census: a waste of police time | Hilary Rose - Times Online
The uniformed policeman stood in the road next to his motorbike and pointed sternly at me to pull over. "Census" said the blue sign propped on the pavement. I pulled over. A woman in a reflective jacket stuck her head through the window and thrust a card at me. "Thank you for taking the time to provide Transport for London with this important information," it read. Eh? Transport for London? What information? Since when do the police pull you over so you can have a chat with TfL? According to a spokesperson for TfL, the police are present simply to make sure the traffic flows smoothly....TfL later said, as if this made it better, that it only uses off-duty policemen. But why are off-duty policemen impersonating on-duty ones? And to assist TfL? When I queried this, the surveyor got stroppy. "The police have the authority to pull you over," she snapped. True, but that's not the point. When pushed, she admitted that I didn't have to answer their questions (so I didn't), but how many people are going to make a fuss?

How many are going to feel cowed, obediently answer yes and no, and end up as a statistic backing some TfL "multi-modal transport" proposal? What wouldn't pollsters and market researchers give to have the might of the police at their disposal?

If Transport for London wants to ask me something, it can call me, or write to me, and I may or may not tell it; using the police in a crude attempt to force me is disgraceful. As for the police, whose power to stop people from going about their lawful business is an awesome one, they should be ashamed of themselves for using it to help TfL to tick boxes. And if they really are off-duty, they've got some explaining to do.
Last time I was stopped for one of these surveys the surveyor got angry and tried to put me down as a non-answerer just because she didn't believe my answers - why wouldn't I be going from Glasgow to Inverness along the A4, I like taking the scenic route. I got angry back and told her she had to record my answer, and then the policeman suggested I might like to be on my way....
Posted by The Englishman at 7:12 AM | Comments (10) | TrackBack

May 19, 2008
Nannies Unlimited
You may be drinking more than you think - Times Online
A £10 million campaign to tell adult drinkers exactly how much alcohol they are consuming is announced by the Government today.

The "Know Your Limits" campaign aims to reduce binge drinking among the over-25s by reminding social drinkers to stay within recommended limits.
It isn't the over 25s who are fighting on the streets, it isn't the over 25s who are learning about alcohol for the first time, it isn't the bloody over 25s who need to be educated about some limits that were just plucked out of the air, not based on any firm evidence at all."
But it is the over 25s who have to pay for this through their taxes; it's about time that the nannies "Knew Their Limits".
Posted by The Englishman at 6:58 AM | Comments (7) | TrackBack

May 18, 2008
Bloody TB tests
TB blood test has bloody results - Telegraph
Tom Maidment of Wiltshire. Thirty-one of his cows were condemned by Defra after blood testing had shown them as positive, and he pleaded in vain with London to have them skin-tested.

When his local Animal Health Office, unaware of London's refusal, ordered that skin tests be carried out, not a single animal showed any sign of TB. Defra's response was that the cows must all nevertheless be destroyed. Who gives a fig for science when someone else is footing the bill - and the courts are there to support you?
(Tom is my cousin and No.2 Son helped with the TB tests as work experience, so I know the depth of anger and frustration this madness is causing.)
Posted by The Englishman at 7:40 AM | Comments (2) | TrackBack

May 17, 2008
ID Registration - Simpler and Easier.
Recent changes in the double tagging legislation for sheep and goats have received a lot of publicity. However, the good news is that the updated rules are simpler and easier. Nonetheless it is still worth highlighting what is required and how farmers can ensure they are compliant with the law.
To help you understand the new rules we have created a few common scenarios to show how the regulations will apply in practice.
=======================================================================
Identification
Farmer John has a flock of 300 breeding ewes. Lambing has commenced and the first six lambs have just been born. All being well the first five of these lambs (lambs 1, 2, 3, 4, 5) are scheduled for slaughter. Lamb 6 will be retained for breeding.
Farmer John gives each of the slaughter lambs a single UK holding of birth tag. The lamb that he intends to retain is double-tagged, i.e. two identical UK tags are applied, one in each ear. He could wait for up to nine months to do this, or before they leave the birth holding whichever is the sooner. However, for simplicity he does it all at the same time, shortly after birth. The holding of birth tag has the flock number and individual animal number on it. This tag should only be applied once, at the birth holding.
As time goes on Farmer John decides that one of the lambs, Lamb 1, that he had originally intended for slaughter, will be kept as part of his breeding flock. He needs to double tag Lamb 1 as soon as possible. The farmer has two options here: a) the easiest option for him and the animal is to apply an identical tag or b) he may apply two new identically numbered UK tags but with a different number to the original tag and cross-reference the numbers in his holding register.
Another of the five, Lamb 2, loses its tag. The rules relating to lost tags can be quite complicated so Farmer John consults the tables in the Guidance booklet he received back in January, and then double checks he has done it correctly by phoning the Cross Compliance helpline on 0845 345 1302. In this particular case he replaces the lost UK tag with another UK tag from his stock and records the details of the new replacement tag in the holding register.
Lambs 3, 4 and 5 are sent to auction. Lamb 3 loses its tag at the market (after sale) so the new owner, Farmer Bill, replaces it with an R tag. This will indicate the flock mark, although not of the holding of birth. This R tag means Lamb 3 cannot be exported. If Farmer Bill did want to export Lamb 3 he could contact Farmer John and ask for a UK tag to be sent, and then put this tag in place instead.
Lamb 5 is sold for export and needs to be double tagged. The exporter has two options a) apply an identical UK tag or b) apply two of his own UK tags and cross reference the new number with the number on the existing tag in his holding register. If he opts for the latter then he should check first that this is acceptable to the importing authorities.
=======================================================================
Holding Register and Movement Documents
As with tagging, record keeping has also been simplified.
There is no need to record flock marks or individual numbers (unless you are importing from outside the EU or exporting). There is also no requirement to record movements between parcels of land within your holding. Finally, you may retain a copy of your movement document instead of recording "off" movements in your holding register. If you do this please remember to retain and file these movement records in date order with your holding register.
So, going back to our example of Farmer John with his six new sheep.
Lamb 1, that was originally intended for slaughter and now is part of the breeding flock, is kept at the home farm and just moved around the holding. Farmer John doesn't need to keep any movement records for this sheep as the holding is under sole occupancy and is all within a 5 mile radius of the main site. If the holding had outlying land more than 5 miles away to which animals were being moved then the movements would have to be recorded and reported. Separate holding registers would also be needed if the animals were kept in a variety of different holdings as each separate holding requires its own register. The only exception to this is common land.
Lamb 2, who lost its tag and now has a replacement tag, is moved from the main farm holding onto rented land 7 miles away. Farmer John completes a movement document and records this movement in his holding register. The receiving keeper, Farmer Alan, who will be looking after the animals for Farmer John, fills in Section D of the movement document. He keeps a copy of the document for his own records and also sends a copy of the movement records to the Local Authority within 3 days.
For Lambs 3, 4 and 5, who were sent to mart, Farmer John completes a movement document to show that they have been sent off the farm. However, Lamb 4 doesn't sell so is returned to the holding. Farmer John completes another movement document and makes a record in his holding register to show that the lamb is back on the farm. He also, as usual, sends a copy of the movement document to the Local Authority office.
Lamb 6, which has been retained on the land until now, moves from the main farm onto common land. Farmer John has not applied for this holding to be linked to common land on the central database so he records the movement in his holding register and sends a copy of the movement document to the Local Authority.
=======================================================================
Any questions?
If you have any queries about what is required or just want to ensure that you are complying fully with the regulations, contact the Cross Compliance helpline on 0845 35 1302 or have another read of the 'Guidance for keepers in England: Rules for identifying sheep and goats'....
And that is just for sheep and goats, wait till they get onto us poor humans...
How much easier it was in biblical times!:

St. Matthew 25:31 When the Son of man shall come in his glory,..
32 and before him shall be gathered all nations: and he shall separate them one from another, as a shepherd divideth his sheep from the goats:
33 and he shall set the sheep on his right hand, but the goats on the left.


Posted by The Englishman at 12:00 AM | Comments (2) | TrackBack

May 16, 2008
Tagged and banned
Ex-Grenadier Guardsman, 73, is ordered to wear an electronic tag - Times Online

A 73-year-old former Grenadier Guardsman has been ordered to wear an electronic tag after he was convicted of failing to report an accident.

Peter Ogden was ordered by a judge at Bath Magistrates' Court to wear the tag to ensure that he abides by a 4pm to 11pm curfew. He was also given a one-year driving ban and a £60 fine.

Ogden, from Keynsham, near Bristol, who insisted that he was not involved and stopped only to check if an injured person needed assistance, is to appeal.

Ogden was driving home in November last year when a woman ran in front of another vehicle. She was badly injured and he stopped to check whether any help was needed.

He said that when he heard that another passer-by had dialled 999 he drove off.

It was when he called into a police station the next day to inquire about the woman that he was arrested. The victim's DNA was found on his vehicle and he was suspected of having run her over.

He was charged later with failing to stop at the scene of an accident.

When the case came to court the Crown offered no evidence. He was, however, charged with the lesser offence of failing to report an accident.
Excessive? Only if you hold the old fashioned view that the state needs to charge you and prove you did the crime you are to be punished for...
Posted by The Englishman at 5:59 AM | Comments (2) | TrackBack

May 15, 2008
Poisonous Hazel Blears
Neighbourhood Watch 2.0: your tensions are being monitored | The Register
Community cohesion? You know it makes sense. Once your local community starts to get the slightest bit incoherent you're on the slippery slopes - riots, meltdown of national institutions then global revolution are only a few short steps away.
Fortunately, here in the UK we have the Department of Communities & Local Government and its useful document, Guidance for local authorities on community cohesion contingency planning and tension monitoring, to save us from ourselves. The document, described by the estimable Spyblog as "poisonous", tells how local government bodies should plan their response to growing signs of non-cohesion, and urges them to set up 'multi-agency tension monitoring groups' to spot incoming incoherence.
Which is where it gets weird. The three national indicators for cohesion, we are told, are the percentage of people who believe people from different backgrounds get on well together in their local areas; the percentage of people who feel they belong to their neighbourhood; and the percentage of people who have meaningful interactions with people from different backgrounds.
So, if you regard your house as just somewhere you live rather part of a 'community', if you hardly ever speak to your neighbours and if you're doubtful if they get on with one another either, you're at least symptomatic of The Problem, and you might even be part of it. And there you were thinking that this kind of stand-offishness was the sort of thing that made you properly British.
Communities Secretary Hazel Blears has plans for people like you.
Posted by The Englishman at 11:51 AM | Comments (5) | TrackBack

Crimewatch
MP Soames banned after quad bike incident - Shoreham Today
Mid Sussex MP Nicholas Soames has been banned from driving for two months after pleading guilty to driving a quad bike on a road with no insurance.
The case resulted from an incident on New Year's Day near Mr Soames' Slaugham home when he was filmed by anti-hunt monitor Simon Wild...
Appearing at Crawley Magistrates Court today, he was fined £200 and asked to make a £15 victim impact payment and to pay £35 costs.
£15 for victim impact? I've watched the video and can't spot the victim, all I can hear is a whining little shit commentator presumably the professional bunny hugger Simon Wild himself.
Posted by The Englishman at 7:36 AM | Comments (4) | TrackBack

Cattle trading allegations "scurrilous, inappropriate and wholly untrue"
Cattle market 'too noisy' for town - Telegraph
A 130-year-old farmers' market, which has been at its current site since 1878, could be forced to shut down because its early morning delivery of cattle is too noisy.
A witness for the 130-year-old mart said the notice, which restricts animal deliveries and collections between 7am and 9pm, would have a catastrophic effect on business.
He said the move was part of a council plan to force the mart to leave the town centre site.

But lawyers acting for the council dismissed the allegation as "scurrilous, inappropriate and wholly untrue", and said the council was carrying out its statutory duty after an investigation into noise nuisance following repeated complaints.
The mart is appealing against the notice, issued in January under the Environmental Protection Act 1990, which said the noise came from vehicles, shouting, gates banging and animals being unloaded.
Mart officials say unloading must be done early in the morning to allow for time to process animals being sold and taken to slaughter the same day.
The court heard from Arthur Corner, a director at the mart since 1984, who... said: "The council have a lot to gain by getting rid of the mart. It is a very valuable site."
Mart director and auctioneer Stephen Aitken also took the stand and accused the council of backing the mart into a corner over plans to move the auction market out of town.
He said at a meeting with two council officers - which he claimed was off-the-record at their insistence - they had said plans to relocate the mart on land at Humbleton Farm, off the A68, were not feasible.
He said one of the officers had asked for the meeting to be at the mart rather than the council offices, which was unusual, and for no one else from the mart to be present.
He said the officers suggested the mart relocate to land at Faverdale, which the council owned, in exchange for the land ....
As a simpleton I would make the suggestion that as the market and its practices pre-date the residents they ought to just put up with it, but then what do I know of local politics....
Posted by The Englishman at 6:51 AM | Comments (0) | TrackBack

May 7, 2008
Big Brother's Utter Fiasco
Britain's multi-billion-pound CCTV network 'an utter fiasco which has failed to cut crime' - Scotsman.com News
BRITAIN'S network of CCTV cameras has been branded "an utter fiasco" for failing to cut crime, despite billions of pounds being spent on it.
Detective Chief Inspector Mick Neville, who is in charge of closed-circuit television for the Metropolitan Police Force, claimed only 3 per cent of the capital's street robberies are solved using security camera footage and criminals are not afraid of being caught on film.
The UK has the highest level of camera surveillance in the world, according to civil liberty groups and security experts, with an estimated 4.2 million CCTV cameras on buildings, shops, roads and stations.
Are they about catching the criminals or criminalizing the majority, cowing the populace in a surveillance society? It is a bit like the 42 day detention, the police don't want it but the politicians do, it is all about control, not about problem solving. That's why i don't expect to see the cameras disappear any time soon.
Posted by The Englishman at 6:14 AM | Comments (1) | TrackBack

April 29, 2008
Price Fixing
OFT investigates 100 household brands over price-fixing allegations - Telegraph
About 100 leading household brands, including PG Tips, Coca-Cola and Aquafresh, are at the centre of an investigation into allegations of price-fixing, The Daily Telegraph can disclose...Several leading supermarkets - including Tesco, Asda, Morrisons and Sainsbury's - were raided last week by OFT investigators and lawyers
Apart from some recent rises it isn't the supermarkets and staple foods that are the rip-off in this country. How about the OFT investigates Council Tax, the BBC licence, National Insurance......
Posted by The Englishman at 6:09 AM | Comments (1) | TrackBack

April 19, 2008
The firm hand of nanny
BBC NEWS | England | Hereford/Worcs | Nurse sacked after smacking son

A former school nurse is to take legal action after she was sacked for smacking her 10-year-old son at home.

Susan Pope, from Malvern in Worcestershire, was arrested and her children taken from her after her eldest son reported her to police.

She said she was detained for 32 hours by West Mercia Police after the incident in May last year....Charges against her have since been dropped and her son has withdrawn the accusations. The family has been reconciled.

"We were having quite serious teenage rebellion problems with our eldest son and our middle son started swearing at me," she said.

"I warned him that I would smack him and he did not stop swearing at me so, I smacked him."

"The nanny state has come down on us with a sledgehammer to crack a nut and criminalised us for something that is not a criminal offence."

Posted by The Englishman at 8:35 AM | Comments (0) | TrackBack

April 18, 2008
Passive Drinking - an update from Numberwatch
Numberwatch coined the term "passive drinking" for the 2000 book Sorry, wrong number! Coupled with "toe-nail cancer" it was meant to be so absurd that no one could mistake it for a real example.
But there are no jokes in the world of the zealots, so now we have this.
It illustrates so many of the contentions in March of the zealots, particularly the way the success of the anti-tobacco campaign has inspired the other puritans.<
Posted by The Englishman at 11:44 AM | Comments (0) | TrackBack

April 13, 2008
Rachel Johnson - No one gives a huq about my blog....
Rachel S Johnson
complains in The Sunday Times:
I don't get blogging. It's not only that I'm reluctant to write for nothing. ... Still, a few weeks ago I started to write one. It's very easy - even a middle-aged woman can do it. I wrote about what I was making for supper that night. And food shopping in the Portobello market. Then I checked to see the global response to my debut. Nothing. On my next five posts? Zero comments....
Well, there is no danger of me having a coronary at my laptop triggered by exhaustion and anxiety about page hit rates. It's quick and easy to start a blog, as I've discovered. It's even quicker and easier to stop.
Harder to get attention in the cut throat world of blogs than the cosy newspaper world, eh? Go on, go and give her a comment on her blog - you know you want to...
Posted by The Englishman at 7:33 AM | Comments (2) | TrackBack

April 4, 2008
ITSO - it's all about control
This is a Powerpoint about ITSO, and right there are the slides about
citizen control.

"But ITSO is wider than just Transport, it will enable Citizen Cards"

The ITSO standard will make it easy for local government to introduce:

Citizen Cards for Entitlement: Libraries, Leisure and Social Inclusion

"Electronic Purses" ie electronic tokens to pay for fares, parking and other
services

Loyalty and reward schemes for regular users and to encourage green
policies, or cap expenditure(?), (or even act as a carbon smart card?)

H/T Dennis Ambler
Posted by The Englishman at 8:28 AM | Comments (0) | TrackBack

April 3, 2008
Drinking limit recommendation "just made up" again, this time it is water.
SaltSensibility: No justification for dietary recommendations, water or salt
Today's news services ran an interesting story regarding the recommended dietary intakes for water of 9 - 13 cups as highlighted in the Institute of Medicine's Dietary Reference Intakes for Water, Potassium, Sodium, Chloride, and Sulfate (2004). CBS, NBC, ABC, the BBC, the Guardian, the Telegraph and Daily Mail, among others have all featured articles saying that there is not a single drop of evidence behind the myth of drinking eight glasses or more of water a day.
It turns out that the dietary recommendations from noted medical authorities as well as self-appointed health gurus to drink two or more liters of water per day are totally unsupported by any scientific evidence....
Indeed, it is unclear where this recommendation came from," the University spokesman added....

Because we all have specific individual needs for water, Stanley Goldfarb from the University of Pennsylvania in Philadelphia recommended, "If you're thirsty, drink. If you're not thirsty, you needn't drink."
Having previously shown how the recommended alcohol units were also just made up by the nannies this doesn't surprise me in the slightest.
The Salt Boys obviously note:

This most recent article highlights the specificity of an individual's metabolic need, a situation paralleled by salt intake. The human body has an ability to excrete 250 times the maximum recommended intake of salt - an amount of salt that is virtually impossible for anyone to consume. In other words, our salt consumption is not limited by our ability to excrete it, but rather by our innate senses - sensory perception and biological feedback mechanisms. Both of these mechanisms are specific for every individual, just as water is.
For this reason, it is the very same folly to apply a "one size fits all" set of policy recommendations to salt consumption as it is for water consumption. Salt consumption is self-limiting and regulated by nature's biology, not by shortsighted dietary recommendations.
Posted by The Englishman at 6:40 AM | Comments (4) | TrackBack

April 2, 2008
Question 22. Are you a Luvvie, Lover or a Love?
Arts funding row over sex orientation demands - Times Online

Under new Arts Council requirements organisations applying for grants are being asked to state how many board members are bisexual, homosexual, heterosexual, lesbian or whose inclinations are "not known".

Audrey Roy, the director of grants, said that the council needed to understand who its audience was and to whom its funding was going. "We see diversity as broader than race, ethnicity, faith and disability," she said. Question 22 of the Grants for the Arts forms, relating to sexual orientation, was not compulsory, she added, although the form states that it must be answered.

The application form notes that the question is for government purposes only and will not enter into the grant decision, but that claim was contradicted by the Department for Culture, Media and Sport.

Its spokesman said: "We appreciate that, as a responsible public body they need to monitor their overall grant-making programmes. But it is absolutely not the case that sexual orientation monitoring is a government requirement."

But now that we have been given the idea, it soon will be....
Posted by The Englishman at 7:04 AM | Comments (3) | TrackBack

March 30, 2008
Oxfam Latest
Fifty Lessons
Designed for the 21st century, Fifty Lessons has developed a comprehensive and compelling resource of management and leadership lessons from some of the world's most successful business leaders.


Communicating Through Uncertain Times
Barbara Stocking
Oxfam GB

IN BRIEF
In uncertain times communication with staff is doubly important – even if there is no update to give them on what they already know. People appreciate a leader who is honest about the lack of news, so keep communicating even through difficult times.


Barbara Stocking CBE ..Oxfam is one of the most innovative .. NGOs, being creatively led by Barbara Stocking, its director...With an already distinguished career in the National Health Service behind her, Barbara is now bringing her talents to bear on the interface between welfare and development. She brings to the development world a pro-active, impassioned and multi-dimensional imagination. With an analytical perspective and a 'can-do' take on leadership, Barbara believes in the importance of bringing out the resourcefulness and capacities of people who often live on the edge, materially and socially.
In her varied work environment, flexible engagement is a key resource. For example, at one moment , she will be engaged in detailed discussion with the Director of the International Monetary Fund and 24 hours later Barbara will be in the middle of a field in a West African country, being followed by a group of smiling, curious children who are wondering, what is this foreign visitor looking for...
So what do the staff on the ground think in the UK think of all this management guff - my mole sends me the latest email from Barbara, below the fold, -

I have just read Oxfam's Barbara Stocking's latest letter to her
staff/volunteers. So horrified by her patronising view that women from the
south need to be mentored by business women from the north. It's a bit odd
that the chief executive of a development NGO should assume that women from
developing countries need to be mentored by British business women. Did it
enter this foolish woman's head that perhaps these business women with whom
she was rubbing shoulders in 10 Downing Street the other day might need a
bit of mentoring by women from the south instead?
If anyone is damaging Oxfam I am afraid it's Barbara Stocking. I wonder
whether Oxfam is past its sell by date, reading the musings (below) of its
chief executive officer!
If you can read through her email without wanting to slap her round the head with a kipper you have a more tolerant attitude than I have.
Subject: A letter from Barbara Stocking
*A LETTER FROM BARBARA STOCKING, CHIEF EXECUTIVE *
*TO ALL STAFF AND VOLUNTEERS*
Please share with all your colleagues who might not have access to e-mail.
Esta é uma carta da Executiva Chefe da Oxfam, Barbara Stocking. Para
receber uma tradução em português, por favor enviar um email para
barbaras.replies@oxfam.org.uk.
Esta carta viene de la Directora Ejecutiva de Oxfam, Barbara Stocking. Si
la quiere leer en castellano, por favor enviar un correo electronico para
barbaras.replies@oxfam.org.uk.
Ceci est une lettre écrite par Barbara Stocking, Directrice Generale. Si
vous voulez lire une copie en français, veuillez envoyer un e-mail à
barbaras.replies@oxfam.org.uk
*1. Oxfam's UK brand refresh*
I wanted to let you all know about an exciting change taking place to the
way we communicate about Oxfam in the UK, to be launched on 18 April.
Oxfam has many important stakeholders across the world, one of which is the
UK public. We depend on their support for much of our legitimacy and income.
We have UK individual financial supporters, campaigners, volunteers,
shoppers. However, recent research shows us that Oxfam feels distant in the
minds of the UK public. Although they respect and trust us, they do not
understand what we do, or feel close to us - they do not know us as the
dynamic, cutting-edge and passionate organisation we really are.
To close the gap between what people think and the reality of what we do, we
need to communicate differently by refreshing our brand, how we express what
we really are. It is not about changing who we are, what we do, or altering
our logo: it is an exciting opportunity to change how people feel about us _
one we cannot afford to miss. We want to communicate the real Oxfam _ an
Oxfam that is dynamic, engaging and relevant.
This builds on the success of I'm in, which was a targeted UK campaign that
reached its goal of getting one million people to give their names in
support of Oxfam. The brand refresh is much wider and will provide a
framework for all our communications in the UK _ including in our shops,
campaigns, and fundraising initiatives. The underlying feel of it is
provocative optimism.
So, from April, we will have a new way of speaking to the UK public and
supporters. We will share the new look and feel of our communications with
all staff worldwide in April and May. So, watch out on the intranet and
website for some inspiring new work!
*2. Gender, Let's Talk, International Women's Day, etc*
Sometimes you get the feeling the world is on the move and I think it is on
women's issues. You may remember that in November I went to New York to an
International Women Leaders Conference on Global Security, led by Mary
Robinson. In January at Davos I went to a very high powered women's dinner
on maternal mortality. Then last week Annie Lennox, the singer, hosted a
women's dinner to start The Circle, which is about women for women. That
started off specifically to fundraise for a range of projects for Oxfam and
included quite a few women who are ambassadors for Oxfam or who help us in
lots of different ways, eg: Jane Shepherdson who is helping to set up
ethical fashion boutiques, Zoë Ball, a presenter who has been to Mali and
Malawi for us and got us lots of media coverage. It was clear at the dinner
that the women just wanted to get to know each other and also to think of
ideas about how they could help end poverty as a group. It was very
exciting. After International Women's Day in Oxford I then followed this
with a lunch for about 35 women with the Prime Minister and his wife, Sarah,
in No 10 Downing Street on Saturday. That group was mainly top business
women, about 10 of whom were American and had flown in especially for the
occasion! We discussed two things: developing women's talent and maternal
mortality again (because this is Sarah Brown's key interest). *On talent, I
was able to ask if business leaders were prepared to mentor women, could
they take women from the South. There was lots of willingness and
discussion and we need to think how we can help with this from Oxfam. **
*
Whenever we talk about maternal mortality, I always think of my visits to
Yemen, and the tremendous work we do there and in Afghanistan and of course
of the huge needs for health services in Africa.
It was also good to hear from some of you around the world about
International Women's Day. Debasis in Kabul sent this on the day: 'We are
celebrating women's day today at Kabul, Afghanistan. The entire staffs have
been invited by a specially designed card to bring their family also. Some
guests from government and other agencies are also invited. I am sharing a
success case study about 'Lijjat Papad from India' on women economic
empowerment. I had another good presentation about god's creation of women,
that will be translated in Dari/Pastu (local language) by national
colleagues and presented'.
Then Catherine Hine in MEEECIS told me about their innovative Gender Idol
contest last week: 'This competition inspired line managers across the
region, to consider what a 'significant contribution to gender equity' would
be for their teams and to nominate team members who have made such a
contribution. Of seventeen nominations received from across the region,
Artan Kapexhui, a logistician in the Albania country programme, narrowly
triumphed over Abduqosim Kayumov and Inobat Rasulova, both from the
Tajikistan country programme. Artan was commended as a consistent and
powerful role model, demonstrating how a man can contribute effectively to
greater rights and fair treatment for women, doing even small things that
add up to a huge difference.'
Thank you to so many people for putting so much effort into women's rights
and also to understanding gender equality. I am pleased a man won the Idol
contest because we really need men to champion the issues, but also to show
how men's lives can change positively, too.
Going back to where I started, if there is so much engagement with these
issues globally, we need to think in Oxfam how we can best use this to
influence the issues we are concerned about.
*3. Kenya*
A few words about our colleagues in Kenya who have been through an
especially difficult time since the beginning of the year. The outbreak of
post-election violence shook the country to its core and affected many of
our staff personally. Colleagues in the Kenya programme and the Regional
Centre have been bravely going about their work, even though at times it
must have felt like their country was falling apart around them. It's hard
to imagine for all of us who are used to Kenya being the peaceful base from
which we visit trouble spots. But it's a testament to our colleagues'
resilience that they've kept going through it all, and have taken positive
steps to address the impact of the crisis in their own office.
This year, Valentine's Day - February 14th - took on a special significance
in Kenya. In many Kenyan media outlets it was used as an opportunity to
promote love and friendship amongst all Kenyans, with a special focus on
ethnically mixed couples. In the Oxfam office the day was celebrated with a
lunchtime event. Staff took part in a quiz on Kenyan history and culture,
and an appreciation event where they nominated colleagues they particularly
appreciate. Small groups then walked down to Freedom Corner in Nairobi's
Uhuru Park which has become a shrine for peace, and laid flowers for those
who all those killed or affected in the crisis. It was a moving occasion -
and I'd ask you to join me in assuring our staff in Kenya that our thoughts
and hopes are with them for a peaceful resolution to the crisis, at least we
have more positive news on that at the moment. It is incredible what Kofi
Annan has managed to do.
*4. The Wyche School _ Cheshire, UK*
I had a meeting with our Youth Team and was really excited about some of the
things they were telling me. Today's children are the opinion formers and
policy makers of the future and making sure they have the skills and desire
to tackle issues like climate change, poverty and injustice is a vital part
of Oxfam's work in the UK. Our Education Team has helped bring these issues
to life in classrooms for more than 30 years by providing teachers with
lesson plans, assembly ideas and resources, which really enthuse and empower
young people.
The example that fired me up is Wyche Primary School in Cheshire. Once
judged by Ofsted (the government's school inspection agency in England) as
"causing concern" the school's improvement strategy put Oxfam's Education
for Global Citizenship at the heart of its teaching. Within a year, Ofsted
was describing it as "good_ with outstanding features" and the school is now
hailed as an example of best practice. Children at the school campaigned to
get local shops to sell fair trade goods, held assemblies on poverty and a
series of themed days including children's rights and refugees. A
10-year-old from that school sums up the effect of learning to consider
other peoples' views and make informed choices as getting "a bit wiser and
more independent."
The next step is to make sure all teachers have the support, resources and
incentives necessary to embrace this kind of education and our policy team
are playing a key role in lobbying government to this end so the next
generation is indeed "a bit wiser" about their role in the world and the
positive difference they can make.
*5. Merger of South America (SAM) and Caribbean, Mexico and Central America
Regions (CAMEXCA)*
In order to strengthen the work of our teams in Latin American and the
Caribbean, we are merging the South America and the CAMEXCA regions. The
aim is to build a new Latin America Region (LAC) which will give us a
strengthened, higher profile OGB presence, with a greater opportunity for
development, humanitarian, campaigning and advocacy work.
At the end of February, Penny Lawrence, International Division Director
advised Latin America staff of the Corporate Management Team decision on the
new location for the LAC Regional Centre. There was not one obvious
location for the new LAC RC, but there was one that came out best on the key
strategic criteria. We have therefore decided that the location of the core
Regional Centre will be in Mexico, but some Regional Centre posts will be
based elsewhere in Latin America, in a networked structure.
Just to be clear, this particular merger does not mean that we are planning
mergers in other parts of the world.
*6. Finally*
Please do remember that I welcome your comments. I promise you I will read
them all, though I will not be able to reply to each one individually. You
can e-mail them to me on barbaras.replies@oxfam.org.uk or write to Barbara
Stocking, Letter Comments, John Smith Drive, Oxford OX4 2JY.
Posted by The Englishman at 8:15 PM | Comments (4) | TrackBack

Spring back in surprise
Definition of Springback - you didn't forget did you?
Posted by The Englishman at 7:46 AM | Comments (1) | TrackBack

March 27, 2008
Cough cough - the precautionary principle at work again.
Over-the-counter cough medicines are to be pulled from supermarket shelves amid fears that they are dangerous for toddlers...The agency moved to ban certain decongestants, expectorants, cough suppressors and antihistamines, 12 "active ingredients" which manufacturers have been using for decades but which have potentially life-threatening side effects.
Around 50 further products currently authorised for toddlers will have to be relabelled to warn buyers that they are not suitable for children aged two or below.
List of cough medicines to be taken off shelves - Telegraph
The MHRA spokesman added: "It is not a panic measure, it is a precaution.
"Some of these products have been on the shelves for 40 years and we have not had as many adverse reactions as the Americans have."

What I want to know is what happened to the proper Benylin that did make you drowsy, they all advertise "non-drowsy formulation", when I'm suffering from a cold I want to go to bloody sleep not "operate machinery". A glug of Benylin and a large glass of red wine and you could barely make it up the stairs before falling into a long satisfying sleep, now you have to stay awake all bloody night coughing like Elizabeth Barrett Browning and wishing for death.
Posted by The Englishman at 7:13 AM | Comments (0) | TrackBack

March 26, 2008
Piling on the guilt
Pregnant women 'must not drink any alcohol' - Telegraph
The Government's health watchdog has altered its previous guidance that small amounts of alcohol are safe during pregnancy in response to growing fears about Britain's drinking culture.
The National Institute for Health and Clinical Excellence (Nice) previously said mothers-to-be could drink 1.5 units of alcohol a day, equivalent to a small glass of wine, after the first three months when the risk of miscarriage is highest.
But now, even though no new evidence has been published on the dangers of alcohol to babies, Nice is telling pregnant women to abstain altogether, especially during the first three months....
The new stance from Nice will add to the confusion for women, as only last autumn, its draft guidance on the issue said expectant mothers could safely drink a small glass of wine a day.
Dr Gillian Leng, of Nice, said the advice was tightened partly because of the recognition of the harm excessive drinking was doing in society generally.
What sport, responsible pregnant mums are the easiest people in the world to scare, no needs for any facts lets make them carry the burden for the feckless.
Posted by The Englishman at 7:27 AM | Comments (1) | TrackBack

March 22, 2008
A Round of Drinks News
I want to be a saga lout | Janice Turner - Times Online

Deep in the bowels of Whitehall a government warning panel has exploded in a spasm of flashing red lights and whoop-whoop sirens. Quick, scramble the press officers, issue the admonishments. Somewhere out there, people are having fun! And it's not the usual suspects: the "toxic" teenagers or those feckless women bingeing away their looks and fertility. Can you believe it's the oldsters, the over-55s, boozing it up on holiday - never-ending bloody holidays! - when they should be down the garden centre or picking out Per Una cardies in fetching shades of beige?

This week the Foreign Office paused from its missions in Tibet and Darfur to warn us that "older travellers... drink more alcohol while away than they would in the UK". Besides this startling revelation, with its implied debauchery of aperitifs, wine with dinner - every single night! - and, who knows, nightcap cognacs or queasy-coloured local stickies, was the news that "20 per cent of 55-plus holidaymakers try activities they would not contemplate at home".
Women targeted in drink campaign - Telegraph
Rising levels of alcohol consumption, particularly among the middle classes, have been blamed in part on an increase in the strength of many wines and a fashion for larger glasses, leading to confusion over how many units of alcohol each glass contains.

The Government has responded with a £10 million advertising campaign that aims to educate women about the health risks of drinking and the need to be aware of how much alcohol they are consuming....critics will be disappointed that the Government is again turning to an awareness campaign. The Alcohol Health Alliance, which is made up of medical groups, wants a rise in tax on alcohol, a ban on advertising and restrictions on sales.
Scottish Executive plan alcohol ban for under-21s - Times Online
There is a growing body of concern that more and more young Scots are drinking at an earlier age, and anecdotal evidence suggests that many youngsters seen the worse for wear for drink on Scotland's streets at the weekends are under age.
The Courier: Ridicule for alcohol age limit plan
Plan To Raise Age Limit For Alcohol Sales Wins Praise (from The Herald )
Posted by The Englishman at 8:26 AM | Comments (0) | TrackBack

Hunting shooters
Dawn raid as 50 police swoop on Highland estate in poison inquiry - Scotsman.com News
SCORES of police officers investigating the illegal poisoning of birds of prey have swooped on a Highland estate in one of the largest operations of its kind in Scotland...Four gamekeepers were detained for six hours and police seized a large number of items, including clothing, equipment and documents during the raid at about 6:30am on Thursday.
While the four gamekeepers were questioned at police stations across the region, scores of officers, with staff from the Royal Society for the Protection of Birds Scotland, the Scottish Society for the Prevention of Cruelty to Animals and the National Wildlife Crime Unit, combed the upland estate that runs to several thousand acres.
Police dogs, including one specially trained to detect pesticides, were used in the hunt ...
I hope the weather was nice for them on their day out.
Posted by The Englishman at 8:19 AM | Comments (0) | TrackBack

March 20, 2008
Creative Destruction

HBOS trash'n'cash gang are chipping away at foundations of Western capitalism - Times Online
Oh please! One lot of spivs complaining that another lot of spivs has outspivved them, that isn't the end of civilisation as we know it. It is the essence of capitalism, the cold wind that comfortable companies try to keep out of their marble halls to the detriment of us all.
As Joseph Schumpeter, said when he coined the phrase "Creative Destruction"

This process of Creative Destruction is the essential fact about capitalism. It is what capitalism consists in and what every capitalist concern has got to live in. . . .
Every piece of business strategy acquires its true significance only against the background of that process and within the situation created by it. It must be seen in its role in the perennial gale of creative destruction; it cannot be understood irrespective of it or, in fact, on the hypothesis that there is a perennial lull. . . .
It is hardly necessary to point out that competition of the kind we now have in mind acts not only when in being but also when it is merely an ever-present threat. It disciplines before it attacks..
From Capitalism, Socialism and Democracy (New York: Harper, 1975) [orig. pub. 1942], pp. 82-85
Posted by The Englishman at 7:09 AM | Comments (0) | TrackBack

March 19, 2008
Sense from Country Life
GM food wins backing from Country Life - Telegraph
The campaign for genetically modified food will receive a significant boost when Country Life, the influential countryside and property magazine, calls for its widespread introduction to help feed the world's starving.
In a hard-hitting editorial, the magazine argues that for the Government to ignore GM crops is "immoral" and "criminal".

Read Country Life on 'Frankenstein Foods' [pdf]

Sense from an unexpected corner, recognising however much its readers want the countryside preserved in aspic it is still has to feed the world. It is going to cause apoplexy in Dentists' waiting rooms in two years time when people get round to reading it.
Posted by The Englishman at 6:57 AM | Comments (2) | TrackBack

March 17, 2008
Tim B-L on Bad Phorm
Web inventor's warning on spy software - Telegraph
The creator of the World Wide Web has hit out at corporate attempts to track users' online browsing habits.

Sir Tim Berners-Lee said it was vital that consumers' rights were protected and what sites they visited were not recorded by commercial organisations without express permission.
He was speaking as major British internet service providers (ISPs), including Talk Talk, BT and Virgin, consider adopting a web tracking service provided by a company called Phorm.
Sir Tim added: "I myself feel that it is very important that my ISP supplies internet to my house like the water company supplies water to my house. It supplies connectivity with no strings attached.
"My ISP doesn't control which websites I go to, it doesn't monitor which websites I go to."
Posted by The Englishman at 12:37 PM | Comments (0) | TrackBack

Gypsies go Fox Hunting
Basil Brush 'racist towards gipsies': Complaint - Telegraph

The children's television character Basil Brush is at the centre of a police investigation after an allegation that an episode of the programme was racist towards gipsies....

The programme, which was aired on the BBC's digital channel CBBC, centred on Basil's co-star Mr Stephen, played by actor Christopher Pizzey.

He falls under the spell of a gipsy fortune teller, Dame Rosie Fortune, who moves into the flat above them and greets them at the door with offers of pegs and "lucky" heather.

When she offers to read Basil's fortune for him, the character tells a joke about previously visiting a gipsy fortune teller who predicts he is about to embark on a long journey.

When Mr Stephen asks what happened, Basil replies: "He stole my wallet and I had to walk all the way home."

A spokesman for Northamptonshire Police said: "We can confirm we have received a complaint about a TV show featuring Basil Brush from a member of the public.

"The complaint was logged as an incident of a racist nature and we are now investigating."
Boom Boom!
Posted by The Englishman at 7:32 AM | Comments (0) | TrackBack

Pricing shattered lives
MoD office worker gets £200,000 payout - Telegraph
Soldiers' families reacted angrily after it emerged the Ministry of Defence awarded £202,000 to an office employee who strained his back picking up a printer...
Pte Jamie Cooper was 18 when he was hit by two mortar rounds in Basra in November 2006. He suffered serious internal injuries, a shattered pelvis, and also damaged his leg and lost the use of a hand.
Despite his ordeal he was awarded just £57,587, which the MoD refused to increase on appeal.
...a second civilian MoD employee was awarded £217,000 after developing chronic fatigue syndrome and depression.
Pte Cooper will receive £9,000 a year for life - 60 per cent of his final salary.
Previously an RAF typist who injured her thumb was awarded £484,000.... Lance Bombadier Ben Parkinson, who lost both legs in an Iraq blast, which also left him paralysed and brain damaged... his compensation was increased from £152,150 to £285,000.
And waving a few balloons on sticks under the tatty bunting of Gordon's "Armed Forces Day" won't put it right.
Posted by The Englishman at 7:18 AM | Comments (0) | TrackBack

March 14, 2008
A cunning plan to cure the prison place shortage and keep the greens happy.
How would you solve the prison crisis? - Telegraph
I think I have the answer, one that will make everyone from the greens to the die hard Tories happy:
Heathrow Terminal Fiveguide: Overview

The giant terminal has taken six years to build at a cost of £4.3bn.

It consists of a main terminal building and two smaller satellites (B and C), the second of which is due to open in 2010.

The terminal has been designed by architects Richard Rogers Partnership
As anyone who has travelled through Heathrow knows it is akin to being banged up without the option. Lets cut out the middleman and lock up all those fat sweaty passengers in their lurid tracksuits and stolen trainers. The terminal has got the fingerprint scanners, the tannoy system and the happy smiling security guards already; the food might need upgrading to prevent the inmates rioting and those do-gooders at Amnesty International might complain that subjecting anyone to more than twenty minutes of an airport terminal should be filed under cruel and unusual punishment but so what?
I commend the idea to the house.
Posted by The Englishman at 2:20 PM | Comments (2) | TrackBack

March 13, 2008
Selling my browsing habits
A Reader writes:

Tim - you might want to have a look at this. The MSM are either ignoring it or don't understand the implications.
BT, Virgin Media and TalkTalk are going to sell your browsing habits to an advertiser.
BT, Virgin Media and TalkTalk (CarphoneWarehouse) have signed an advertising deal with a company called PHORM.
The company PHORM re-named itself from 121Media which was alledgedly associated with spyware last year.
These ISPs will run PHORM software inside their networks. This software will intercept and examine EVERY WEB PAGE you visit and will process it looking for keywords, and creating a profile of you.
Based on that profile, participating websites will then be able to send you targetted advertising.
BT are selling this to customers as an anti-phishing protection - WEBWISE (you will be warned if you are going onto a potential phishing site). Not that you need it - McAfee among others offer this for free.
BT will tell you that you can opt-out of this WEBWISE 'service'. You can opt-out of receiving the advertising. What they won't tell you is that you cannot opt-out from having all your web activity processed, because that is the only way this Deep Packet Inspection can work - opt out does not mean completely opt out.
There are supposed to be safety measures that protect you from having your secure transations (HTTPS) such as online banking from being processed and it also ignores email addresses and some other data. however, it will still capture post codes and other identifying information that you enter into web pages.
BT, Virgin and TalkTalk will share the advertising revenue with Phorm - said to be up to £85million.
Many people think this is an illegal wiretap under the RIPA and is also against the Data Protection Act.
As far as Im concerned this is a material change to my contract with BT, which means I can cancel it and move to another ISP who doesn't spy on me, with no penalty.
The technical community think this stinks. Read here (particularly the comments !) :
http://www.theregister.co.uk/2008/02/29/phorm_roundup/
http://badphorm.co.uk/page.php?2
http://www.bebo.com/Profile.jsp?MID=367137231&MemberId=6007039881
There is a petition here : http://petitions.pm.gov.uk/ispphorm/
BT has no right to snoop on my data and make money out of it.

Posted by The Englishman at 8:31 PM | Comments (2) | TrackBack

March 11, 2008
What's gone wrong? Quite.
Extinguishers banned as 'fire risk' - Times Online

Fire extinguishers may be removed from blocks of flats across Britain after they were deemed dangerous by buildings risk assessors at two blocks on the South Coast.

Many residents regard the distinctive red extinguishers as the first response to fire, giving vital time until professional firefighters arrive.

Residents described the ban as ridiculous. Mike Edwards, a 61-year-old retired printer who lives in Avon House, said: "I was absolutely staggered to discover the fire extinguishers were to be taken out. How can removing fire extinguishers be a safe decision?

"The risk assessor said an extinguisher could cause a hazard if the person using it has not been trained. They are worried they will point it in the wrong direction or use the wrong extinguishers on a certain type of fire but if you are trapped in a burning building, you will certainly work out how to use an extinguisher.

"Our eldest resident is 103 but even she said she could quickly work out how to use an extinguisher in an emergency."

Excuse me. Are these the very same Britons who tackled incindiary bombs with buckets of sand and with small streams of water from handpumps?
What's gone wrong?
Dennis, Portland OR, US
Posted by The Englishman at 7:30 AM | Comments (7) | TrackBack

March 10, 2008
I'm from the government and I'm here to help you...
Equality watchdog wants 'spot checks' at work - Telegraph
Britain's equality watchdog wants tough new powers to tackle employers who fail to hire or promote staff from "disadvantaged" groups.
Under the plans, inspection teams would carry out "spot checks" to ensure that companies were obeying discrimination laws...
Under the plans, inspectors from the EHRC would be empowered to carry out spot checks at any workplace - those where there was cause for concern or firms which had done nothing wrong.
In an interview, Trevor Phillips, the chairman of the Equality and Human Rights Commission (EHRC), said: "What business wants is the sort of regulator that makes competition fair, rewards people who really try and do well, leaves people who are getting on with it alone, and turns the heavy artillery on the people who are cheating. I hate the idea that we are waiting for people to make a mistake - I would like us to be an organisation that helps people to do the right thing."
What business wants is the right to employ the best person for the job, if a firm decides to only employ knuckledragging BNP members that should be its choice, but if left to the ruthless nature of a free market a competitor who employed better people, whatever their "minority", would soon see it out of business.
Posted by The Englishman at 7:25 AM | Comments (0) | TrackBack

March 7, 2008
Sex and Drugs and Rock and Roll
iea ::: Prohibitions
John Meadowcroft et al.

The 'nanny state' has expanded in recent years. Politicians and bureaucrats have increasingly sought to restrict what individuals are permitted to do with their own bodies on their own property. Prohibitions is a corrective to the prevailing support for such authoritarianism.

This collection examines the outlawing of the manufacture, distribution, sale or provision of particular goods and services by consenting adults. It begins with an overview of the economics of prohibition and subsequently analyses particular prohibition issues including gambling, prostitution, recreational drugs and trade in body parts.

The authors find that in most cases prohibition imposes significant costs on individuals and society as a whole and produces few benefits in return. Prohibition places markets into the hands of criminal enterprises and criminalises people who would not otherwise come into conflict with the law. It makes risky behaviour even more risky, increases public ignorance and often encourages the behaviour it seeks to prevent. Given the substantial costs and minimal benefits, it is clear that prohibition is bad public policy.

(Students of firearm legislation maybe particularly interested in the chapter on firearms:
.... Conclusion
This review of violent crime trends in the United Kingdom, Australia
and Canada found that in the years following the introduction of Britishstyle
gun laws, despite massive increases in governmental bureaucracy,
total homicide rates either increased or remained stable. Similar trends
were observed in total violent crime. Importantly, in not one of these
countries did the new gun laws appear to result in a decrease in total
homicide rates despite the enormous costs to taxpayers. The situation is
even clearer in the Republic of Ireland and Jamaica, where violent crime,
particularly murder, became much worse after the bans in both countries.
Clearly, the factors driving the increasing rates of violent crime, for
example organised crime or terrorism, were not curtailed by British-style
gun laws.
The failure of British-style firearm laws to influence the total
homicide rate in any of the jurisdictions examined here is suggestive but
not conclusive. The causal link remains unproven. The British Home
Office argues that crime would have increased even more rapidly had the
gun laws not been imposed. That explanation is problematic, given the
failure of British-style gun laws in other countries.
These trends contrast with the situation in the United States, where
there was an impressive drop in the American homicide and violent
crime rates.....)
Posted by The Englishman at 1:04 PM | Comments (4) | TrackBack

March 6, 2008
Superdrugs
Get your cocaine from Superdrug | Camilla Cavendish - Times Online
The celebrity glamorisation of drugs is irrelevant. There would be huge benefits from legalisation

Quite - for once a sensible article on drugs.
Posted by The Englishman at 5:32 AM | Comments (0) | TrackBack

March 4, 2008
18 year old gets £5000 for injury to feelings after being told she wasn't experienced enough.
Teenager wins age discrimination claim - Times Online

A 19-year-old woman who claimed that she was sacked for being too young has been awarded more than £16,000 in compensation after winning a ground-breaking case against her former employer.

It is the first time since age discrimination regulations came into force in October 2006 that they have been properly tested in a case involving young workers.

Leanne Wilkinson, who was then 18, claimed that she suffered age discrimination when she was dismissed from her job as an administrative assistant at Springwell Engineering in Newcastle upon Tyne.

She claimed the company had told her that she was too young for the post and that they needed an older person with more experience.

An employment tribunal ruled in her favour, concluding that she had been discriminated against on the grounds of age.

The tribunal said that the company had relied on a "stereotypical assumption that capability equals experience and experience equals older age . . . age was the predominant reason for the decision to dismiss".

Miss Wilkinson was awarded £16,081.12, of which £5,000 was for injury to feelings.
Craig McCracken, an employment lawyer at Nexus solicitors, of Manchester, who acted for Miss Wilkinson, said that it was an important decision with far-reaching consequences. Yes, firms will take on board the lesson "don't offer a job to a youngster", they may be capable, but if they aren't here is another reason why they can sue you.
Posted by The Englishman at 6:16 AM | Comments (1) | TrackBack

March 2, 2008
RUH Bath "Get me out of here, it stinks of piss".
VOICE OF THE DAILY Mirror: The louse of Lords - Mirror.co.uk
Bigmouth Tory Lord Mancroft is living proof that there are still some unspeakable fools hanging around the House of Lords pretending to be politicians.
The sheer nastiness of his highly personal attack on nurses was shocking, heaping smear upon smear.
Of course specific criticisms are acceptable, and no one can ever pretend that every single nurse in the country is an angel.
But his sustained assault cannot go unanswered and bosses of Bath's Royal United Hospital must institute a full inquiry.
And if Lord Mancroft cannot further justify his outrageous remarks, he must apologise and Tory leader David Cameron should strip him of the whip.
Everyone I have spoken to down here who has been to the Royal United , not pontificating journalists from London, but actual patients has applauded Lord Mancroft for the accuracy of his remarks regarding the Royal United Hospital in Bath. Everytime I have been there I have been appalled by it. I have seen cleaners walk round dropped food rather than sweep it up, dirty swabs lying for days in lifts, bin emptying porters clump through rooms with the most vulnerable premature babies in, without even taking the most basic precautions, as they drag clinical waste around the hospital. As my poor dying father said; "Get me out of here, it stinks of piss".
And just as Lord Mancroft made clear that other NHS hospitals provide excellent care, let me make clear that, for instance, Frenchay Hospital nearby, in the most basic of buildings, shows that an NHS hospital can be clean and welcoming.
Time for the Mirror to drop the tired old class bashing and "all nurses are angels" clichés and do some real journalism and investigate a long standing disgrace.
Posted by The Englishman at 9:13 AM | Comments (2) | TrackBack

February 29, 2008
Leap Year
Single men, go back to bed, now, alone, turn off the phone, do not answer the door, do not speak to anyone all day, move, now!
Posted by The Englishman at 7:32 AM | Comments (0) | TrackBack

February 28, 2008
Good news on Tony Singh
UPDATE on Tony Singh
Shopkeeper who killed robber won't face trial - Telegraph
A shopkeeper who stabbed an armed robber to death in a desperate struggle to defend himself wept with relief after learning that he will not be charged.
Of course he shouldn't have been put the trauma of having to worry he was going to be charged.
Posted by The Englishman at 6:25 AM | Comments (0) | TrackBack

February 24, 2008
Government handling of stolen goods.
Tax authorities pay for Britons' bank details - Times Online

The British tax authorities have paid an informant for the bank details of scores of wealthy Britons. The records were stolen from one of the world's most secretive tax havens.

HM Revenue & Customs paid £100,000 for data that it is using to launch investigations of up to 100 British citizens who have accounts at Liechtenstein's biggest bank.
Revenue men prise open princely tax haven, Liechtenstein - Times Online
Germany sent shockwaves through the world of private wealth management when it acknowledged last week that its foreign intelligence service had paid £3.2m for details of accounts held by several hundred tax-dodging Germans at a bank owned by the royal family in Liechtenstein.

The landlocked principality, which regards the secrecy of bank accounts as sacred, reacted in fury: Prince Alois appealed for sympathy by suggesting that his country, which had stayed neutral through the last war, was coming under the German boot.

"We are under bombardment from a great power," said the impeccably groomed Sandhurst-educated prince, adding that Germany's loss of revenue to offshore havens was its own fault for imposing high taxes.
To what depths have we sunk when Her Majesty's Revenue men knowingly buy and use stolen goods, and are proud of it.
Posted by The Englishman at 8:52 AM | Comments (0) | TrackBack

February 23, 2008
How our secret state operates against families
False accusation that changed mother's young family for ever - Times Online

Louise Mason is finally a mother again, leading a family life for the first time in more than five years.

She presents a calm — if brittle — front as she talks of her ordeal since she was falsely accused of harming her baby and having her children disappear into the care system one by one.

The long battle to clear her name and have her children returned to her has left this 38-year-old single mother utterly drained and emotionless. She pauses before answering questions, chooses her responses with caution, and, even as she insists that she is happy, can barely raise a smile.

Shadowing her happiness is the knowledge that, despite being cleared of all claims, she may never have her middle child — taken from her at four weeks — returned. He has bonded so well with his foster family that she may lose him permanently into enforced adoption....
Social workers put themselves above the law - Times Online
This story is, sadly, not unique. It is symptomatic of the extraordinary power that social services departments now wield over our lives.

Before Louise Mason's trial in 2004, social workers apparently told her that they would be putting her children up for adoption irrespective of the outcome. That is precisely what they did, two weeks after her acquittal. They clung to their own "guilty" verdict despite the verdict of the jury...

We only know about this case because the High Court judge who heard the appeal ordered that Louise Mason be named, so that she could gain a "sense of justice". That is how our secret state operates. There are many, many other cases that have never come out. Until the family courts open up to public scrutiny there can be no justice..
Posted by The Englishman at 7:38 AM | Comments (3) | TrackBack

February 22, 2008
The reason beer is going up, but spirits don't in price and taxes.
The effects of price on alcohol consumption and alcohol-related problems | Alcohol Research & Health | Find Articles at BNET.com

the price elasticities of demand for beer, wine, and distilled spirits are -0.3, -1.0, and -1.5, respectively (Leung and Phelps 1993). (3) These estimates suggest that beer consumption is relatively insensitive to price changes, whereas demand for wine and distilled spirits is very responsive to price.
So you can put the price of beer up, wear a halo for "doing something about binge drinking" safe in the knowledge that sales won't suffer. But don't touch the price of spirits!
Posted by The Englishman at 6:51 AM | Comments (1) | TrackBack

Modern Policing; all logos, concepts, mottos and core values.
Police spend £120,000 on a new logo - The Scotsman
THERE can surely be few more distinctive sights than a police car with its lights flashing, or a beat bobbie in full uniform.
But one Scottish police force has decided it is simply not recognisable enough.
Officials at Lothian and Borders Police have come up with a new logo to tell people who they are – and have spent £120,000 in the process.
...One officer, who did not want to be named, said: "It is a waste of money. We read in the papers they cannot afford to pay police pensions, yet they are willing to spend all this on a new logo.
"Senior officers say they want us to have a more distinct corporate identity. But we already have an identity – we are the police, we wear a uniform everyone recognises."
The force paid tens of thousands of pounds to designers and consultants who concluded that the public did not recognise their existing logo – a traditional crest bearing a Saltire composed of blue and white checks.
Instead, the force has splashed out on a simple logo which carries the words "Lothian and Borders Police", with a curved design intended to combine the concept of protection and the force's geographical area.
A new motto, "work with us", will also be adopted by the country's second largest force, as part of what police say is an attempt to give themselves a "new tone of voice", that will include adopting a new set of core values.
Bing! I'm a winner at Marketing Bullshit Bingo, I just knew "core values" was going to be in there, along with the rest of the guff.
Posted by The Englishman at 6:39 AM | Comments (3) | TrackBack

February 21, 2008
Tony Singh - Salute a hero before he gets banged up.
Shopkeeper fears murder charge after armed robber dies in fight - Times Online

A shopkeeper could be charged with murder after an armed robber who tried to steal the day's takings was stabbed with his own knife during a struggle.

Tony Singh, 34, described as a hard-working family man who often works 13-hour days, was ambushed as he shut his shop on Sunday evening by Liam Kilroe, 25, a career criminal who was armed with a knife.

Kilroe, of Billinge, near St Helens, who had convictions stretching back nine years, was in breach of bail conditions at the time of his death. He had failed to appear in court to answer charges that he carried out armed robberies at a shop and post office with an imitation firearm. In one raid a postmaster was hit over the head with a handgun but the robbers fled empty-handed. In a second robbery, at a general shop in Croston, Leyland, they forced a woman behind the counter to open the till at gunpoint and hand over £8,000.

Mr Singh fought back and, after a fierce hand-to-hand struggle, Kilroe was seen by witnesses to stagger away clutching the knife to his chest. Kilroe was taken to hospital, where he died, and Mr Singh was detained by police. He is now waiting to discover whether he will be charged, and is on police bail until February 29 pending further inquiries.

Lancashire police confirmed that papers had been sent to the Crown Prosecution Service, which will decide whether Mr Singh should be charged with one of three offences: murder, manslaughter or assault.

They should be deciding whether Mr Singh deserves a medal, a large reward for cleaning the gene pool a little or both. And what was the dead angel doing out on bail anyway?
Posted by The Englishman at 6:41 AM | Comments (8) | TrackBack

February 16, 2008
Tracking what you print
Secret printer ID codes may breach EU privacy laws | The Register
A little-noticed system that allows printed documents to be tracked by government agents...is baked in to many popular color laser printers and photocopiers, including those made by Brother, Cannon, Xerox and HP, according to this list compiled by the Electronic Frontier Foundation. It embeds almost invisible tracking dots onto documents that uniquely identify the machine that printed them.
The enables the tracking of currency counterfeiters, but the EFF has been warning for years there's nothing that prevents government spooks from using them for broader types of surveillance....According to the EFF, printer manufacturers added the technology at the direction of the US government, most likely the Secret Service.
And to think we used to point at the USSR's compulsory registration of typewriters as an indication of how unfree and bad it was.
Posted by The Englishman at 8:17 AM | Comments (2) | TrackBack

February 14, 2008
Denmark - a beacon of freedom and bravery
Papers reprint Muslim cartoon - Scotsman.com News
DENMARK'S 15 leading newspapers today reprinted a cartoon which depicts the Prophet Muhammad wearing a bomb-shaped turban.
The papers said they wanted to show their commitment to freedom of speech after yesterday's arrest in Denmark of three people accused of plotting to kill the cartoonist.
"We are doing this to unambiguously back and support the freedom of speech that we always will defend," said the Berlingske Tidende.
The cartoon was also broadcast on national television, and even newspapers that were originally against the publication of the caricatures are now backing the campaign to defend freedom of speech, says the BBC's Thomas Buch-Andersen in Copenhagen.
Oh, to see the same strength of belief here. All we get here is the pathetic Mrs David Mills simpering to prevent anyone upsetting the kleptocracies that are running this summer's fiesta of fascism, failure and doping:
BBC NEWS | UK | Olympic boycott has 'no purpose'

Any call for a boycott of this summer's Beijing Games would be counter-productive, the Olympics Minister Tessa Jowell has said.

Her comments come after a group of Nobel Prize winners, international athletes and politicians wrote a letter to the Chinese president.

Ms Jowell told The Times newspaper: "The world has known for the last seven years that Beijing would host the Olympics.

"Most progressive governments accept that there are wholly unacceptable aspects of Chinese policy but that did not stop the International Olympics Committee (IOC) awarding them the Games.

"A call for a boycott doesn't serve any purpose and it would be a great pity.
Posted by The Englishman at 6:55 AM | Comments (2) | TrackBack

February 11, 2008
BOA Constrictor clause loosened
Olympic officials U-turn on gagging athletes during Beijing competition - Scotsman.com News
BRITISH Olympic officials backed down yesterday over a contract with athletes it was claimed would gag criticism of China at the Beijing Games.
Initially, BOA bosses denied trying to gag competitors,...But Simon Clegg, the BOA chief executive, later conceded that the contract would need to be amended to make its intentions clearer.
"I accept the interpretation of one part of the draft BOA's Team Members Agreement appears to have gone beyond the provision of the Olympic Charter.
"This is not our intention, nor is it our desire to restrict athletes' freedom of speech, and the final agreement will reflect this," he said in a statement.
The U-turn came after the response to the move was unfailingly critical.
H't to Gallimaufry for the headline
Posted by The Englishman at 6:41 AM | Comments (0) | TrackBack

February 6, 2008
Failure to grass on the Council's say so.
£5,000 trial for mother of three 'who threw an apple core from car window'| News | This is London

Kate Badger was charged with 'knowingly causing the deposit of controlled waste, namely an apple core, on land which did not have a waste management licence'

She denies that charge and a second charge of failing to provide information about who actually did throw the apple.
Let's just pass over the nonsense of the council chasing an apple core thrower (alleged) through the courts and look at that second charge: failing to provide information about who actually did throw the apple.
WTF? Is it a criminal offence now not to grass up your friends?
If a person fails to provide relevant information, prosecution will normally be pursued. If the information is of vital importance to the Council's activities, an injunction should be sought requiring the offender to provide the information. Where the information is required by way of a formal notice, failure to comply with the notice will normally lead to prosecution.
Didn't there used to be a right to silence, or did I dream it?
Posted by The Englishman at 7:47 PM | Comments (3) | TrackBack

Watching me, watching you.
Every breath you take, every move you make, a camera will be watching you - Times Online
Walk down any high street in Britain today and you will instantly be under surveillance. All around you, lampposts and shopfronts bristle with CCTV cameras, many of them privately operated and unregulated. They are watching you in case you are bent on shoplifting or engaging in violent disorder.
...
The man on his knees rifling through the pile of rubbish by the kerb is not, as you might have thought, a tramp but a fly-tipping investigator from the town hall. He and the officials in the council offices down the road have the power, should they chose to use it, to recruit informants to spy on fly-tippers, dodgy stallholders and housing benefit cheats.....
Organisations such as MI5 and MI6, GCHQ and the Serious Organised Crime Agency use bugging and tapping as everyday tools of their trade. But surveillance and interception are also increasingly used by police forces across the country. The rural West Mercia Constabulary, for example, recently advertised for "substantive constables" to fill posts in its Covert Authorities Bureau.
...
As you go about your daily activities, you can be followed by men or women from the Office of Fair Trading, the Health & Safety Executive and the Rural Payments Agency. The Charity Commission, the Food Standards Agency and the Royal Pharmaceutical Society of Great Britain can seek authorisation to conduct surveillance operations against those they suspect of wrongdoing.
Every one of the 474 local authorities in the country has the same right and can seek permission to examine your phone records, text messages and e-mail history.
Sir Christopher Rose, the Surveillance Commissioner, reported a rise in the number of local authorities using their powers of surveillance. "Covert activity is still most often used by departments that deal with trading standards and with antisocial behaviour and by those that administer benefits"....

How did this happen? Why among all the western countries have we allowed ourselves to be so spied upon? It is not as though we weren't warned, it wasn't as though we didn't hold our liberty dear, but somehow we frittered it all away.
Posted by The Englishman at 6:44 AM | Comments (1) | TrackBack

Some of my best friends
Airlines 'are akin to arms dealers'in ethics stakes - Scotsman.com News
AIRLINES have been labelled unethical by one of Britain's biggest investment firms, which plans them to blacklist them alongside arms dealers, pornographers and animal-testing laboratories.
Concern over the millions of tonnes of carbon dioxide produced by commercial aircraft has prompted the Edinburgh-based Standard Life to cease investing in carriers such as British Airways, Ryanair and EasyJet on behalf of tens of thousands of customers of its ethical funds.
Must ring my broker to buy some BA shares, they must be good value now.
Posted by The Englishman at 6:31 AM | Comments (0) | TrackBack

February 4, 2008
Don't know much about history - what a wondeful world!
Winston Churchill didn't really exist, say teens - Telegraph
A fifth of British teenagers believe Sir Winston Churchill was a fictional character, while many think Sherlock Holmes, King Arthur and Eleanor Rigby were real, a survey shows.
I'll admit my ignorance, I always get King Arthur and King Alfred mixed up so on a snap question I might of got that wrong - I blame the teachers. But a country which doesn't know its own history is a dangerous, depressing and deluded place and that is modern Britain.
Posted by The Englishman at 6:43 AM | Comments (1) | TrackBack

January 31, 2008
Community Service
Criminals 'routinely skipping' community orders - Telegraph
Criminals are being allowed to skip community service simply by claiming they overslept or forgot to turn up, a Government watchdog discloses today.
The National Audit Office (NAO) says probation officers are routinely excusing offenders who miss work sessions imposed under community orders even though they cannot provide a good reason for their absence.
Oh for the day when we see them dressed in orange chained together picking up litter from the side of the A303 - I could drive up and down all day chucking crisp packets out of the window...
Posted by The Englishman at 6:51 AM | Comments (0) | TrackBack

January 30, 2008
Kafka, The Castle and Local Councils
My Kafkaesque town hall battle | Magnus Linklater - Times Online

....There is a passage in The Castle, his other novel about impenetrable bureaucracy, where Kafka describes the mind of officialdom: "It's a working principle of the Head Bureau that the very possibility of error must be ruled out of account. The ground principle is justified by the consummate organisation of the whole authority."

But of course the organisation is anything but consummate. It is riddled with incompetence. And it is on the double rock of obduracy and inefficiency that the whole principle of localism so often founders. Those who argue that power should be devolved downwards so that the citizens can be brought into closer contact with decision-makers, and can thus make their voice heard, ignore the fact that it is at town hall level that communication is often hardest. Anyone who has ever attempted to sort out matters such as housing benefit, disability allowances or planning permission, let alone challenged the might and right of a council decision, knows that finding someone who is prepared to listen or to understand is well-nigh impossible. Councillors or local MPs may do all they can to help, but when it comes to negotiating the system, even they may find themselves lost.

Yet no party now argues against the principle of ceding power to local authorities. Labour advocates it, the Liberal Democrats embrace it, and David Cameron, for the Tories, has become one of its greatest champions. "Local councils should be the collective instrument of local people rather than the local outposts of central government," he said recently. At the same time, he added: "I have always believed that power needs to be accountable - and that means visible."

There is, however, nothing less accountable or more invisible than a hidebound bureaucracy, exercising its right to omniscience and an implacable resistance to reason....
There is a line in that grim but absorbing movie The Lives of Others, about the East German police state, where the Stasi interrogator, instructing a class of students, explains how to tell the difference between a guilty and an innocent suspect: "An innocent prisoner will become more angry by the hour due to the injustice suffered," he says. "He will shout and rage. A guilty prisoner becomes more calm and quiet. Or he cries."
Well I'm all for the shouting and raging, though sometimes I get so tired by the continual banging of my head on the wall I feel like becoming quiet and crying, I must remember not to in case they see it as guilt.
Posted by The Englishman at 6:42 AM | Comments (3) | TrackBack

January 28, 2008
Is Gordon planning complusory teenage stimulation?
ID cards may be issued by coercion, says leaked memo - Times Online
"Various forms of coercion, such as designation of the application process for identity documents issued by UK ministers (eg, passports) are an option to stimulate applications in a manageable way.
"There are advantages to designation of documents associated with particular target groups, eg, young people who may be applying for their first driving licence."
Don't you just love the language, the whole dressing up of "coercion" - at the barrel of a gun - with talk of "advantages" and "stimulating applications". This obfuscation is worthy of a totalitarian regime.
Posted by The Englishman at 7:27 AM | Comments (2) | TrackBack

January 27, 2008
NHS angels with their fingers in the till
NHS staff steal £80m every year - Scotsman.com News
DISHONEST NHS staff – including doctors and nurses – are defrauding the service of up to £80m a year in Scotland and have been threatened with court action unless the pilfering stops
Mustn't upset the staff by actually prosecuting them unless they have been really, really bad as they are all angels

Dr Kevin Cormack, Scottish spokesman for junior doctors' lobby group Remedy UK, said: "If anyone is letting the people down when it comes to public services, it's politicians rather than health workers. All the NHS staff I have ever encountered are honest and altruistic
."
Bridget Hunter, of health union Unison in Scotland, said: "We don't condone fraud, but we are very concerned at the emphasis in all of this. It's like they're telling staff: 'We don't trust you.' The Government risks giving a very wrong impression of NHS staff who all work to the highest professional standards under very challenging conditions."
And in the rare cases they aren't they seem to get off lightly.

Last year a Fife nurse was sentenced to 135 hours' community service for claiming £3,000 sick pay while working shifts for an agency.
£22 an hour seems a decent wage to me....
Posted by The Englishman at 7:06 AM | Comments (1) | TrackBack

January 21, 2008
Our freedom of movement is being withdrawn
Random breath tests planned for motorists - Telegraph
Ministers have previously rejected random breath-testing but it is understood that there was a change of heart when the results of the latest Christmas campaign against drink-driving were revealed.
These showed that while the number of tests carried out in England and Wales rose six per cent, the number of drivers who failed fell to 7,800 - down from 9,700 in 2006.
(The number of breath tests rose from 145,867 during the 2006 Christmas period to 155,216 last year. The number of motorists failing "fit to drive" tests - designed to detect motorists under the influence of drugs - also dropped from 666 to 550.)
So the proportion of drunk drivers dropped from 6.6% to 5% - most people would see that as a success and that the present policy is working, but somehow it is presented as a failure and that we need to do it differently. And differently in a way that causes John Spellar, a former Labour transport minister, to say .

"Yet again they are straining the tolerance of the British public, when they should be focusing on the minority who are grossly over the limit and causing mayhem," he said.
"This system has been working well for many years and has left us with one of the best safety records in Europe.
"There is a serious danger this will erode the confidence of the public in the police and create ill will."
A spokesman for the Association of British Drivers said: "It seems like an infringement of people's liberty.
"It is as if our freedom of movement is being withdrawn. We would need to be convinced that it would save lives."
Posted by The Englishman at 6:30 AM | Comments (4) | TrackBack

Food Rationing
Together we can beat obesity | Alan Johnson - Times Online Britain is in the grip of an epidemic...without action this could rise to almost nine in 10 adults and two-thirds of children by 2050....a public health problem that is comparable to climate change. Failure to act now will lead to serious adverse consequences in a few decades, and any delay raises the real possibility that reversal of these trends may cease to be an option ...The rising tide of overweight and obese people is the most significant public and personal health challenge facing our society. With concerted action across government and with wide institutional support aligned to personal responsibility...Some will characterise any attempt by government to tackle this problem as unnecessary interference with individual choice. The fact is that people worry more about a neglectful state than a nanny state.
It is not the government's job to hector or lecture, but....
Government may ban fast food near schools - Telegraph - as part of a more interventionist approach by the Government to tackling childhood obesity.
It is quite obvious that the Government is enjoying the command and control of people's lives they have granted themselves because of "climate change" enough, so they need another scare to get right inside your personal life as well. Combine food rationing with fuel rationing and you are close to the socialist utopia of 1948. In the meantime let us remember a victim of living a life of personal freedom and reckless disregard for food labelling;
Eddie 'Bozo' Miller - Telegraph - was an American described by the Guinness Book of Records as the "world's greatest trencherman".
Though he achieved this accolade by virtue of his competitive eating stunts - such as eating 27 2lb chickens in a row to win a $10,000 bet, or out-drinking a lion in Martinis - Miller was just as keen on the table in ordinary life. "Before lunch, I'd have 10 to 12 martinis, every day," he told the Oakland Tribune last November. "In Las Vegas, I ate 12 club sandwiches in a row. I ate 400 raviolis a couple of times. I'd eat 6,000 to 12,000 oysters on a half shell. Sometimes I'd eat the entire menu." Despite these prodigious exercises in gluttony, he insisted: "I never really had indigestion."
Eddie "Bozo" Miller died on January 7 aged 89 of natural causes.
Posted by The Englishman at 6:22 AM | Comments (4) | TrackBack

January 19, 2008
Plod picks on easy target
Pensioner who shouted at yobs ends up in cells - Telegraph
A pensioner who stepped in to stop youths throwing stones at ducks on a canal was arrested by police.
Bill Marshall was expecting officers to investigate his complaints about being repeatedly taunted by the gang. Instead the 73-year-old great-grandfather was taken to a cell and accused of attacking the teenagers.
Mr Marshall, who has a heart condition and diabetes, was left distressed and angered by the arrest....
Now police have dropped any charges and apologised.
Chief Insp Glenn Harper of Nottinghamshire Police said the arresting officer acted correctly but added: "I will ensure the necessary training needs are addressed."
More "training" - the answer to everything - what about giving the officer a right royal bollocking?
Posted by The Englishman at 8:17 AM | Comments (7) | TrackBack

January 18, 2008
Gin Lane
Law change threat to stop binge drinking - Telegraph
Ministers are threatening to change the law to stop supermarkets advertising beer and wine at bargain prices in a bid to tackle the epidemic of binge drinking sweeping Britain....
Ideally ministers would like to force retailers to charge customers more for beer, wine and cider. Mr Coaker is understood to be determined "to find a way through the Competition Commission" and stop big retailers selling alcohol at loss-leading prices.
One source said ministers "want to make it illegal". However The Daily Telegraph understands that officials have come to the view that a crackdown on price would be near-impossible under Competition Law after talks with the Office of Fair Trading.
As the Adam Smith Blog will say later today (The workshy layabouts don't update their blog before seven in the morning...):

Don't blame the drink
On Wednesday, three youths were convicted of murder after kicking and beating a man to death outside his own home. His sin? Telling them off for vandalism.
Peter Fahy, Cheshire's Chief Constable, blamed Britain's drink culture and called for a 'crackdown' on cheap alcohol. Apparently, supermarkets and off-licences are to blame for selling booze too cheaply. He even claimed that some of the youths involved in the attack were "reasonably decent people who drink too much and do something stupid and attack someone".
Rubbish. These youths did not kick a man "like a football" as his daughter watched because they were drunk. They did it because they are ignorant, savage, brutal people without a shred of respect for anyone else. Blaming supermarket prices is absurd. The vast majority of people enjoy inexpensive alcohol responsibly. Most of us drink more than we should from time to time, but it doesn't end in violence. In any case, alcohol is already more expensive and more strictly controlled in Britain than in many other European countries.
'Drink culture' is a handy excuse for the social ills that plague many communities in Britain, but it is not the real reason. It is the welfare state that has promoted family breakdown and eroded personal responsibility. It is politically-correct, target-driven policing that has abandoned our streets to violence and thuggery. And it is the rotten state school system that has left so many young people without any aspiration beyond the bottom of a beer bottle. ..
Posted by The Englishman at 6:49 AM |